So, VI Airlink was a great experience. Just not quite that simple to use yet.

My Journey:

When I called the driver in Antigua to pick me up for the airport, he asked which airline. I told him. He had never heard of it. Slightly concerned, I got on line, found the webpage and called one of the after-hours numbers. "Captain Neville Junior here, how may I help?"

It was the pilot. He assured me he was en-route to Antigua later that day.

I left the house in Antigua around 3. Got to the airport by 4. There was no clear counter for VI Airlink, but I found one that worked with the charters and some other misfits. All checked in with a hand written card for boarding.

Once inside, there was no indication of where this flight may be departing from. I ran into a few people who had just come in on BA from Gatwick, and were also looking for Airlink. I told them the pilot had assured me he was coming.

There was one announcement for boarding, and 8 of us scrambled into the gate area. Past all of the LIAT planes we found this fine aircraft waiting for us.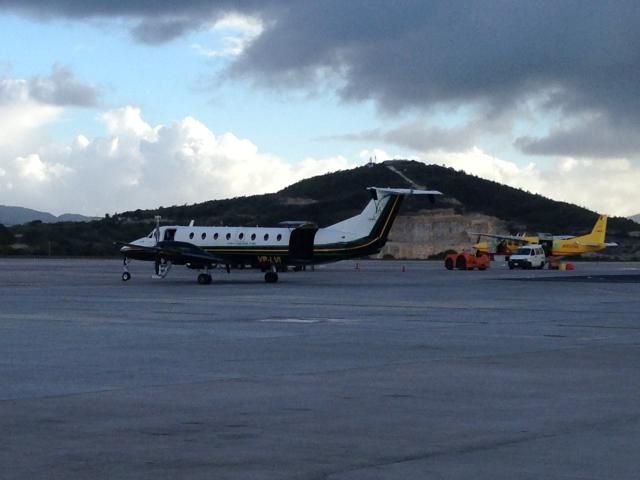 Captain Neville Jr. greeted me, and introduced his brother, Norville. They were indeed our pilots.

Flight was perfect. We got to Beef Island, and the couple I had befriended gave me a lift to Biras Creek on their ferry. My brother came over from Bitter End to pick me up, and all was fine.

Today, I got this from Orbitz:
Dear Orbitz traveler,
We regret to inform you that, due to limited availability, the airline was not able to confirm the flights you requested. As a result, no tickets have been issued for this trip and we have reversed any credit card charges.

I will try and pay up at the airport when I leave tonight.

By the way, North Sound was packed last night, but oddly quiet. Heaps of superyachts at YCCS, Bitter End and on anchor, Loads of bare boats at Prickly Pear, but Saba was quiet, and the Bitter End party seemed like a bunch of stiffs (Save for one local couple I saw getting on the ferry back to Leverick late night) I suppose everyone was at Leverick?

Fireworks show was great.

Wind is still howling down here, and did it rain this morning!