I'm breaking my third week into two parts as there will be too many pictures to put it all into one report.

Wednesday, November 30

The doctorís office was next door to the Platinum Club, right down the street from our condo. I was the second person in line and was able to see the doctor quickly. Diagnosis: upper-tract respiratory infection. I picked up some antibiotics and went to breakfast at Rendez-Vous while my friend golfed.

We then headed to Parotte Ville (this is the correct spelling) for what, for me, is the highlight of the trip so far. The owner, George Parotte, is passionate about his birds and is eager to tell you about them. He has over 100 birds in his sanctuary, and they are beautiful creatures.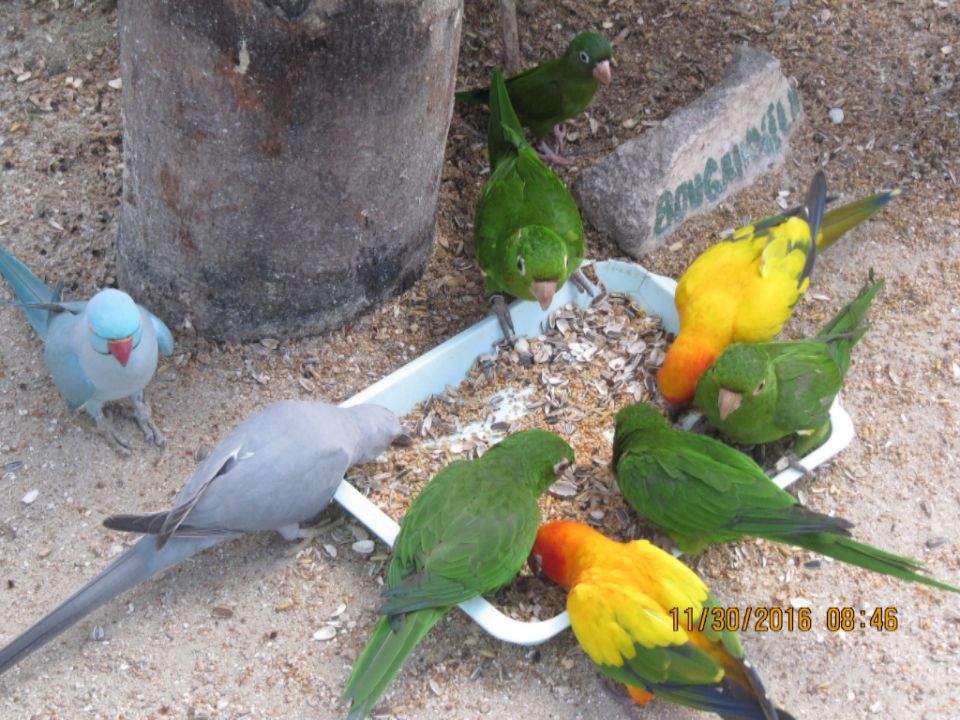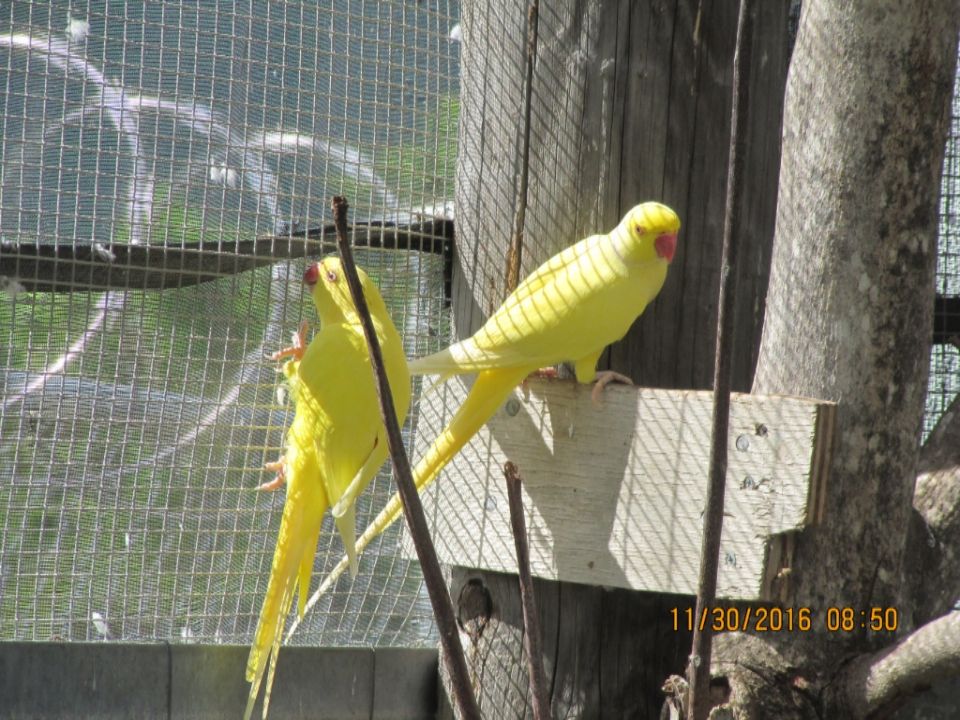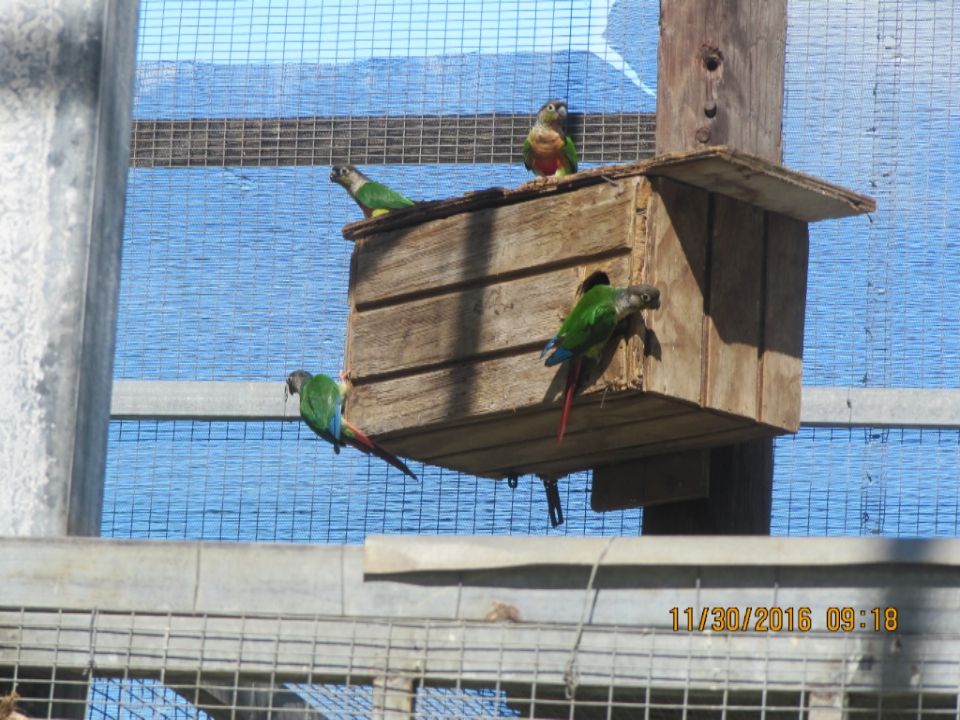 This is a baby that hasnít come out of the nest yet.




George also told us about the multitude of medicinal plants he grows in the sanctuary.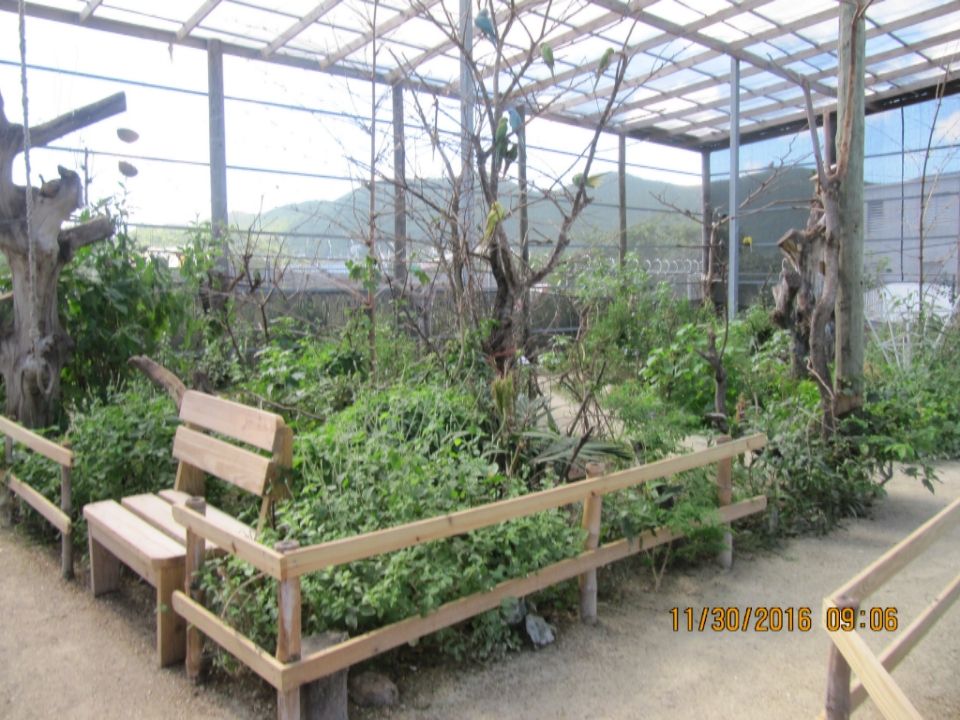 We were given cups of bird seed, and the birds fly right up to you to eat out of your cup. I had birds on my head a couple of times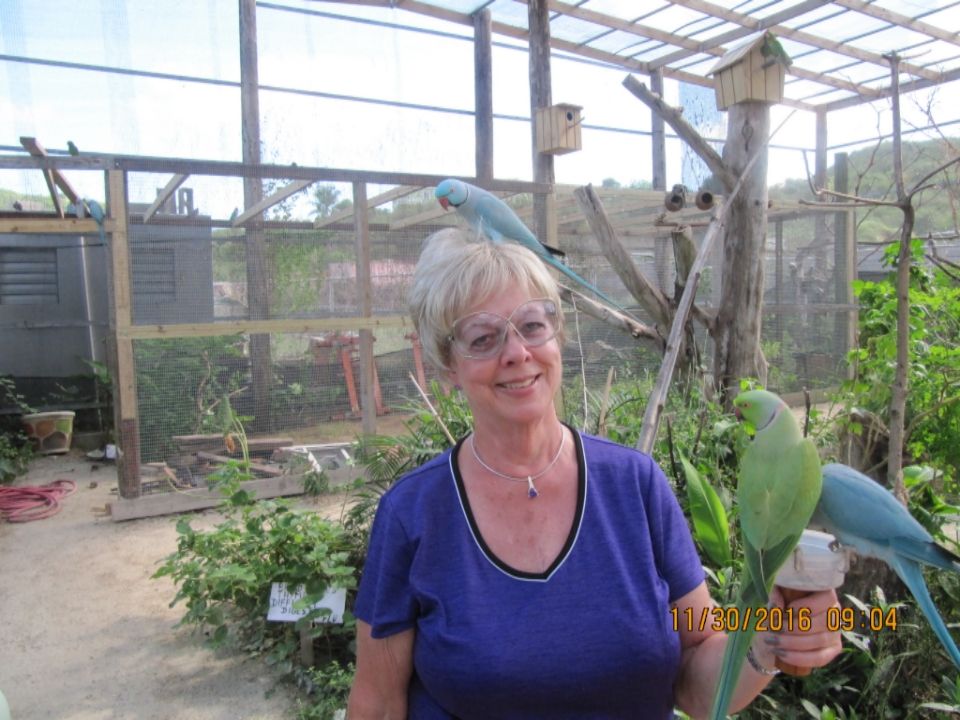 and on my shoulder.




George loves his birds, and the feeling seems to be reciprocal.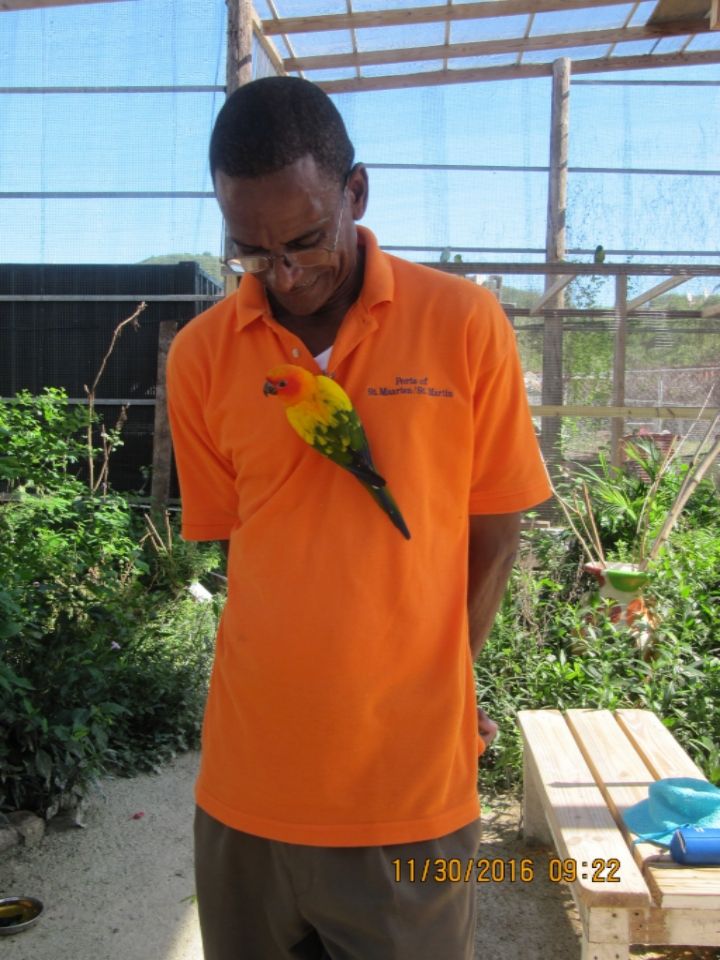 After spending time in the sanctuary, George took us to his museum, where he is accumulating artifacts from his family as he very much wants to preserve the history of the island. I just canít say enough about this place. It is very special, and George is a lovely and remarkable man. Parotte Ville is an SXM treasure. Go if you possibly can!

We then headed to Sunset Cafť for lunch. The food was good, and the setting is so peaceful.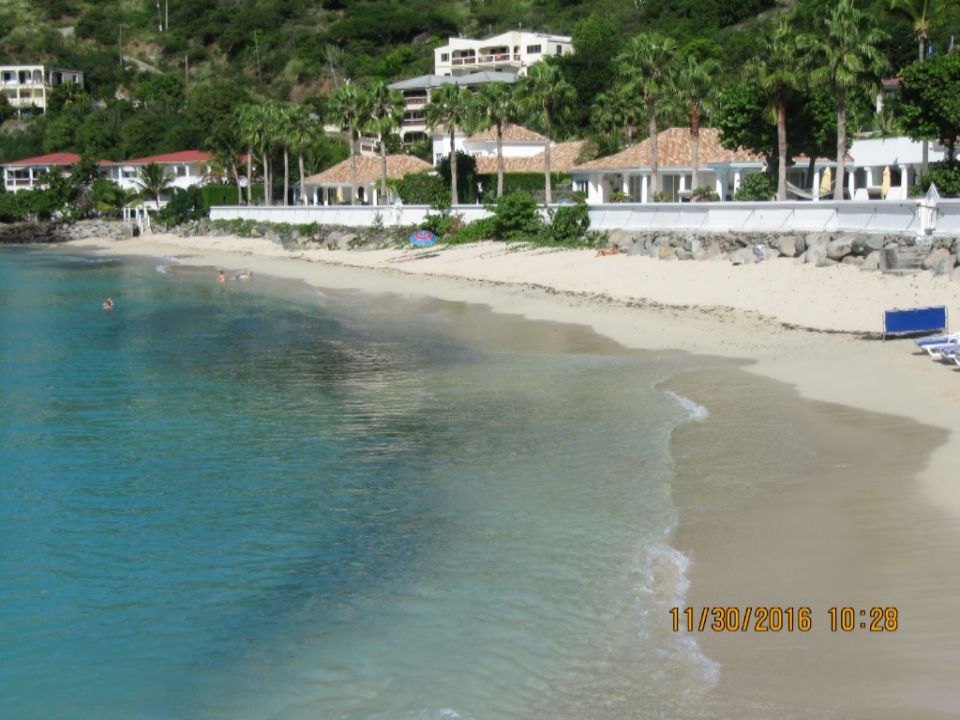 After lunch we went to Tijon and said hello to John and Cyndi. I was delighted to see our own SXMNormís marvelous glass creations on sale. Norm is a gifted artist, in my opinion.




We eventually headed home and had dinner in.

Thursday, December 1

We had planned on a beach day but it was pouring rain. Knowing it could be sunny on the other side of the island, we headed toward Orient, this time via Philipsburg. En route, we stopped to look at the Kokomo area as my friend hadnít seen that before. More development (condos) since I was there last. We both wanted items from the Shipwreck Shop so stopped at Divi; I wanted a couple of SXM calendars and my friend wanted a Kaprowski map. (Turns out hers is more current than mine and shows the causeway.) We walked around Divi a little, and I got really homesick. We toyed with the idea of just staying there for a beach day but decided to stick with the original plan.

We looked in on Luizís new digs. He has some very nice fabrics in colorful florals for swim suits. He is also now selling cover-ups, pareos, sun dresses, etc., in beautifully hand-painted fabrics, that he has sewn. He really has some gorgeous things, but we were able to resist his somewhat high-pressure sales tactics.

I hadnít yet been to Palm Beach so we had a truly delicious lunch there. I had red snapper tartare with pineapple and basil risotto,




and my friend had red snapper baked in salt. It was interesting watching the waitress peel off the salt crust before plating the fish. After lunch we went on the beach for a little while, where there was a good amount of seaweed. It was exceptionally windy, and the sky was black. We felt some rain drops so left our chairs for a cabana. Turns out the rain blew over Palm Beach; but while we were there, I saw a video on Facebook of everyone crowded into the covered area at Dreams as it was raining hard there. The service at Palm Beach was exceptional.

Traffic heading back to Maho from Orient/Grand Case at rush hour has been a breeze the last couple of days. Heading the other direction, however, was a different story Ė bumper to bumper. Iím glad we werenít heading that direction.

The sunset tonight was one of the most perfect Iíve ever seen. I thought there would be a green flash but, alas, it was not to be.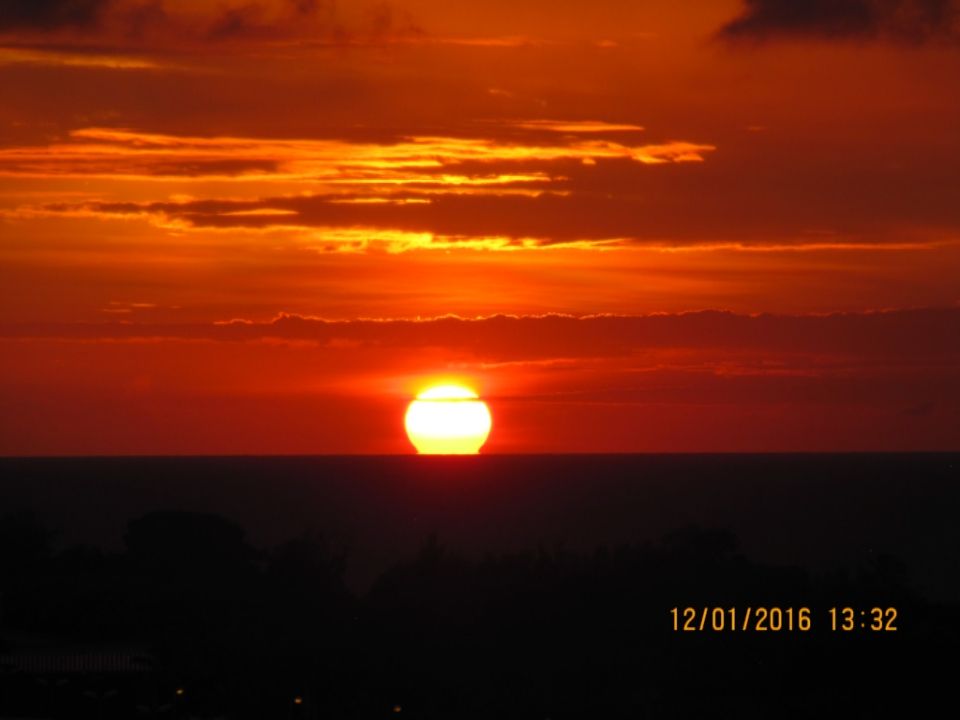 I find that after driving to and from the opposite end of the island, I really donít want to drive very far for dinner. We tried Moomba, and it was good; we both had mushroom risotto with prawns. The service was delightful and friendly.




As Iím finishing this dayís report, it is POURING rain. Doesnít look as though tomorrow will be a beach day.

Friday, December 2

How the weather changes! While my friend golfed, I went to Simpson Bay to see if I could get my nails done without having an appointment. No luck on the first two tries, but Georgianaís was able to take me right away. I then went to Vesna Taverna for breakfast and had a Norwegian omelette. Service was extremely friendly. Iíve never been to Endless Summer so walked there to see what they had and came away with a new swim suit.

Back to the condo to pick up my friend, and we went to Cupecoy. There was hardly any sand at the Ocean Pointe end, and Dany would have had to set our chairs up on the rocks. That wasnít what we wanted so I dropped my friend at Mullet and went to the condoís pool for the afternoon. It was wonderfully quiet and peaceful; this was my only company.




While we were getting ready for dinner, the power went out. I assume due to a generator, it came right back on at our condo. However, as we got on the road for dinner, it was clear the outage was widespread. It was pretty eerie driving when it was so dark out. Our destination was Sale and Pepe which was cooking even though there were only candles on the table. We read the menu by flashlight and ate by candlelight. I had lamb chops, which were very good.




Just as we were leaving, power came back on. We next went to Byblos for baklava dessert and were treated to a belly dance or two. I also wanted to say hello to Carter Glass, former owner of Turquoise Shell Inn where Iíve stayed several times; he helps out at Byblos.

Saturday, December 3

We hadnít yet been to Marigot market, where I made a few deposits. I also tried to find Francois, who had the vendor stall next to Luiz before the new construction at Orient Beach; no success. Our beach of choice for the day was Friarís Bay. Iíve read about the ďotherĒ entrance which brings you right in to Friarís Bay Beach Cafť but had never found it before. I reviewed the Kaprowski map and also had a little help from a nice local who gave excellent directions and found it! What a horrid road getting there, but it was so convenient to be right at the Cafť when you finally came to the end of the road.

I have always thought the food at Friarís Bay Beach Cafť was excellent, and today was no different. I had the special of beef kebobs. After lunch we spent several hours on the beach and in the water. This is just a gorgeous beach, and I think it is one of my favorites; the weather was perfect. A great beach day. Traffic both to and from the beach was surprisingly light.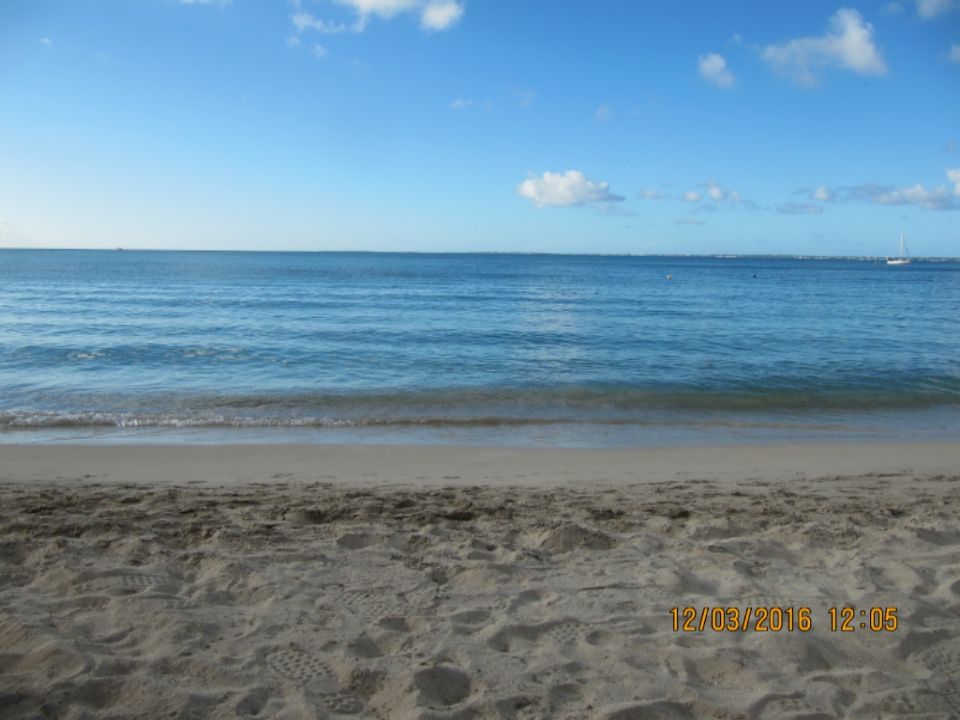 Not wanting to drive very far for dinner, we returned to Escape; the food was every bit as good as it was our first time. I had the sriracha shrimp preceded by a butternut soup.




The evening ended on a bit of a sour note as it took at least half an hour to get our check and cash out. Prior to that, the service was good.

Sunday, December 4

Our time on the island is starting to get short, and I want as many beach days as possible in the time we have left. When we had lunch at Sunset Cafť, we remarked that Le Petite Plage would be a nice place to spend a day as the water looked so calm. So thatís where we headed. Weíre noticing that the traffic, at least from Maho to the French beaches, is very light on weekends.

This was another perfect beach and perfect beach day.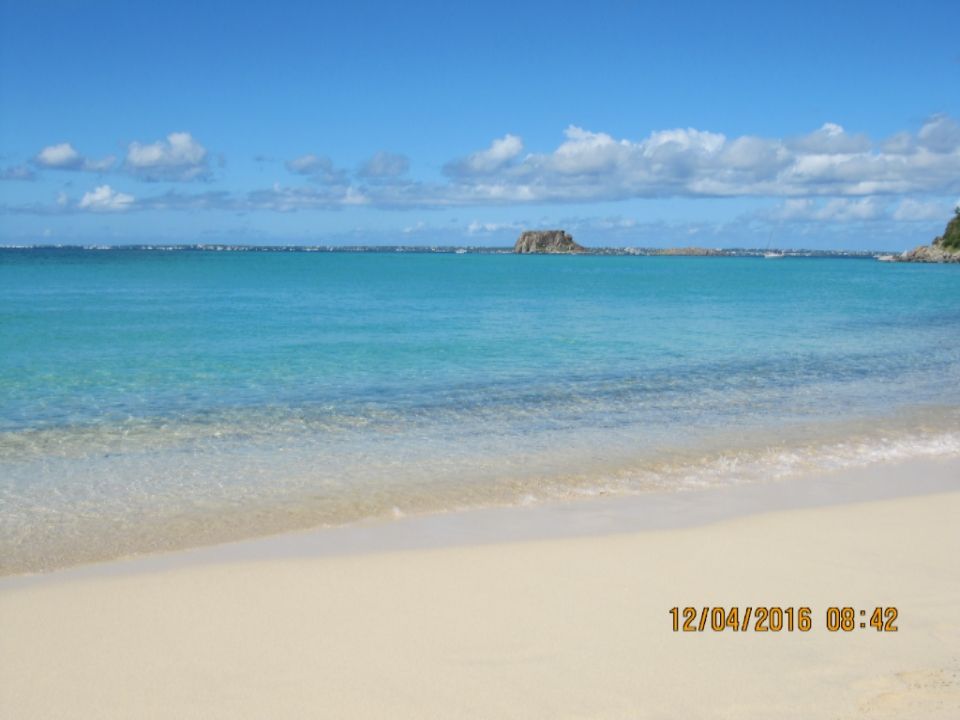 I had a very French, very fattening lunch: grilled ham and cheese sandwich with French fries. Yummy. The water was wonderful, and we stayed at the beach until after 5 PM.

Again deciding to stay close to home for dinner, we tried Blue Fin for dinner. It was very good. While I donít usually like Caribbean lobster, the lobster and shrimp salad with mangoes was quite tasty. Our server was darling and attentive.




We have only three full days left this trip and are going to try to be at the beach as much as possible. I fear the final report will be pretty boring: beach, eat, sleep, repeat.