Iíve decided to limit my appointments/commitments this week and be more spontaneous as to where I beach and eat. Other than a couple of boat trips, I have no plans for the week and will decide what to do on a spur-of-the-moment basis.

Saturday, June 24

After taking Kathy and Dave to the airport, I stopped at Karakter for breakfast. It was a beautiful morning. Food was good, and service was acceptable.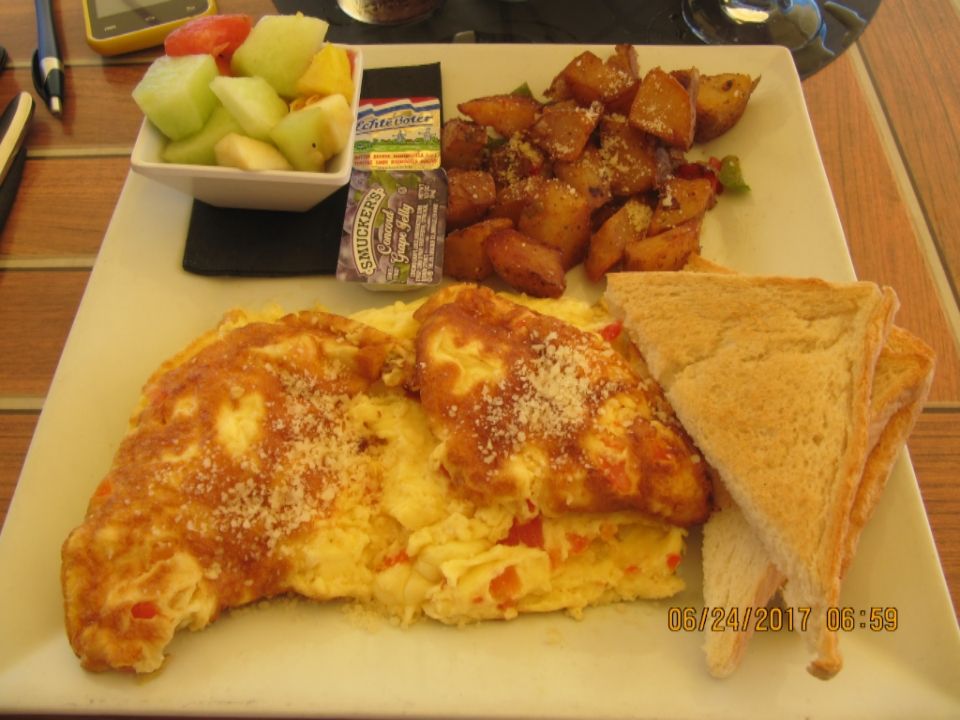 During the afternoon, I met up at the Infinity Pool with another Divi owner who is a member of the Divi Timeshare Owners Facebook group. Social media has really made the world a smaller place.

Finally, it was time for my Passaat fix! Waiting for the dinghy at Skipjacks, I saw these adorable children looking for fish.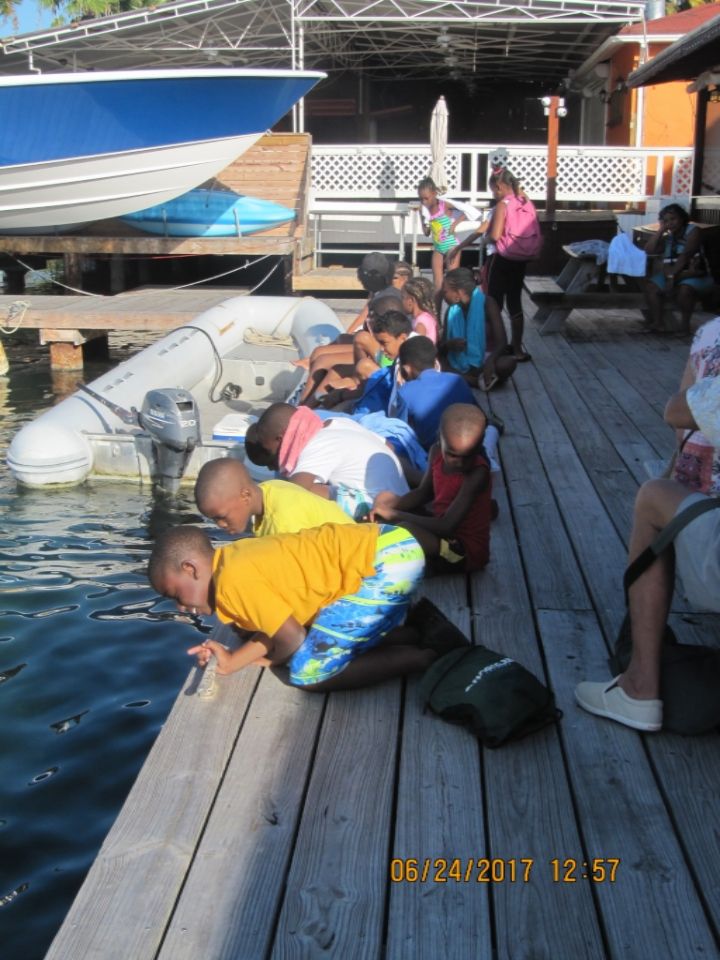 All my Passaat sailings have been terrific, but tonight was really a perfect sailing experience. Warm weather, good breezes, sunshine, nice people.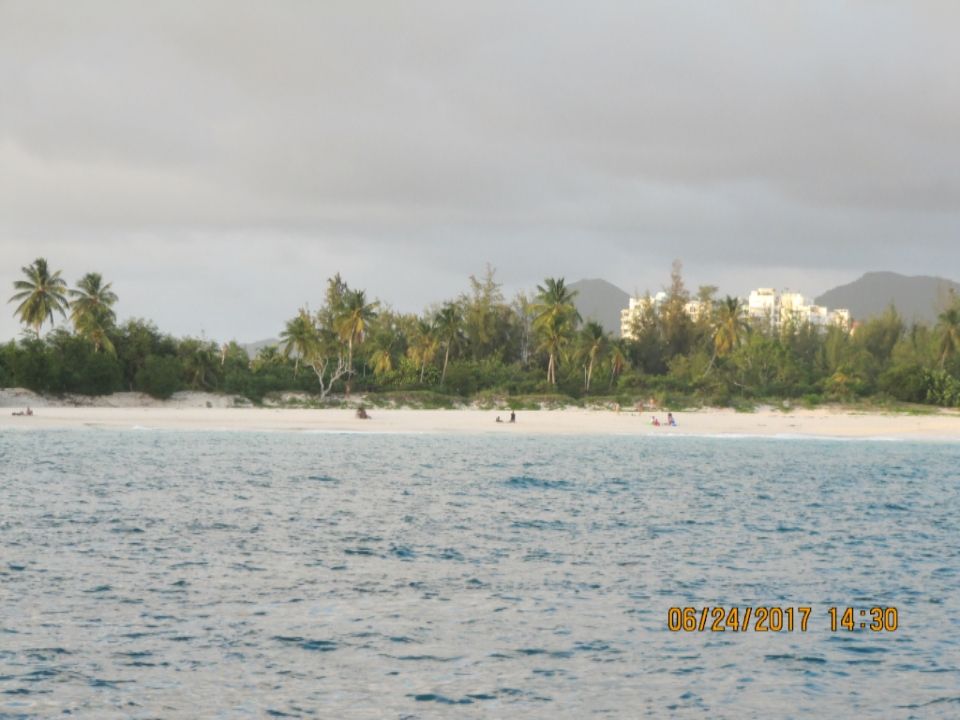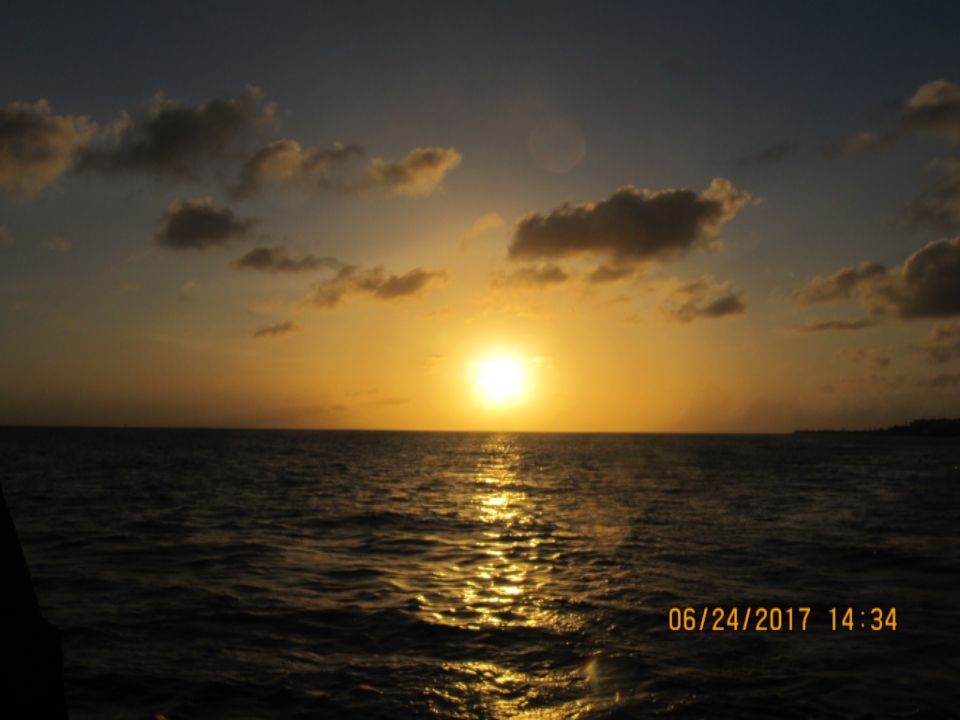 After the sunset sail, I met up with a group at Boca Marina for dinner; the place was pretty busy. OK food, but nothing spectacular.

Sunday, June 25

Time for a French Beach and chose Friarís Bay. As I passed the white gate to Happy Bay, I noticed a couple of guys taking money to open the gate. Is this normal? Iíve never been to Happy Bay by land so donít know.

Upon opening my car door behind Friarís Bay Beach Cafe, I encountered ďthe smell.Ē That should have been my clue, but I continued to the Cafť for lunch. There was a flavor in my sandwich that just didnít appeal, and I ate only half of it. The place was very busy with a couple of large parties in addition to a regular crowd, and bar service on the beach was nonexistent. The beach and water were spectacular as usual, with only fleeting whiffs of ďthe smell,Ē and I didnít leave until after 5:30.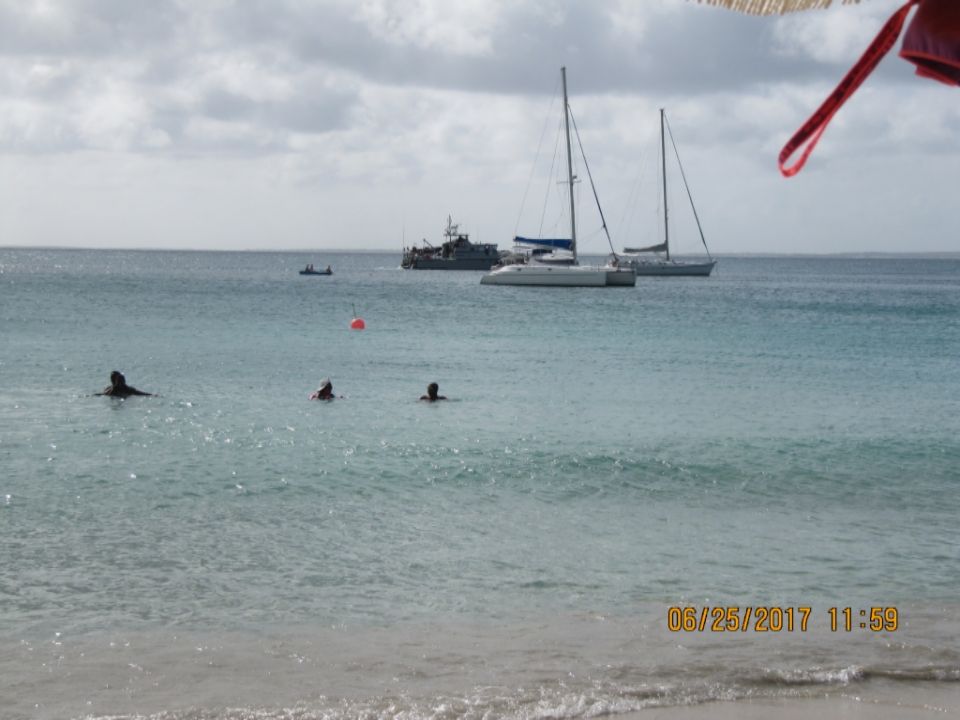 After cleaning up, I headed to Cole Bay in the hope of trying Little Bouddha; unfortunately they are closed on Sunday or at least were closed that night. So Sale & Pepe was a second choice, and I said hello to Lesley and Shirley Bruce, who were dining there. Service was good, and I enjoyed my pasta primavera.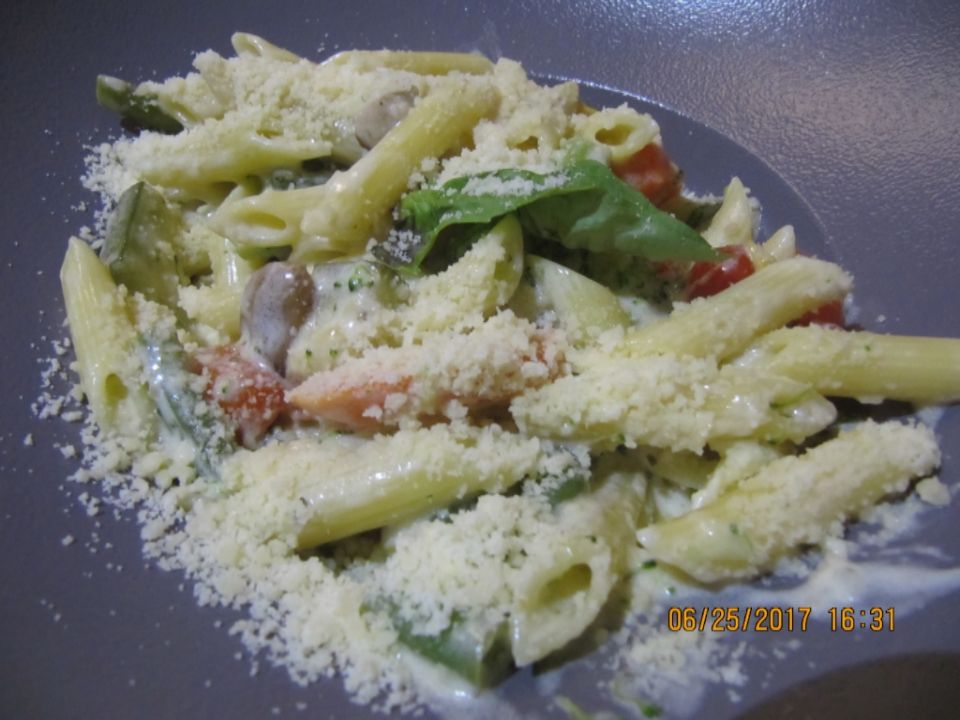 Monday, June 26

It was a Divi Day by the Infinity pool, reading. The pool was a bit more crowded than I like it to be, but the weather was great and itís so relaxing hanging over the edge of the pool.

Four restaurants in Grand Case (Bistrot Caraibes, Le Tastevin, Ocean 82, and LíAuberge Gourmande) are offering a ďPassportĒ card, wherein you get your card stamped after you eat at any of the four. After three stamps, you are given a free bottle of rum; after the fourth, a surprise gift. I earned two stamps earlier this trip and decided on Bistrot Caraibes for my third. I didnít have any reservations but headed out early enough that I hoped they wouldnít be necessary; they werenít, and I was seated immediately.

OMG, what a wonderful meal. One of the special appetizers was an endive/blue cheese salad; the blue cheese was out of this world. It will come as no surprise that I chose roasted breast of duck for my entrťe; superb. Dessert was a trio of sorbets. In addition to everything tasting wonderful, the presentation was beautiful.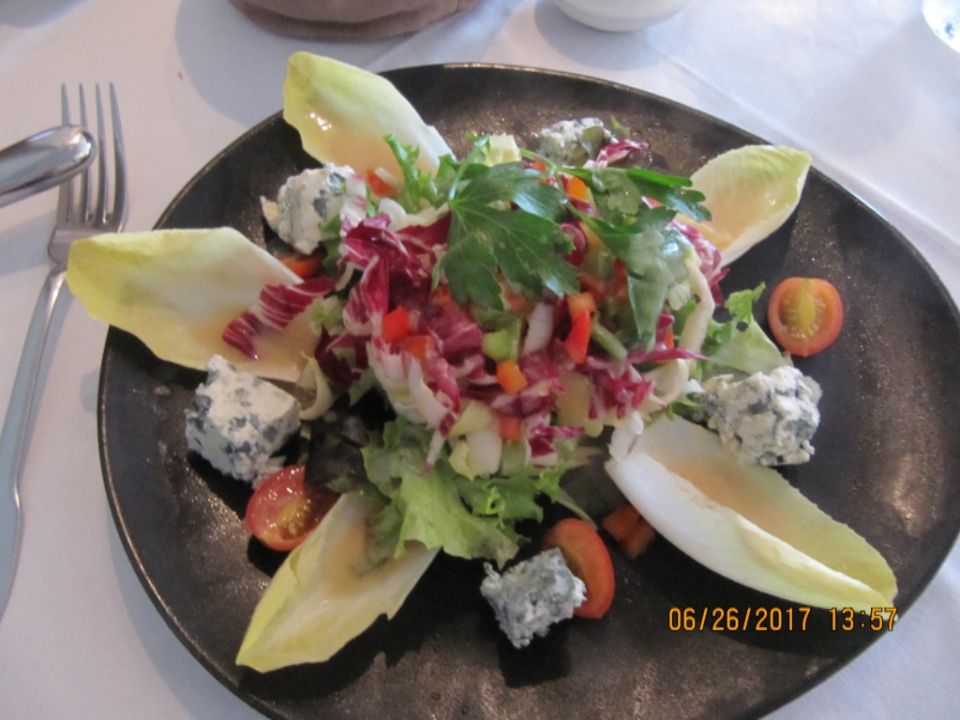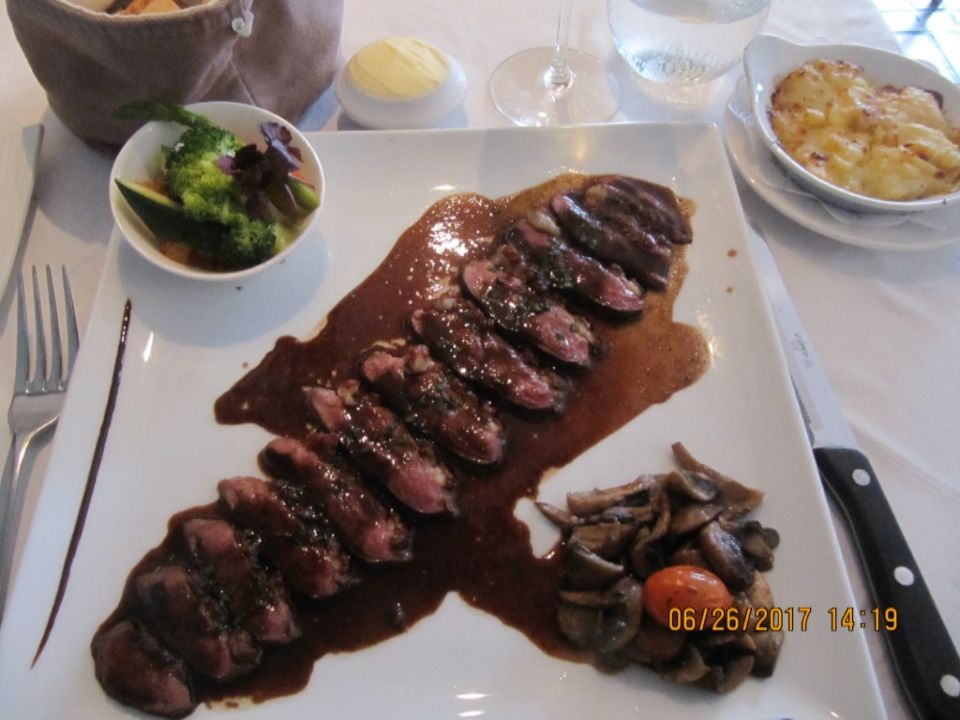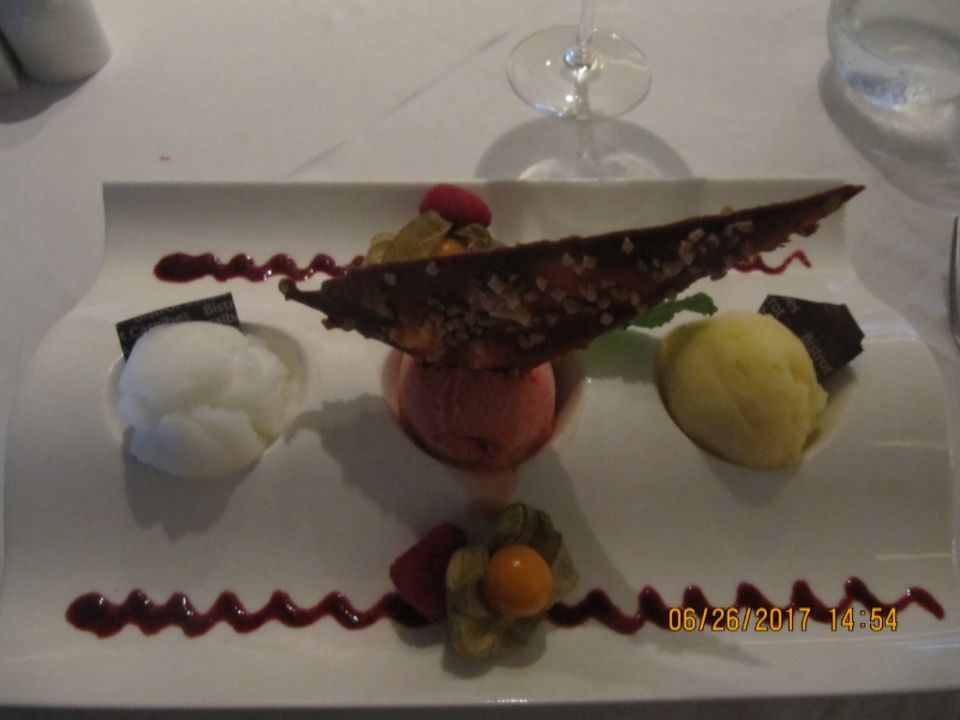 I went home with a bottle of rum from LíAuberge Gourmande as a reward for my third stamp.

Tuesday, June 27

Spontaneity fell by the wayside today. I had a morning appointment to get a pedicure and acrylic nail fill at Georginaís Nails. Unfortunately, there was a horrendous traffic backup on the hill. After sitting without moving for what seemed like an eternity, I turned around and got on the road over the hill by Kooymanís. Unfortunately, it too was terribly backed up. I arrived at Georginaís an hour late and was squeezed in between their other appointments. Lunch was roast chicken at The Palms across the street, and was good. After all that, it didnít seem worth it to go to a French-side beach, which had been my original plan, so the Infinity Pool it was. Worked out and had dinner in with leftovers. An extremely uneventful day.

Wednesday, June 28

Headed out early for the French side. (There are days I wish I were staying on the French side since I prefer their beaches.) Stopped at Tijon; John was out, but I talked with Cyndi about their latest franchise idea. Seems as though there is good interest, but it will take awhile to get everything organized for start-up. I love their after-sun lotion and picked up a couple of tubes.

On to Petite Plage in front of Grand Case Beach Club. This is one of my favorite beaches; being June, it wasnít too busy and I had a front-row chair. It was a beautiful beach afternoon albeit very windy.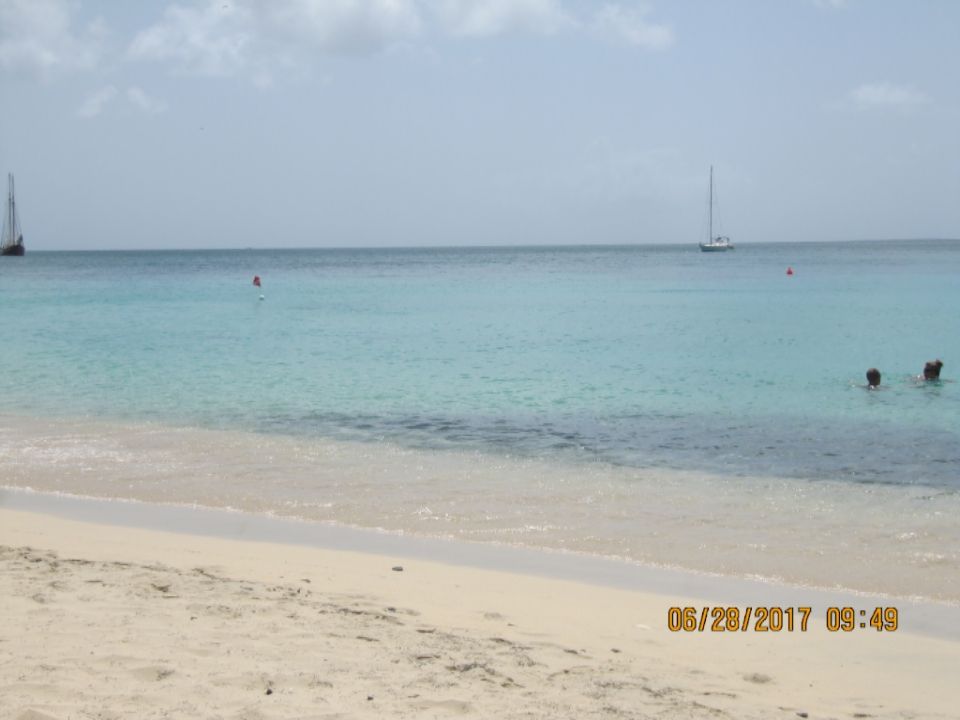 I apologize for the slanted horizon. Itís so difficult to see what you are capturing in the sunlight with a point-and-shoot camera. Lunch was a salad nicoise. I was pleased to see fresh tuna in the salad, which was in stark contrast to a nicoise salad I had last fall at a Marigot Marina restaurant that featured canned tuna. Yuk!




Made it to Little Bouddha for dinner with friends. Itís located in Three Palms Plaza and had been recommended by a couple of in-the-know island residents.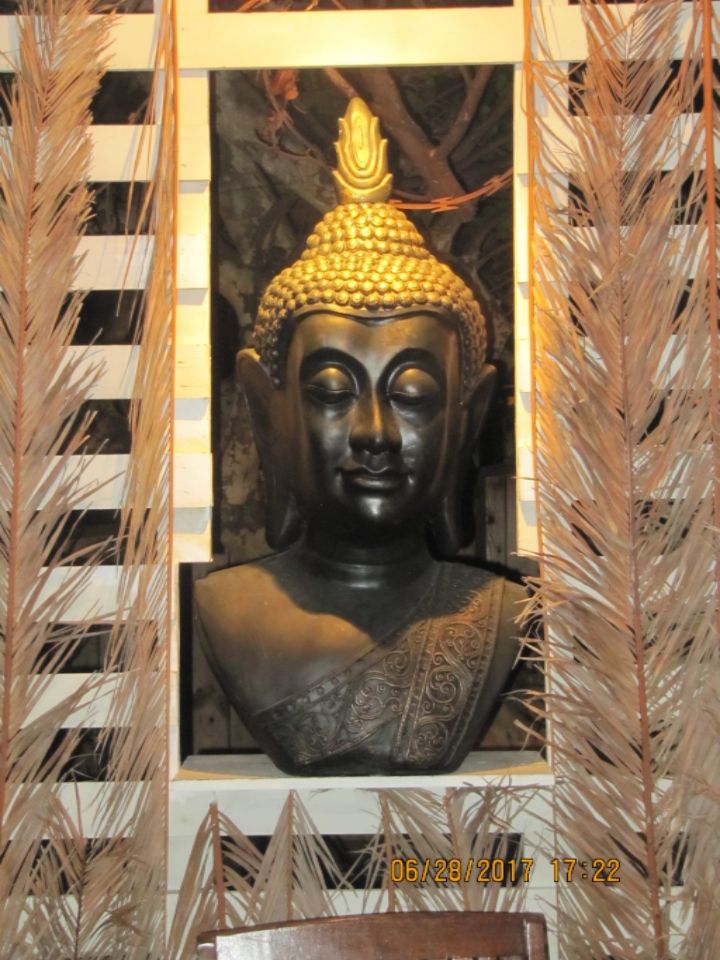 The restaurant that used to be in this space (before Panlaan) was one I really liked but am unsure of the name; perhaps Three Palms? Anyway, Iíll get out of my food rut when I return home, but I ordered what was termed ďlacquered duckĒ on the menu. The server said that really wasnít an accurate description as the skin was not crispy. I canít remember the sauce choices offered, but I chose ginger. I wasnít expecting green peppers, which I donít care for, but the rest of the flavors were wonderful.




Thursday, June 29

Woke up to rain and wind so emailed Capt. Neil to see if the scheduled Tintamarre trip was still on. He replied that it was as the rain was supposed to subside by 8:30 a.m. Had a lovely breakfast on board, but twenty minutes into the trip, Neil told us that while the rain was now supposed to stop by 10 a.m., he didnít think that was going to happen; he was concerned about getting us out onto the sea and being unable to get us back so the trip was aborted.

Back at Divi, rain was very heavy, and thunder was frequent. This is what it looked like from my deck.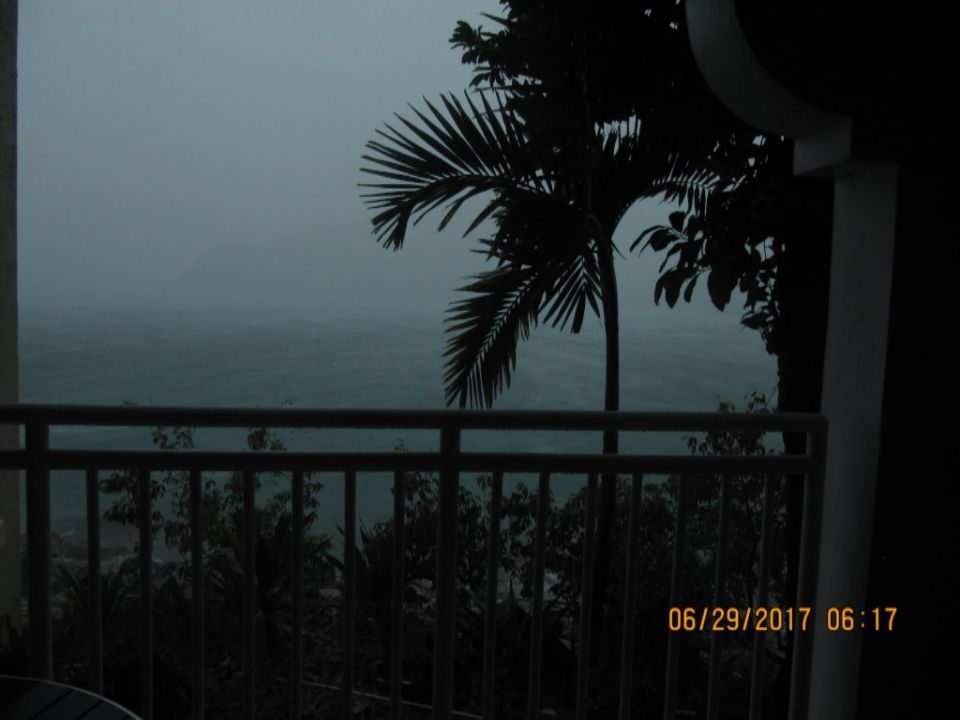 Since I move on Saturday, I decided to devote some time to packing and to getting this trip report caught up. Also did a load of laundry. A productive day but certainly not a beach day.

Dinner was at Escape in Cupecoy and consisted of carrot/coconut soup, asparagus/squash risotto, and a chocolate decadence. Atmosphere is upscale here and French, even though itís on the Dutch side. Service was pleasant and attentive.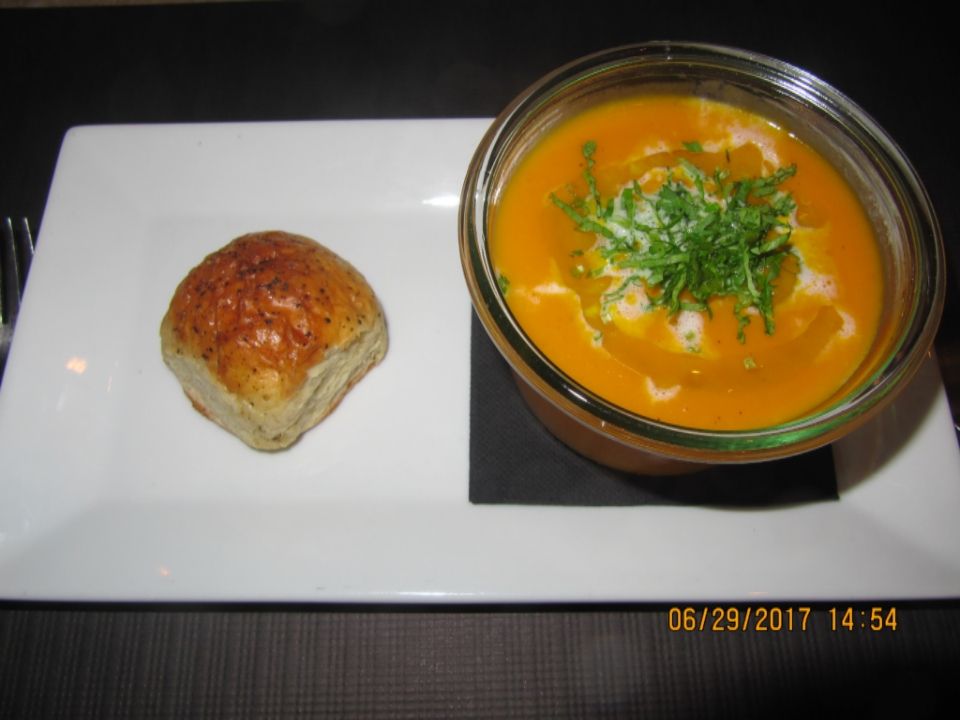 Friday, June 30

My last full day at Divi was spent packing in the morning and Infinity pooling in the afternoon. Jeff Jhangiani picked me up for dinner along with another friend of his at Flamingo, and then we headed to Le Piment. This was my first time at Le Piment, and itís easy to see why itís so popular.

Jeff and I shared an excellent goat cheese salad with berries, duck, and amazing flavors




and we both had duck in an Asian ginger sauce.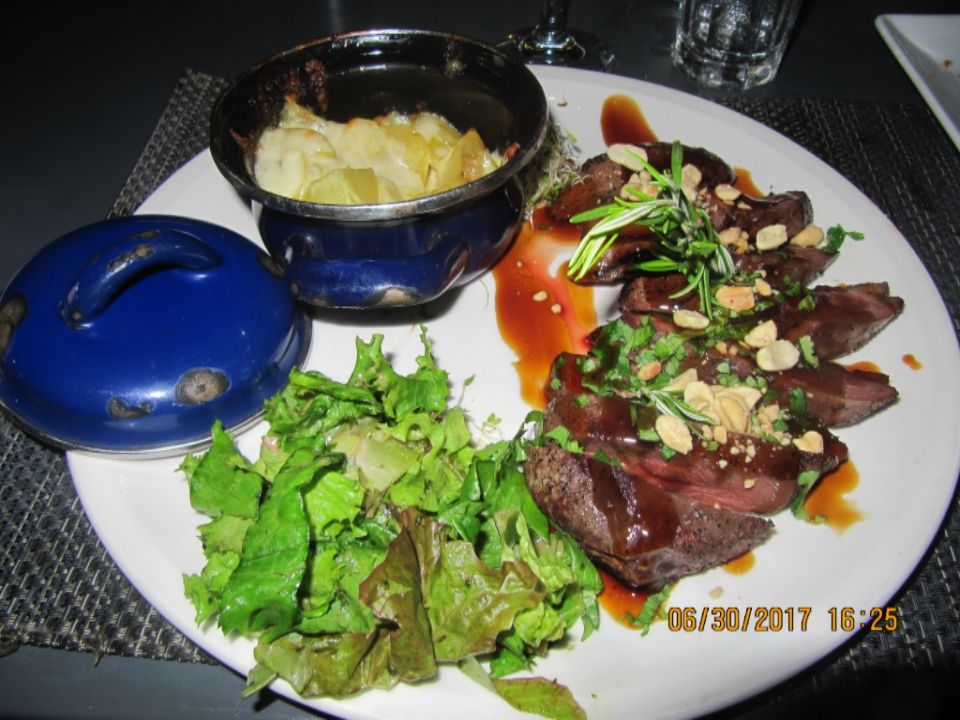 We were way too full to have dessert. It was an extremely pleasant evening, and Iím grateful to Jeff for introducing me to so many wonderful restaurants. I still have a few more of his recommendations to check off the list before I leave the island.

Tomorrow I move to Horny Toad Guesthouse for five nights before returning to Oregon.