Saturday, June 17

The wrist strap on my camera gave up the ghost, and I was afraid of dropping the camera so I headed for Philipsburg fairly early to see if I could get a replacement at Boolchands. The parking lot had plenty of space, and I found what I needed at Boolchands. I decided to have breakfast at Oualichi; this meal was less successful than my lunch earlier in the week. The car needed gassing up, and the station I like to go to is in Marigot/Nettle Bay so I decided to do an around-the-island drive.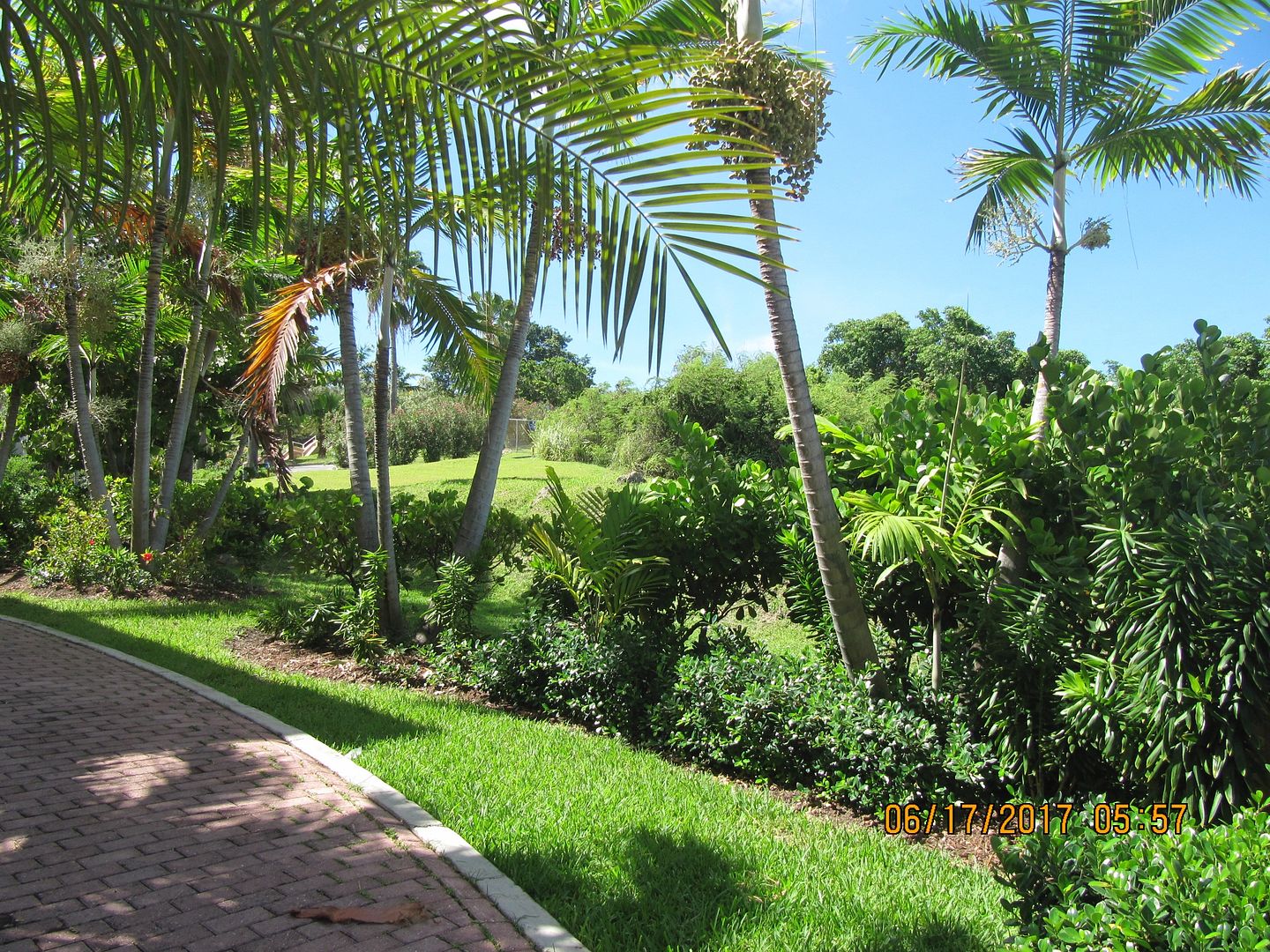 Back at Divi, the afternoon was spent at the Infinity Pool. Since it was turnover day, the pool was fairly quiet until late afternoon.

Dinner was at Danielís By the Sea, a tradition for the last night on the island for one of the group leaving the next day. Heavy seaweed has been reported at Oyster Bay Beach, but not much was noted when I was there although there was a bit of a ledge.




While the food was good, service was very slow. Daniel even came out to apologize for the hour and a half wait.

Sunday, June 18

It was time for a change of scenery. Dave and Kathy have decided they donít want to spend a lot of time riding around (they donít have a car; Iíve been doing the driving) so I headed to La Playa. Being Fatherís Day, it was very busy. I was guided to a second-row chair, which was free by mentioning TTOL. It was very windy, which didnít make for a particularly relaxing beach day.

When it was time for lunch, it was amusing to see the little beggars at another table. The dog belongs to La Playa co-owner Thomas; the cat is likely a stray.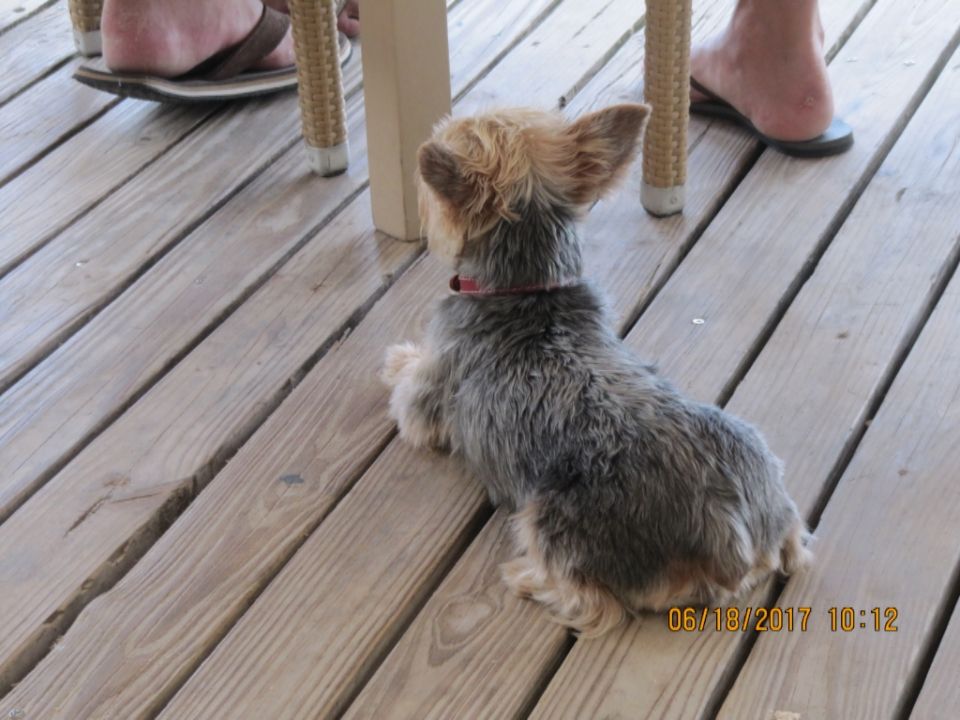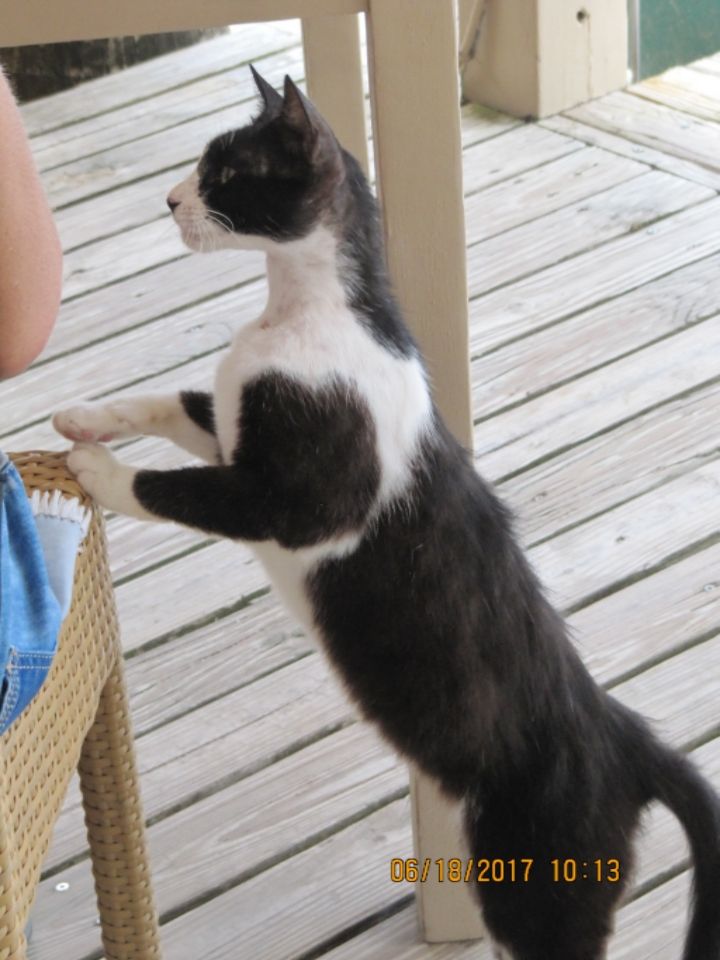 Connis and, I think, Betty V. were performing. I donít know if that was just for Fatherís Day or if it happens every Sunday.


Monday, June 19

The day was fairly overcast. Although the threat of rain was ever-present, it fortunately didnít materialize.




After a quick grocery run, I spent the day at the Infinity Pool until it was time for a Winemaker Dinner at La Samanna. Jeff Jhangiani invited me and others and graciously offered to give me a ride. I had never been to La Samanna before, and itís a lovely facility; so is the view.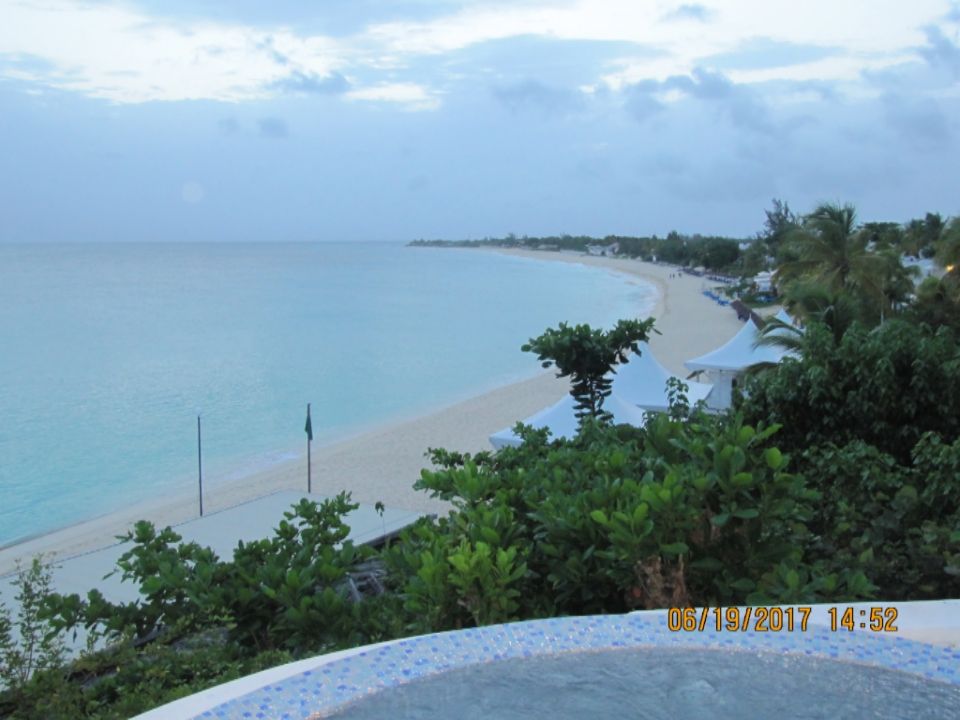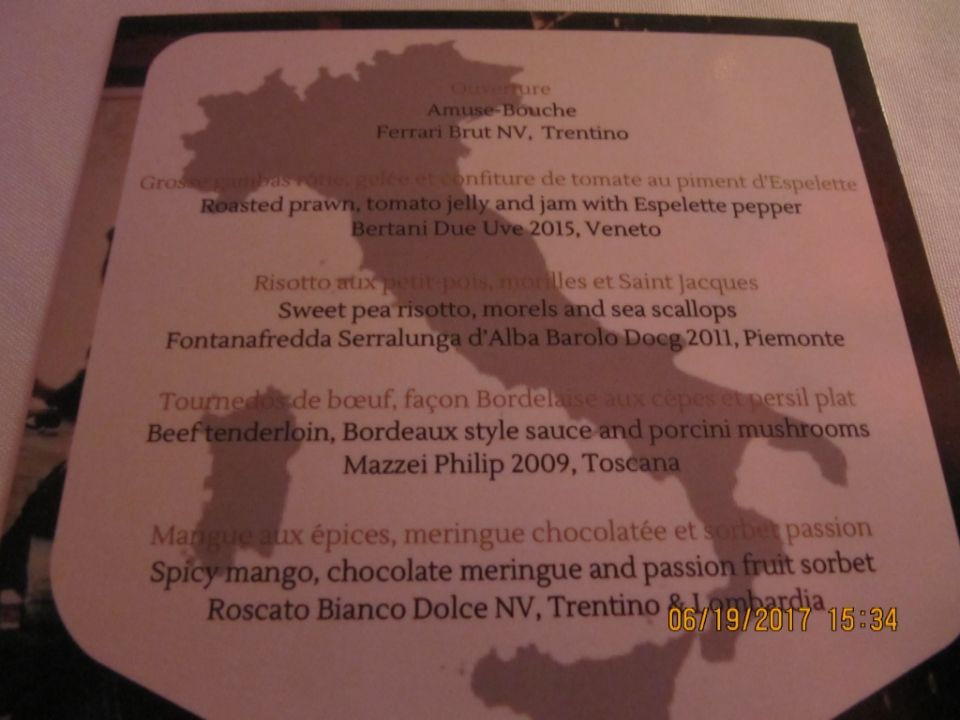 It was a lovely evening and may well be the best meal Iíve ever had on the island. This is the entrťe, beef tenderloin with Bordeaux-style sauce, porcini mushrooms, and incredible potatoes.




Jeff says that this event in high season can go for $550 per person; fortunately, it was $99 the night I went.

Tuesday, June 20

Iíve been exercising nearly every morning at the much-improved fitness center but instead decided to go to the aqua aerobics class. It wasnít a cardio workout and was more stretching than anything else. It was another overcast day with a significant breeze, spent at the Seabreeze Pool.




Several of us went on the Celine Tooís lagoon cruise/Stone dinner package. It was cloudy for the duration, and we were rained on for a bit as well.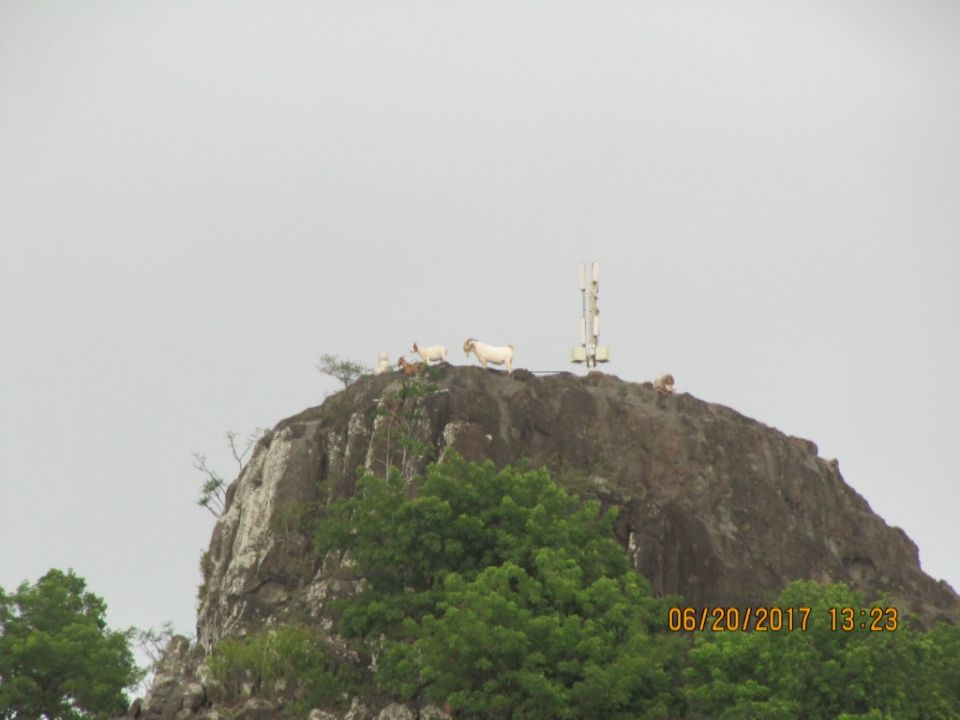 For an all-inclusive price of $49, which includes the cruise, you have the choice of three entrees; you can also upgrade to other entrees for an additional cost. After dinner we went to Byblos for baklava dessert. Unfortunately, they had just sold the last serving before we arrived, but I was able to say hello to Carter so all was not lost.

Wednesday, June 21

It was very windy at Dreams, making for another less-than-successful beach day. However, lunch was a huge success. Iím sure everything on the menu is wonderful, but I just canít get beyond the Bo-Bun Nem salad. Itís simply exquisite.




Why I ordered dessert is beyond me, but I justified it because it was fruit. Excellent.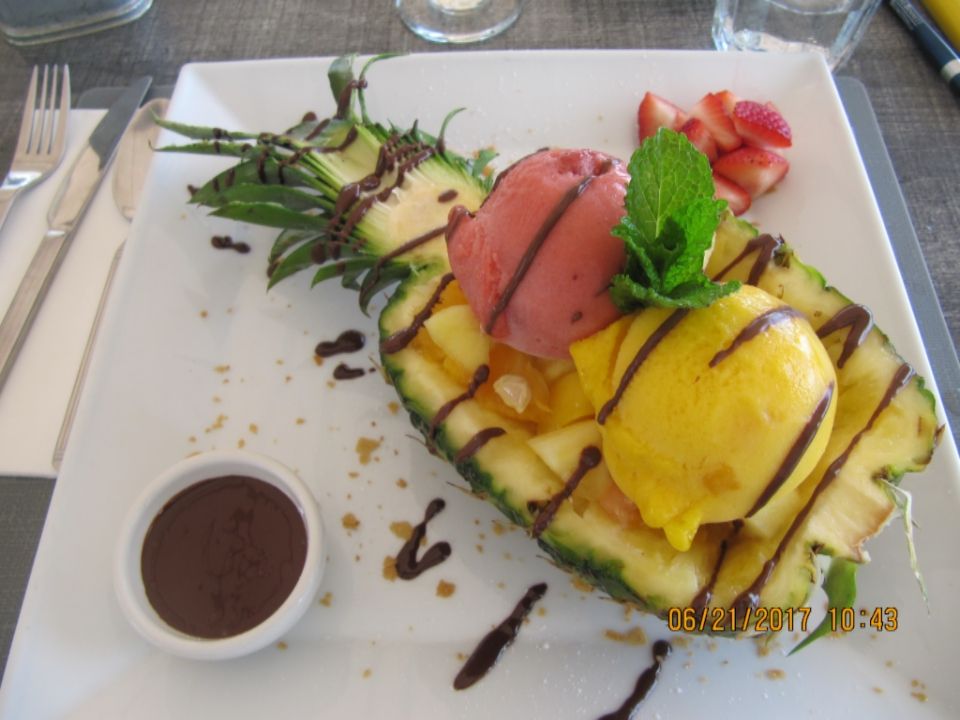 As if I hadnít had enough food for the day, I met friends for all-you-can-eat ribs at Ocean Club. With coleslaw and fries, itís a bargain at $15. DonLinda, you were truly missed.

Thursday, June 22

Dave, Kathy, and I went on Aqua Maniaís Santino round-the-island boat trip. There were four stops: Creole Rock, lunch at a Grand Case lolo, Tintamarre, and Pinel Island. Dave really enjoyed the trip, but I just canít recommend it. The Santino is a 28-passenger motor boat, not a catamaran. Consequently, some of the ride was very rough. I could have lived with that, but the constant drenching from the waves was unpleasant, at least to me. We were soaked the whole trip, and I just didnít care for it. However, the weather was great and I do like seeing the island from the water. This is Trumpís compound.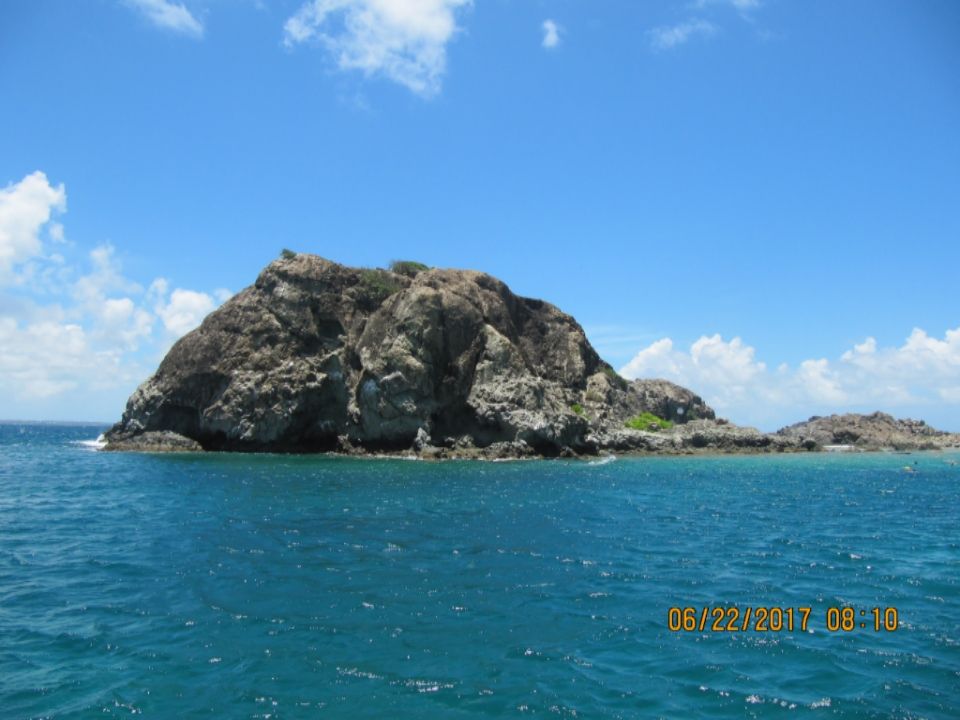 Tintamarre was very busy, and we moored next to the Celine Too, causing me to wish I had chosen that trip instead.




As you know from their posts, Carol and Eric are on the island. Friends and I met them at Melange for dinner. This time I had the shrimp skewers; very good.

Friday, June 23

It was an active morning with an hour in the gym, followed by a very energetic aqua aerobics class. Divi is really green and beautiful.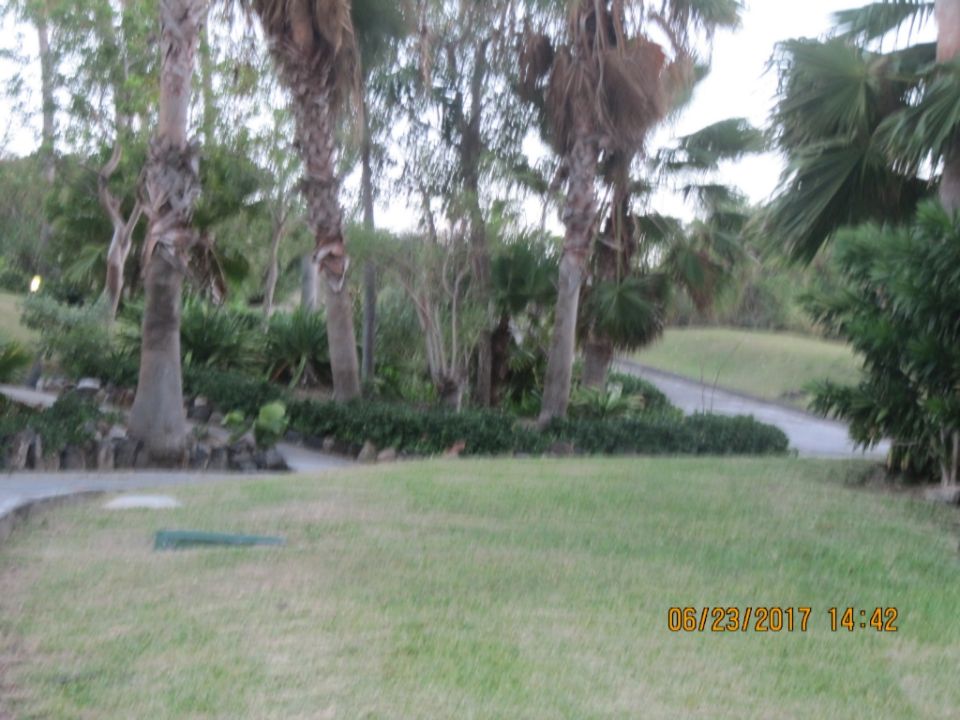 I spent the afternoon on Little Bay Beach with Kathy and Dave, as this is their last day. We enjoyed dinner at Antoineís with friends to celebrate Kathy and Daveís last night on the island. Entrees included veal scallopini, red snapper, roast chicken, and, of course, roast duck with a cherry sauce (not shown). The pureed cauliflower and carrots were a nice touch. Not an incredible meal, but very good. And the company was even better.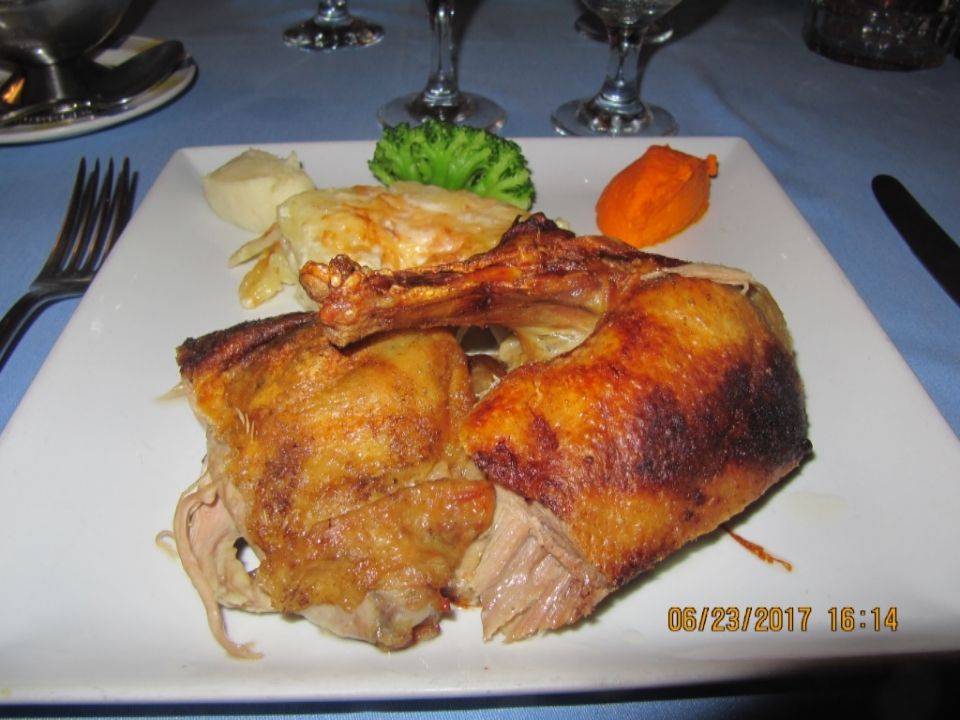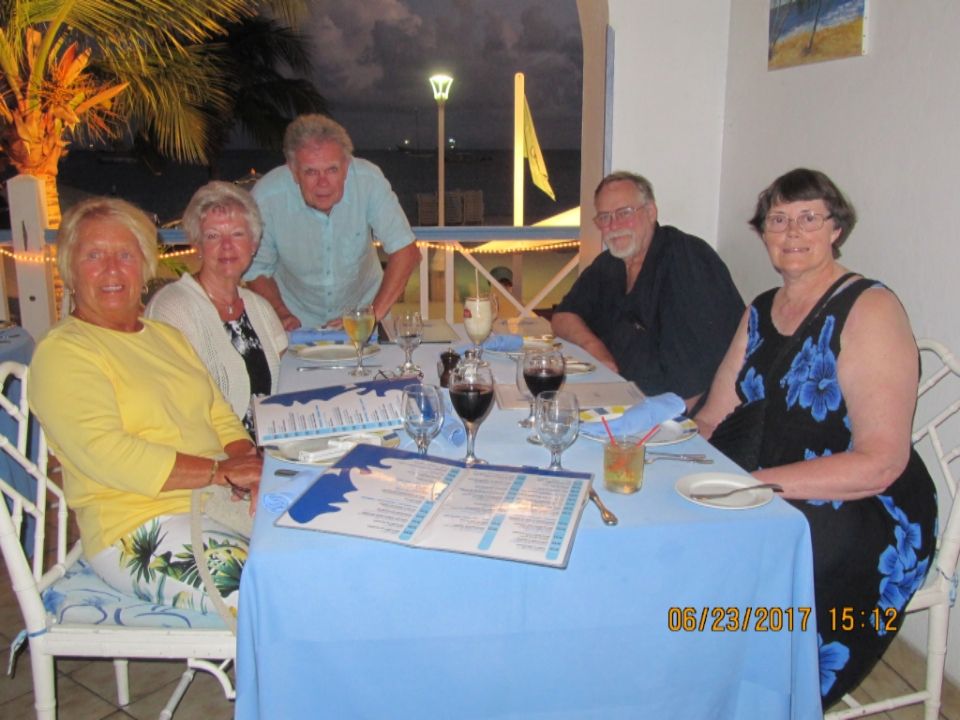 The lights around Great Bay made for a lovely setting.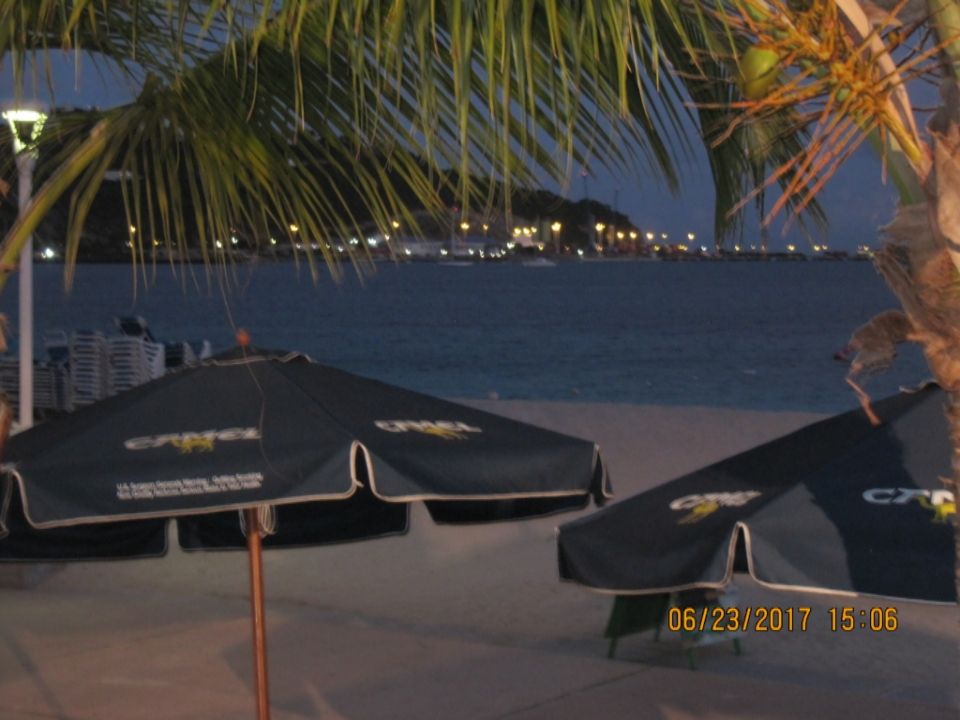 Tomorrow I take Kathy and Dave to the airport and start my remaining two weeks (almost).