MEALS OUT

First, let me say that we have changed so much since we first started coming to SXM, in 1988. When we first started coming, we would eat in Grand Case at a French restaurant virtually every night, and then most nights would head over to the casinos, arriving back to the hotel at 2 or 3 AM. Now, we just can't eat as much anymore, and we don't need to.
At home in Florida, we live in the middle of nowhere, so we have taken to fixing most meals at home, and while at Beachside, we feel so at home here, we eat many meals here, because we are so loathe to leave here. And we both have separate businesses that we operate, in addition to TTOL, so it's so nice to just stay in, many nights. However, this note is about going out...


I already posted a note about our meal at La Patrona at Simpson Bay Resort. And we had pizza from The Boat Bar our first night.


One night we went to Mario's . It was the first time we had gone there since he is in Porto Cupecoy. The setting is absolutely LOVELY. I don't have any pictures because, although I took my camera, Eric had, unbeknownst to me, taken some pictures here and posted them that afternoon, and then didn't put the camera card back in my camera! So, when our first course arrived, I popped my camera out and couldn't figure out why it wouldn't take a picture!!!
So, verbal descriptions will have to do..

We were seated on the rail on the side. The view was nice, but unfortunately it was pretty windy, so they had the plastic curtains down, which wasn't their fault. The menu lists a $40 special for 'this month', but I suspect it's a low season special. It's an appetizer, entre, and a dessert for $40. The online menu lists the specific items that are available at that price, except for the desserts. We ordered the 3 course special for Eric and an entre and dessert for me.

We started with the carmelized onion soup, which we shared. It wasn't at all what we expected, as we expected a more traditional French onion soup, but it was delicious. It was a small portion, not heavy at all, with a thin crouton on the side with melted cheese. Eric had the pistachio crusted mahi mahi, which he said was good. I had the duo of NY strip and roasted bone marrow, which I ordered in some part because I had never had bone marrow. I didn't care for the bone marrow, but as I said, had never had it. The steak was ok, but I thought over cooked. It was what they called 'slow cooked', so I'm not sure what that meant, but medium rare should still be very red in the center? I didn't complain about it or ask them to take it back.

The choices on the desserts on the $40 menu may change? I don't know why they are not on the menu, but the night we were there, the choices were the macadamia & pear tartlet or the profiteroles. Eric got the tartlet, which actually was quite good. I got the creme brulee, which was quite pedestrian. Just plain creme brulee, no flavoring, no sauce, no fruit, no nothing, not even powdered sugar or a piece of mint on the plate. Which to me was our complaint with the whole meal. It tasted good, but there seemed no flair, no presentation, no pizzazz, no attempt at plate decoration. They have an auto tip of 15%, so that was all we left. With a $40 bottle of wine, the meal was $160, which we felt that we have gotten many other better meals for a better price. We won't return any time soon.

One day for lunch, we headed to LaPlaya , which is Bruno's relatively new joint venture on Orient, along with Thomas, his partner.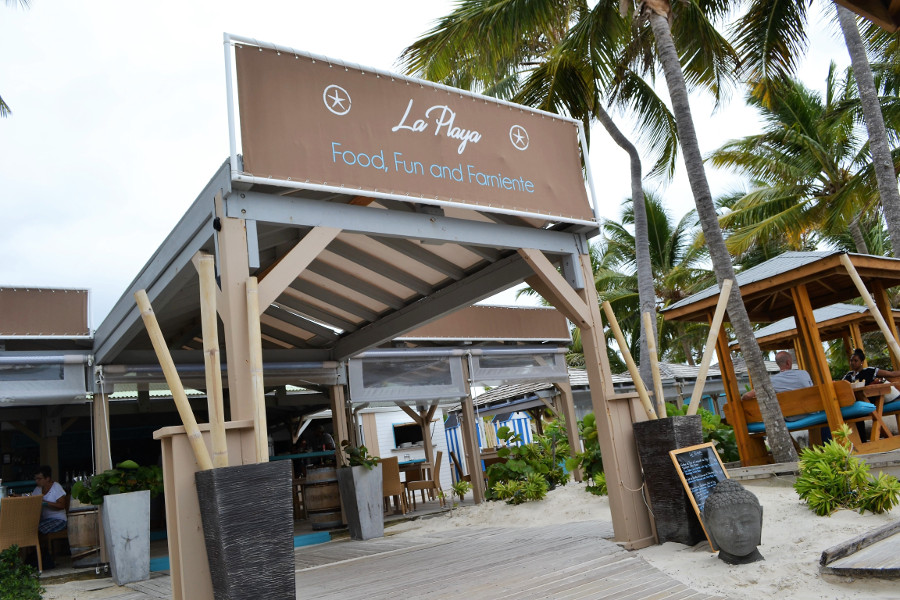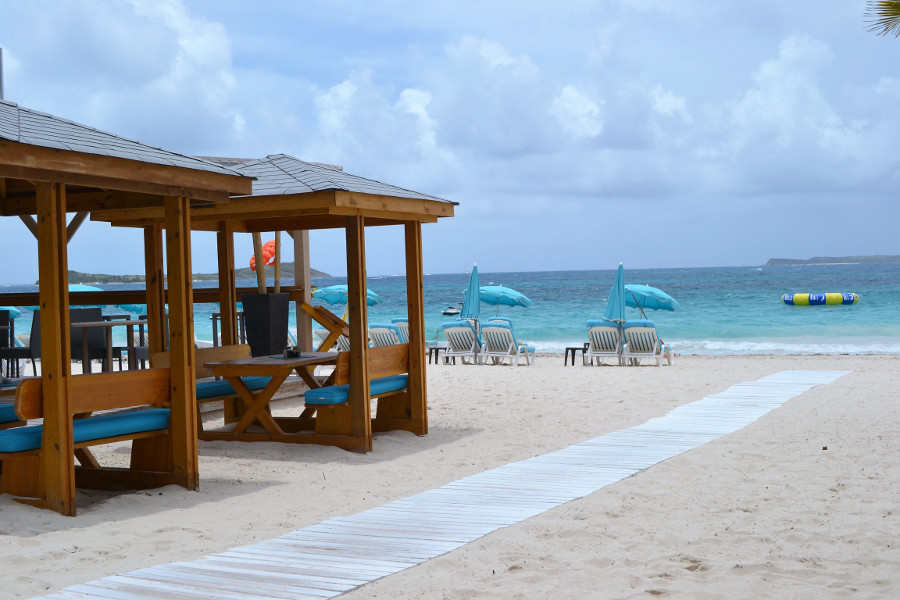 We didn't want a huge lunch, so we chose a cheeseburger for me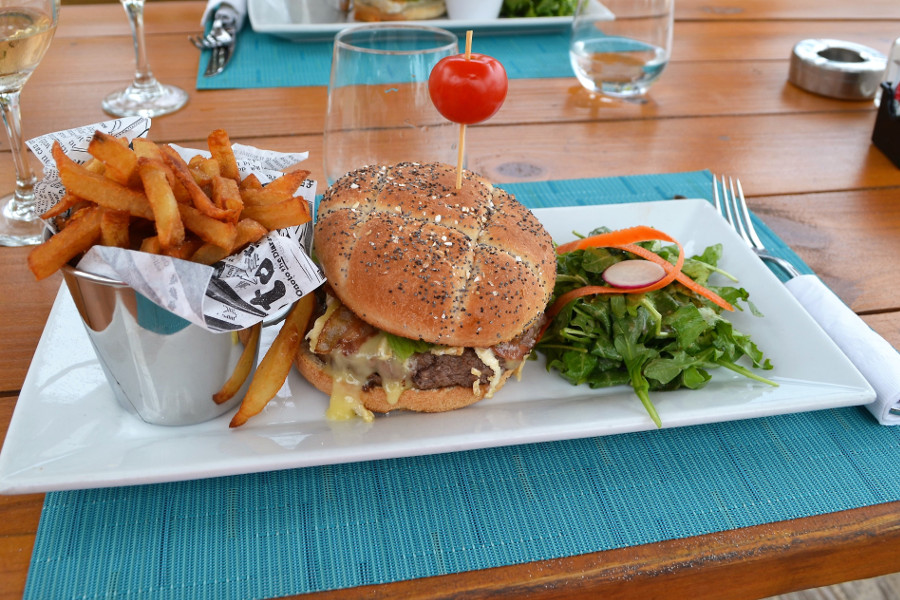 and a mahi mahi burger for Eric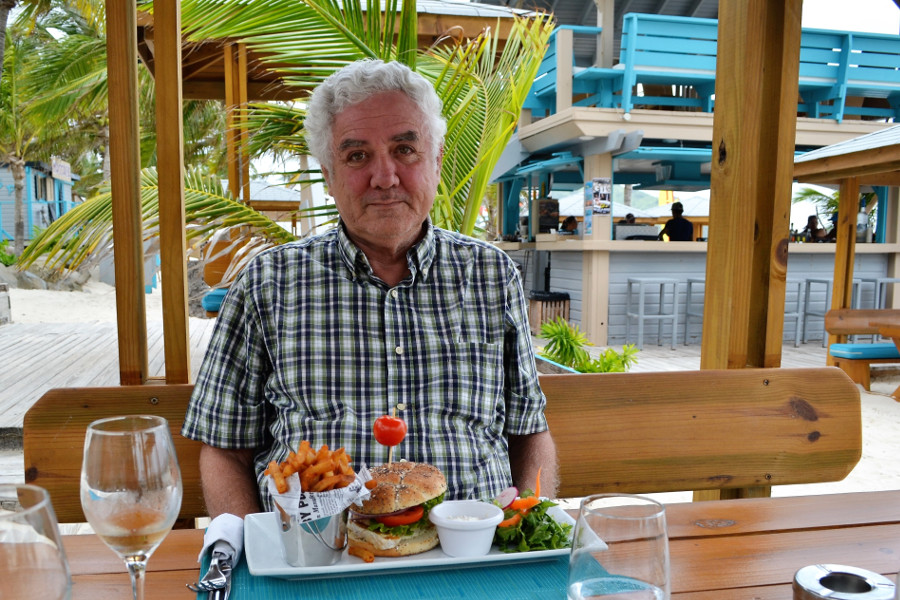 both with fries, and a lovely bottle of a French rose.

The weather was a bit cloudy and very windy, but it was still a very enjoyable lunch. We enjoyed watching the little dog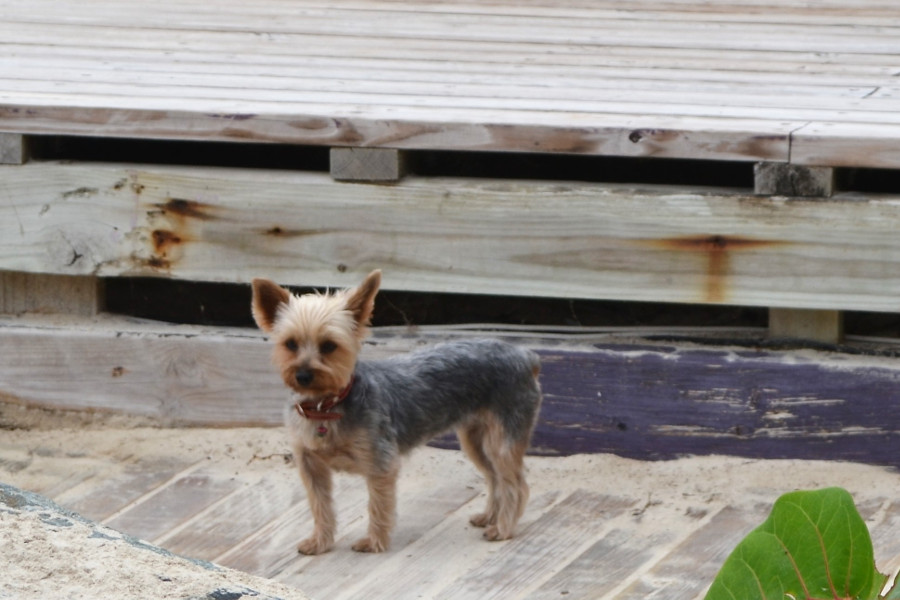 which Jazzgal says belongs to Thomas, interact with the cat.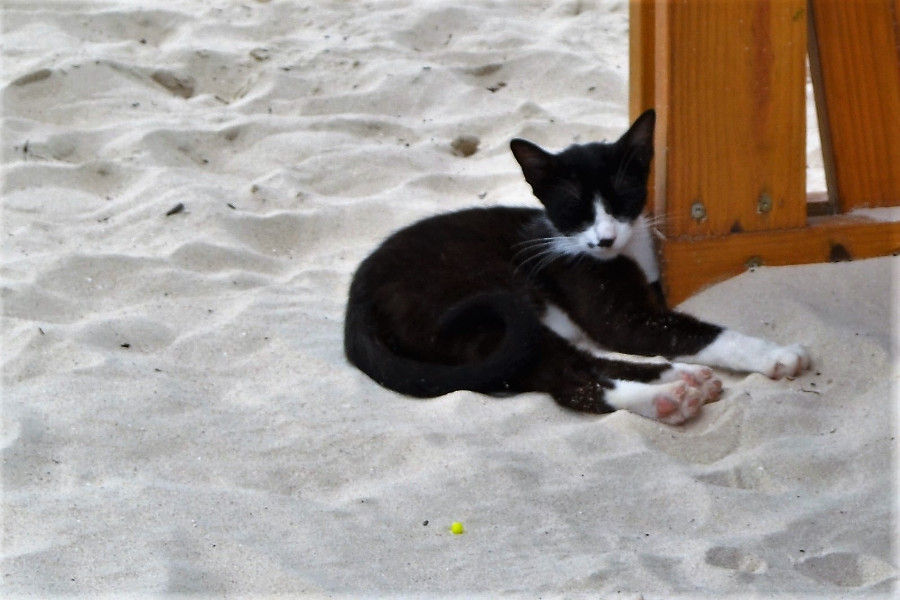 The dog sat and watched the cat and chased it around. We loved the 'cats and dogs' replay..

Our best meal of the week was at, no surprise Dreams . I honestly love it there.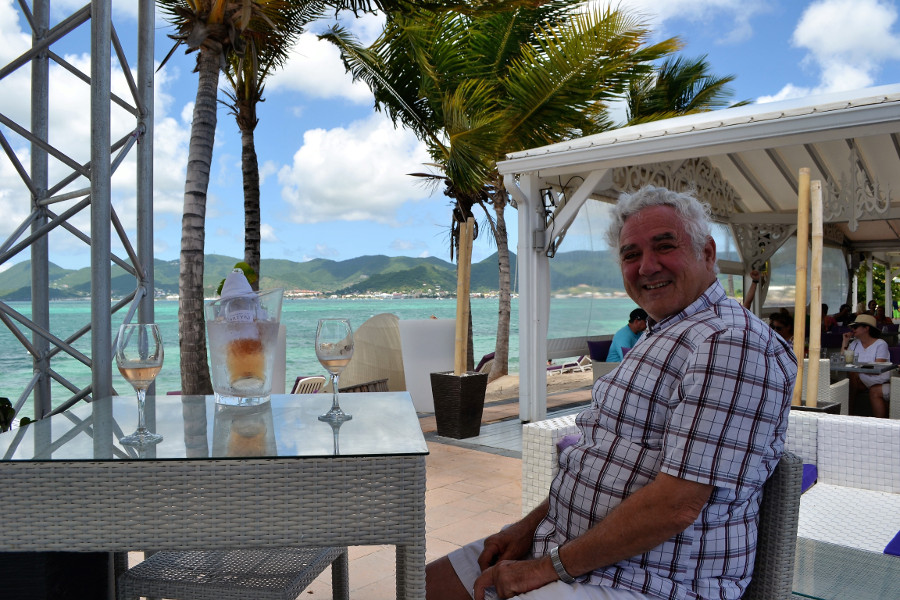 The qualify of the food just blows away everywhere else we ate this time. I had my usual, the bo bun nem salad.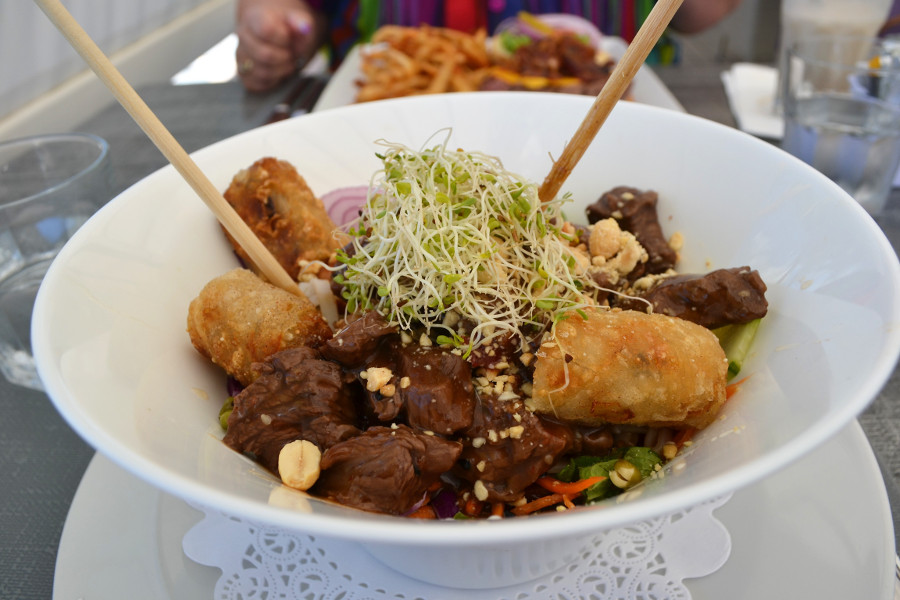 It really is such a wonderful dish! Eric had the special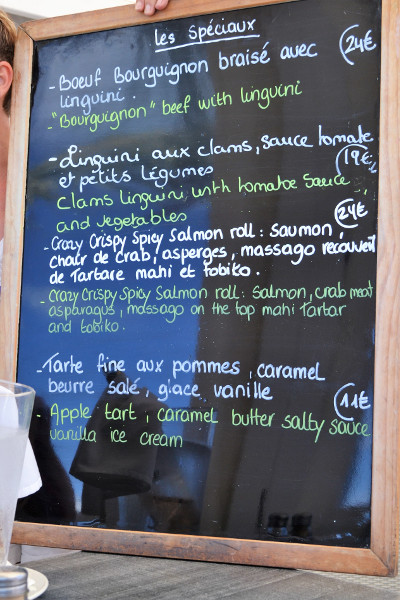 bouef bourgonoyne. (sp!!) OMG!!!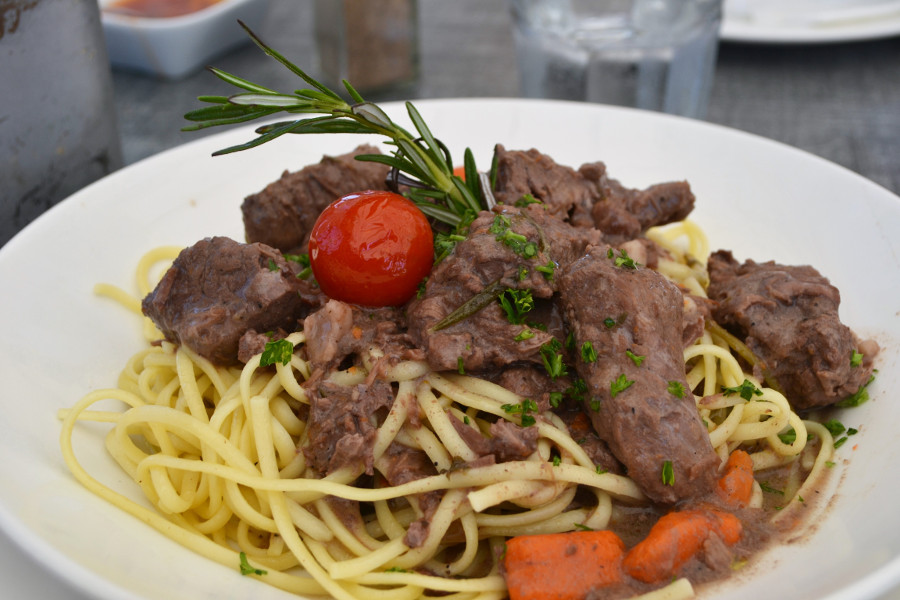 Wow, amazingly tender and delicious!!

We went with an island friend, who had a yummy looking cheeseburger.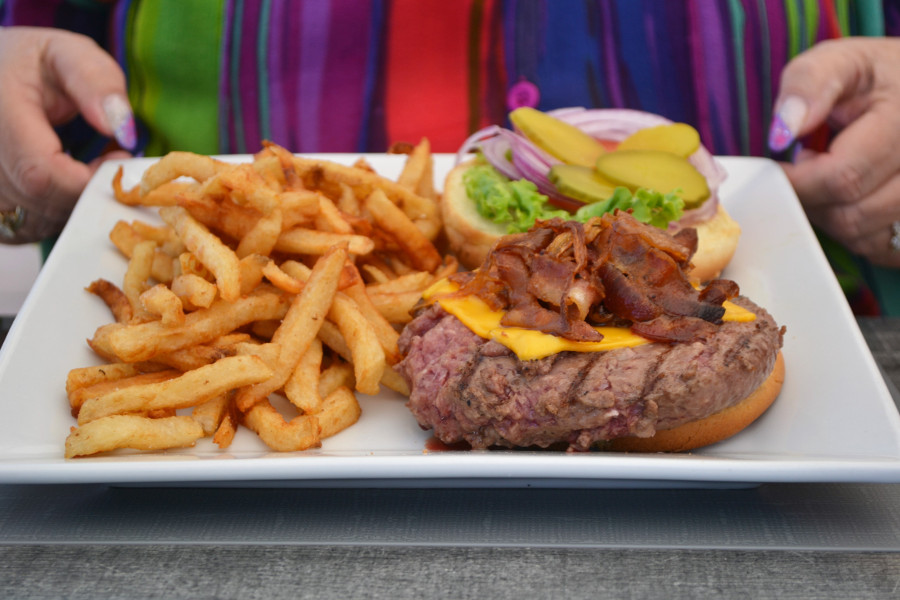 I finished with the 'no name' dessert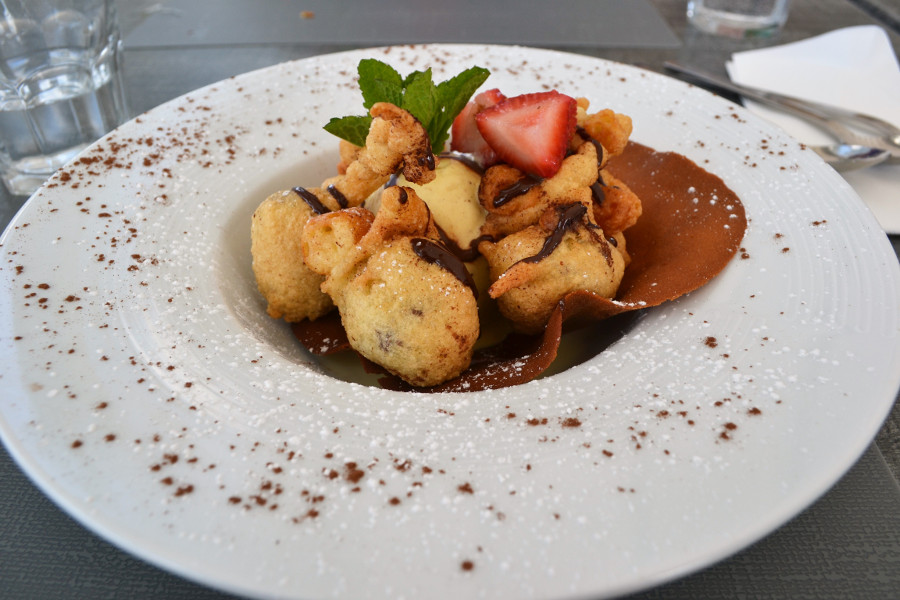 which was spectacular, although I was SO stuffed, as no one helped me with it!!

One evening, we met Linda (Jazzgal) and Larry and Gretchen at Melange . We all ordered off the menu, as compared to the 'all you can eat' grill. The all you can eat grill includes a house salad, one side, and as many skewers as you like, for $39. That was just too much food for us. I had the beef with a merlot sauce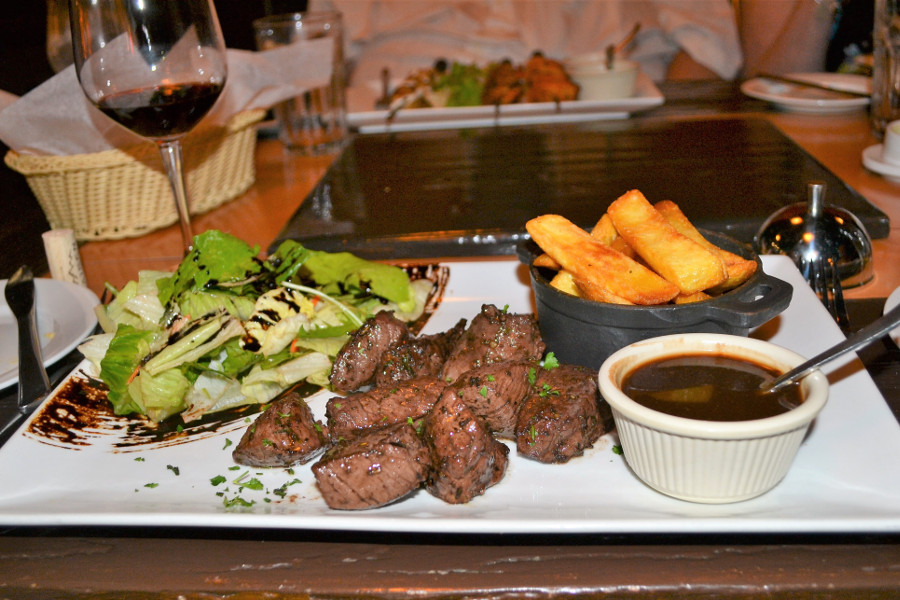 which was quite good and perfectly cooked. It came with a house salad for something like $18, and I chose steak fries for an additional $5 or so. Eric had the shrimp skewers with salad, and ordered a side of stir fry veggies. Linda had the shrimp skewers also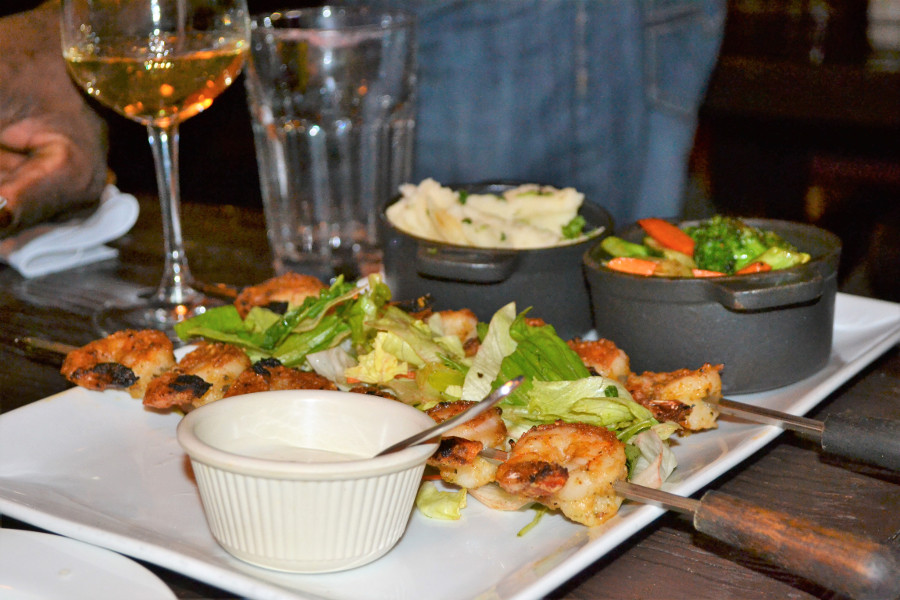 so just posted a picture of hers.

Larry and Gretchen had I think mushroom skewers and some fish?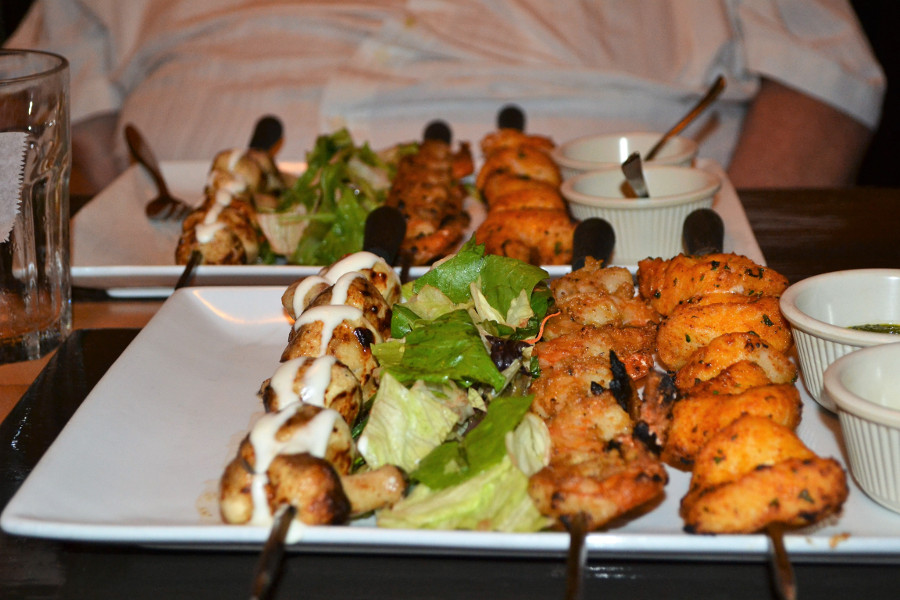 Everyone enjoyed their meals, and no one had room for dessert. They brought out a dessert menu, but I don't know what they even have, as no one looked at it. There is no dessert menu online.

By the way, Melange is in the process of somewhat of a revamping of their concept, as they are going to be retaining the 'skewer' concept, with the all you can eat theme, but will also be focussing more on their ala carte menu, with increased emphasis on steak and seafood. On the ala carte menu, all food is cooked in the kitchen and served on the plate, as compared to cooking on a brazier on the table.