THE TRIP DOWN
We booked our air in January on AA. We only had enough miles for one ticket, so I bought my ticket for $410 roundtrip, Tampa to Charlotte to SXM, then the EARLY SXM to Miami to Tampa on the way home. We normally just drive 3 1/2 hours to Miami for the nonstop from Miami, but it was $300 MORE for that when we booked. Eric booked Tampa to the evening Miami flight to SXM, because that was all that was available at the time on frequent flyer tickets. So we were on different flights on the way down. We have often booked ff tickets with flights that were not what we wanted and have always been able to change them to better flights. This time we checked ALL the time until just two days before we were due to leave, before we FINALLY were able to get Eric on the same flights I was on. The flights were outrageously expensive the whole time to book, up until the last day, and there were easily 40 seats available Tampa to Charlotte and 50 seats available on the Charlotte to SXM flight, at the time we checked in.

So, on Thursday morning we were up at 3:45 AM for the two hour drive to Tampa, parked in the economy parking garage, checked one bag outside and were through security and at our gate within 25 minutes of parking. This was despite me getting TSA pre-check and Eric not, so we both went through the regular line.

I'm not sure what happened the day before our flight from Tampa. That morning there were 20 people on a stand by list and only about half made it on to what was then a full flight. They were offering to check carry on bags for free, so we checked one of our carry on bags (the one with nothing in it but clothes!!), all the way to SXM. The flight to Charlotte was uneventful and on time.

Once in Charlotte we split a burger at the bar next to the gate and eventually boarded. When we boarded the cabin attendant was asking people what their seats were, and moving most people up front, as the whole front of the plane had been empty, because no one had paid the ridiculous price to 'upgrade' to seats in the front. Without any prompting from us on seat location, she put us in row 16 by ourselves, so that we had three seats for the two of us (as did most everyone else) . It made for a lovely trip down.

ARRIVAL IN SXM
We arrived about a half hour early and the only other plane on the ground was another AA flight, that was already through immigration. There were NO forms to fill out and we were through immigration, got our bags and were sitting in the van going to Travel Rent a Car within twenty five minutes of when our plane landed!!


We went to Beachside Villas and admired the renovations to our unit.

And that view!




We dropped off our bags, and were back out the door to go to Grand Marche by 4 PM, an hour from when we landed. Traffic in Simpson Bay was bad--how shocking!--so it was 45 minutes to Grand Marche. We got a bunch of essentials and were back 'home' by around 6 PM, with the trip back (including the 'passing the scooter' incident!!) much quicker than the trip over had been.

I sent Eric over tothe boat bar for a carry out pizza while I unpacked. A few slices of pizza, with some drinks, and it was time for slumber!!

Friday morning Eric fixed us a ham and cheese omelette for breakfast. We didn't find many good deals on wine at Grand Marche, so Friday morning we headed out to Super U for some wine and a couple of other things. Lunch was burgers on the grill.

Dinner was at La Patrona for our anniversary. See the separate note regarding that. After dinner we headed over to Hollywood, where I had fun at roulette for a while, before I eventually lost my a$$. Oh well..

SATURDAY
Saturday dawned beautiful, as the weather during the day had been so far.





The beach here is beautiful at the moment, although it does have some 'waves' in it, so not totally level. We have seen basically no seaweed here, as there are just bits on the beach, and we have not seen anyone cleaning the beach here.


As always, our primary occupation here is just watching the passing view out our back door.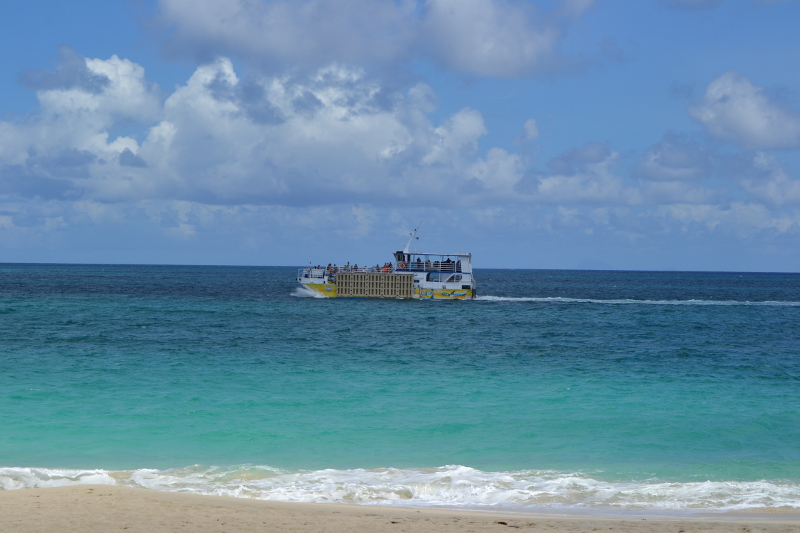 Breakfast was some croissants from An Pain Gourmet (by Super U).


Lunch was grilled chicken sandwiches with chips and salsa and fruit.




I was concerned that it would be too crowded on the deck with the grill, but we have had no problems with space on the deck.

And inside, the transformation is amazing! I LOVE it!




As before, during the day, we leave the front and back doors wide open and have the a/c off. It is so nice in the evening to be able to close up everything and put the a/c on and watch TV in the living room, with the doors closed for security.

Dinner Saturday evening was some baked brie that we found on markdown at Super U, for being short-dated. Saturday morning I sent Eric over to Carrefour for some strawberries, which they hadn't had at Super U. As usual, he came back with those, but ended up with some additional goodies, like some caviar and champagne! It was a lovely dinner!






SUNDAY

We heard some HARD rain overnight but Sunday dawned fairly bright, along with nice breezes. So far we had about 5 minutes of sprinkles Saturday evening around 7, but otherwise the weather has been beautiful during the day, with nice breezes.

Breakfast was continental affair, with some sliced ham and cheese and some fruit and a crossaint. Lunch looks to be ribs on the grill and potato salad. Life is good!