Posted By:

Carol_Hill
Beachside Villas -

10/18/2019

08:32 PM
We have been coming to St. Maarten on ships since 1987, on land vacations since 1995. At one point, I counted how many DIFFERENT places that we have stayed on SXM, and I think the total comes to around 20. When we first started coming to SXM, we stayed exclusively on the French side. About 15 years ago we started switching on and off, primarily because we needed internet and many French side accommodations did not have it. Somewhere around 2011 we discovered what is now our 'home away from home' on SXM, Beachside Villas. In June this year, we celebrated our 40th anniversary at a villa on the French side. That was the first time we've stayed on the French side in probably 10 years, and it was wonderful. We loved having our own private pool and we very MUCH loved staying 5 minutes from Grand Case and enjoying all the French side restaurants, which I don't care what you say, if you want great French food, get it on the French side. This trip I very much missed all the great French food we had there. The villa was GREAT, but I loved being back 'home' at Beachside Villas.
So, who should NOT stay at Beachside Villas?? If you want a hotel concierge who can make you restaurant reservations, don't stay at BSV. If you have to have that new ultra -modern looking accommodation, with stainless steel appliances, don't stay at BSV. If you want lots of people around, don't stay at BSV. If you want a restaurant and bar on the premises, don't stay at BSV. If you want to walk to restaurants and bars, for the most part, that won't happen. During the day, if you're reasonably fit, you could walk about ¼ mile down the beach past the airport to Karakter or Mary's Boon. It's quite a bit further to Sunset, maybe a mile? I personally would NEVER walk anywhere from BSV at night other than El Zafiro, next door. You really have to have a car to stay at BSV, although I personally can't imagine staying anywhere on SXM without a car.
So, what does BSV offer? I think it offers all the comforts of home, set on what I think is the best beach on SXM, because it is uncrowded and beautiful. You have a full kitchen, dining room and living room,
You have a full kitchen, dining room, and living room
and your own private porch.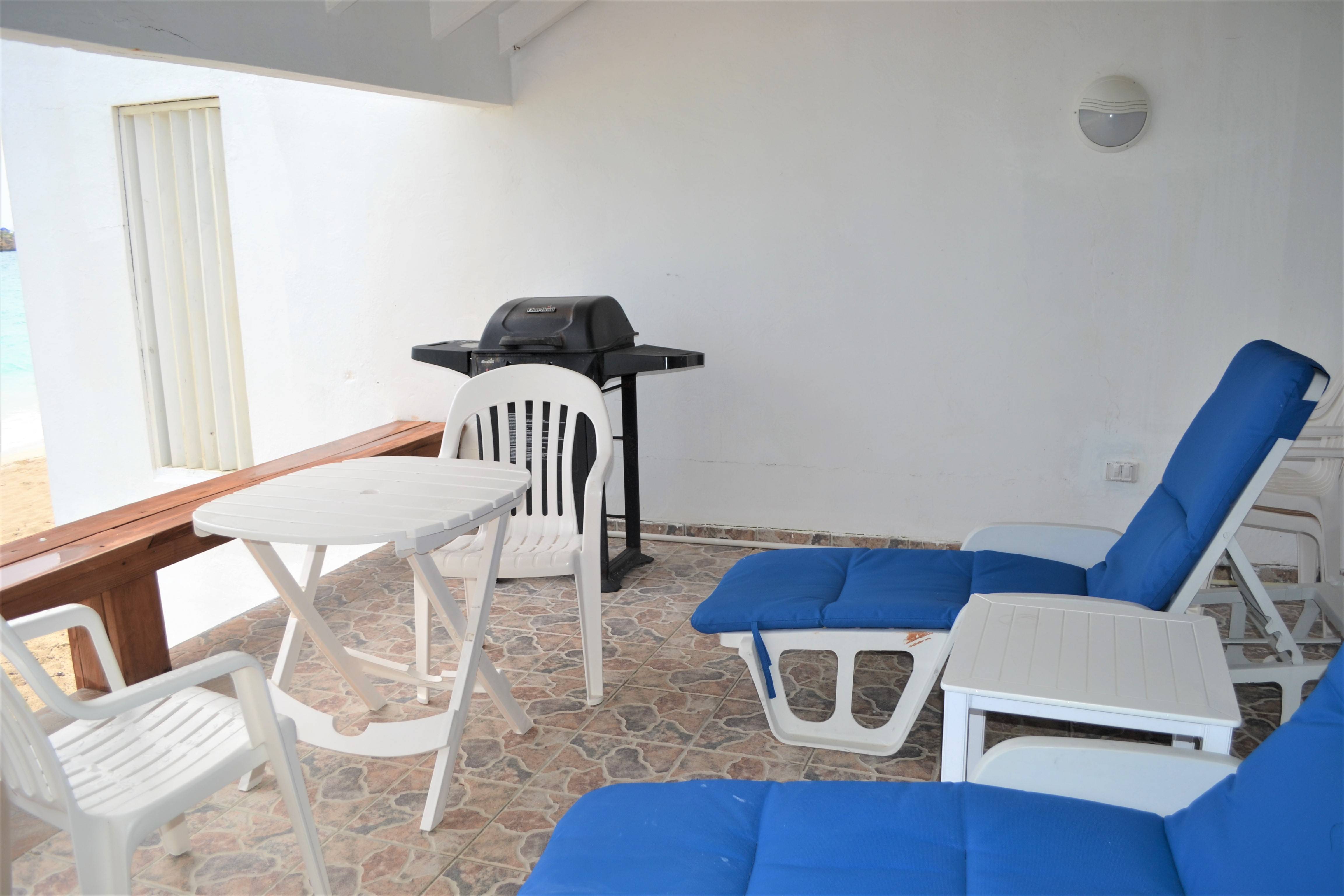 It's all set on your own almost private beach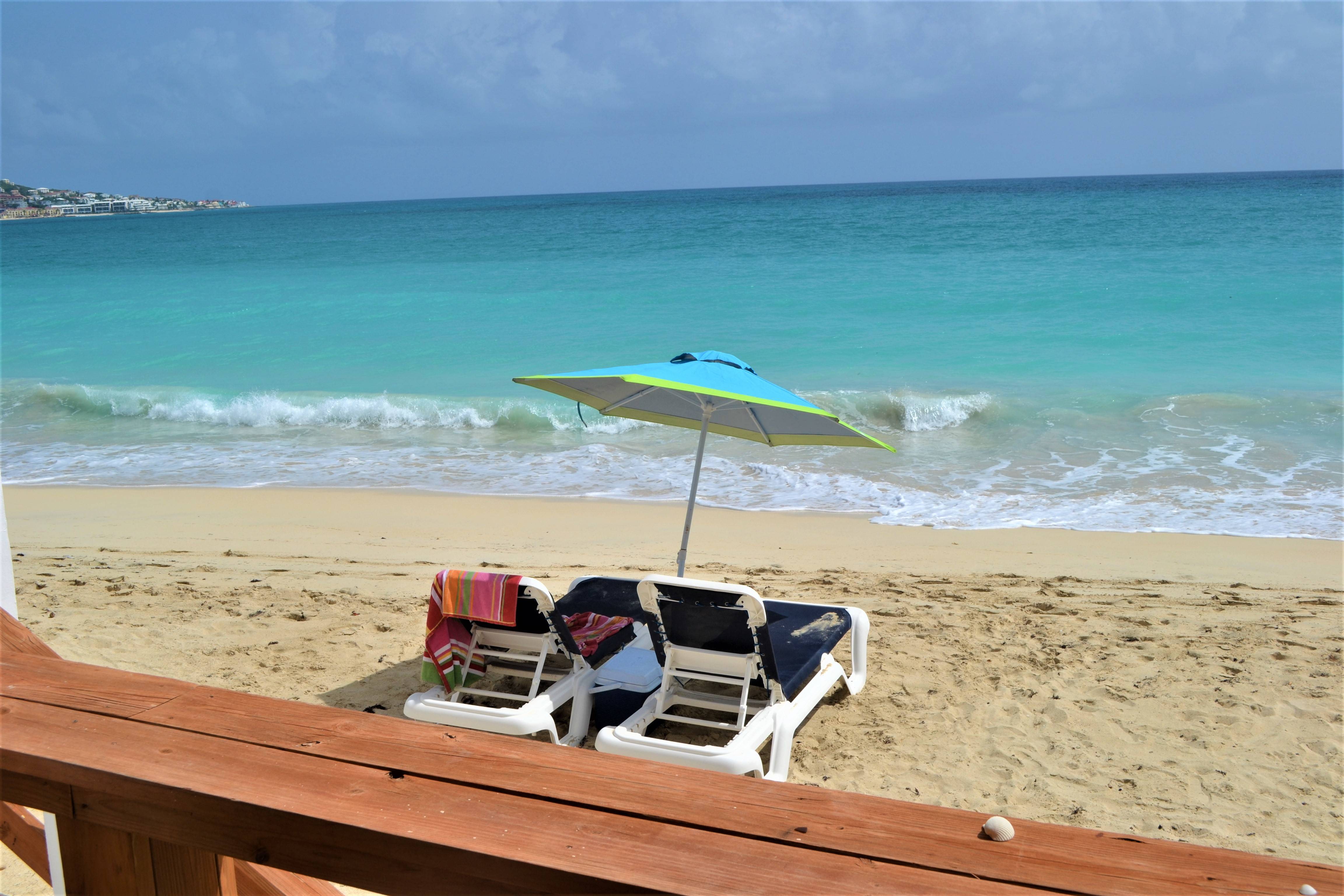 The units consist of two or three bedroom condo units, which all have two bathrooms, with one bathroom being exclusive for the master.
The décor is very Caribbean, clean and comfortable. About the one and only thing I personally would LOVE to have, which BSV doesn't have, is a dishwasher. I do not do dishes at home and I sure as h*ll am not going to do dishes on vacation. Eric does the dishes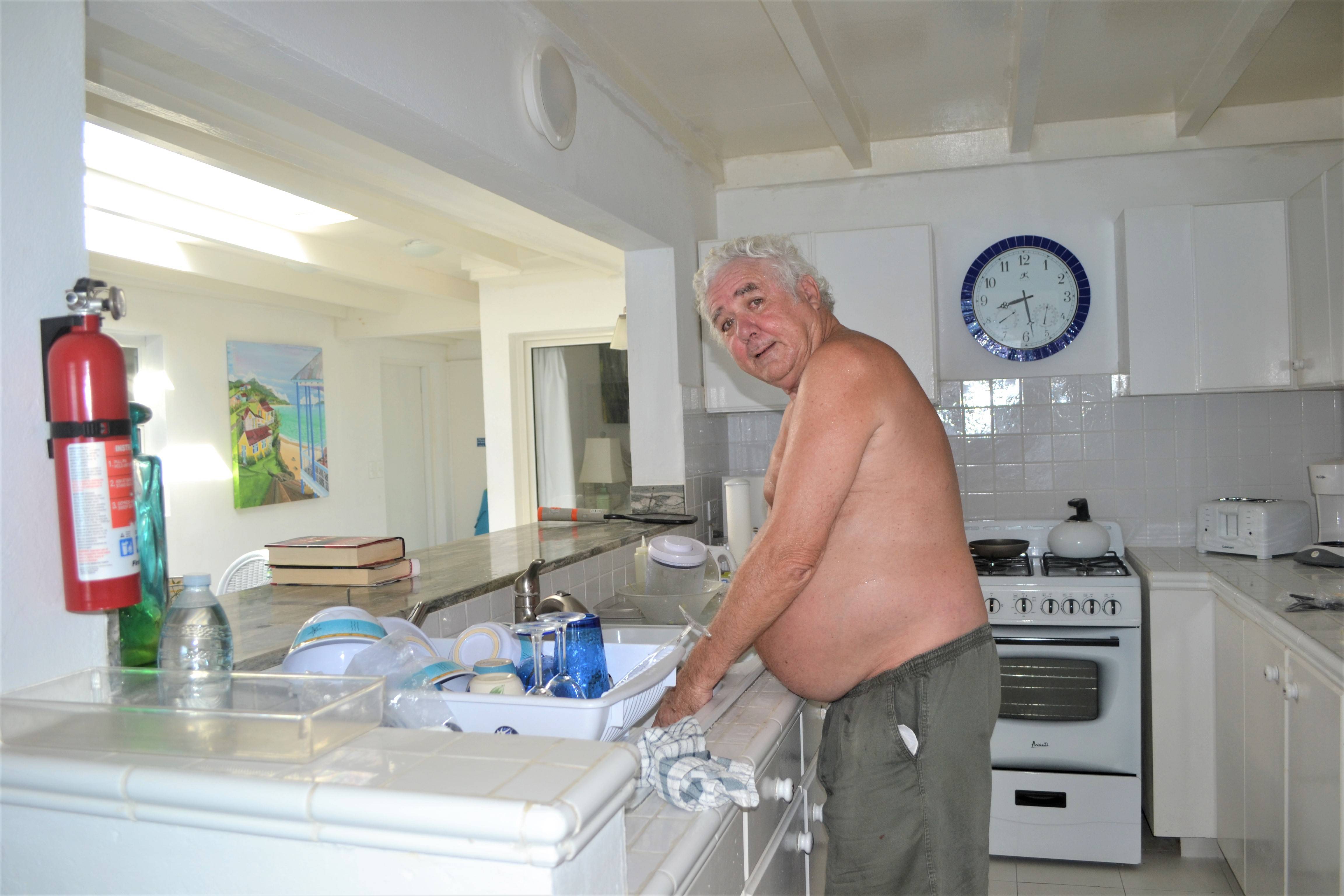 and I usually dry, or we pay the maids extra and have them do the dishes. There is daily maid service, and they do a wonderful job of keeping the units absolutely clean and spotless.
For those who haven't stayed at BSV for a few years, about two years ago, they enclosed the atrium, which previously was open to the sky, and that area is now the dining room.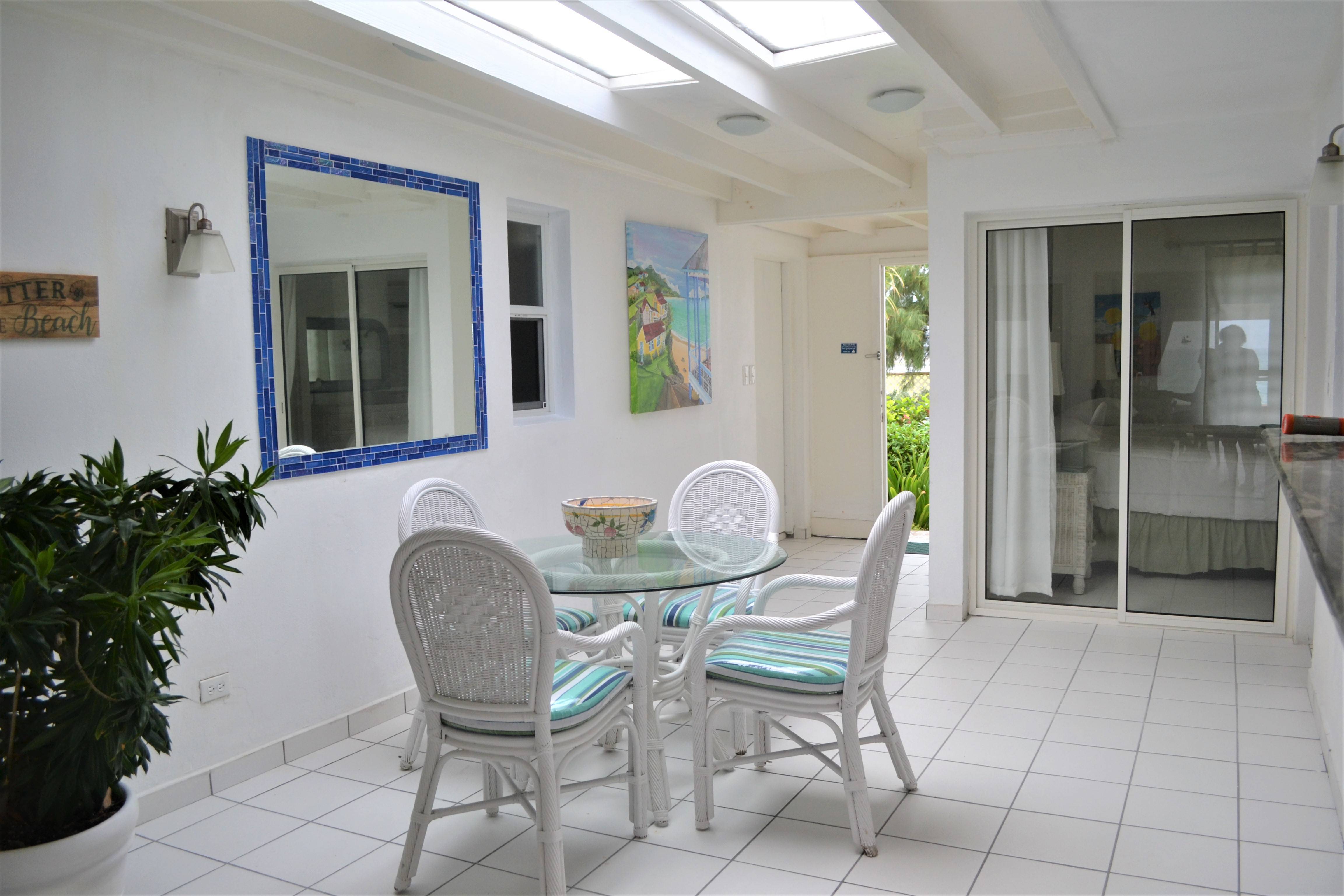 This makes more space in the living room area, and the living room is now air conditioned, in addition to the bedrooms, which were always air conditioned!

I was concerned when they did that that the prices would go up a LOT but so far there has only been a small price increase, which is a very pleasant surprise. Having just completed a trip in October, when it was very HOT, we were very pleased to have a/c in the living room, for those evenings we spent at home on the couch. Like I said, it is our home away from home.
They are in the process now of doing some renovations to the units, cosmetic stuff mostly. They are replacing the kitchen countertops with solid surface countertops, which give a much cleaner look and I'm sure will make it much easier for the maids to clean. They are also replacing the kitchen cabinets, but still with white cabinets. Eventually they will be replacing the bathroom counters also with solid surface counters. This is a view of one of the renovated kitchens.
None of that really affects clients, other than from a purely cosmetic view.
The units are set among Beachside's private gardens, which are once again spectacular, post Irma.
People often ask me which unit they should ask for. Honestly, they are all EXACTLY the same inside, except the floor plan is flipped in every other unit. The new kitchen countertops are only in a couple of the units, but honestly I don't think they really make any difference in one's enjoyment. I am lazy, and I prefer being as close to the pool as possible, because I spend a lot of time there, and because the units on that end, you can park closer to your unit. But even at the other end, the walk to your car is not far at all and the units at the opposite end probably are a bit more private from walk by traffic. But there really is not a lot of walk by traffic, except for walkers or joggers, usually first thing in the morning.
Over the years, how we vacation and how we live at home, have changed. Years ago we would stay on the French side, spend all day on the beach, go out to Grand Case for an elaborate meal every night, and most nights, travel over to a casino and then back to the French side, travelling through Marigot at 3 AM, getting stuck behind the garbage truck in the middle of Marigot. I do not feel comfortable doing that anymore. These days, we're kind of homebodies and we enjoy a great meal out, but we also very much enjoy a simple steak for dinner, or a burger on the grill for lunch. At BSV, we cook in a LOT. We don't do anything elaborate, but we make great use of the grill, for hamburgers, steaks, chicken breasts, ribs, etc. If you want a grill, you do have to ask Emmanuel for it now, as they keep them in maintenance, not on the deck.
Pretty much anything you need is provided at BSV, in terms of the comforts of home. There are plenty of pots and pans, dishes, grill tools, hot pads, plastic glasses for use around the pool, HUGE comfy beach towels, usually mosquito candles and spray, etc., etc. There is DISH TV and you have to go through some rigamarole with the remote to get them to show non HD channels, but you have several cable channels, and the networks are available also, like ABC, NBC, etc., but not in HD. Usually the TV is set to show only HD channels, so you have to change the preferences to show HD and non HD channels, to get the networks. There is free wireless internet, which has always been dead on solid for us, including this trip. The internet at BSV is much better than what we have here at home, because we can only get satellite internet at home.
Security is good, a consideration when one is right on the beach. There is a security gate to control the entrance at BSV, which is at the dead end of White Sands Road, so there is no drive through traffic at all. You are provided with the security code just prior to your trip. There is a combination safe in the master (and I think one in the second bedroom), which is large enough that you can put your laptop and camera in.
There is a night time security guard, who, unlike many security guards, seems to actually be AWAKE all night, and he is a very nice person, as are all the employees at BSV. They are just a great lot of people, always working hard and smiling, and doing their best for you. There are cameras on the beach at the buildings, which are monitored both onsite and in Michigan, where the owners live. The units themselves have sliders on the beach and the sliders lock, but there are poles provided for all the sliders to prevent their opening, which we always use. We always feel very safe there.
There is not as much traffic this time of year as during high season, but we enjoy the views of the cruise ships
And the rich men's toys.
and sailboats
And we thoroughly enjoy watching the passing parade of big and little planes at the airport.
One day we happened to catch a 'salute', where they spray the jet with water. The stream didn't quite meet, but it was neat to see anyway.
For those concerned about noise, the big jets generally only come in during the middle of the afternoon, and other than on Saturdays, which are pretty crowded, you will get one big plane landing, and then not another one for an hour or so.
Other than in my big fluffy chair in the living room, where I do spend a lot of time--often while Eric is on the computer, solving the problems of the world..
My favorite place at BSV is under the gazebo by the pool
I am not a sun worshiper anymore, so I appreciate being out of the sun, but having that amazing 180 degree view, with a lovely breeze and the views of the airport
Beachside Villas does not have any self-service laundry facilities, but they do have what I almost think is better, for me anyway. Just let the maids know that you want laundry done, and you give them a whole laundry basket full of clothes, which come back washed, dried and folded, for about $12! Such a deal! We have done that every trip recently. It lets us bring less clothes and bring home mostly clean clothes, which is such a blessing, not to have to do three loads of laundry, that first day home!
Well, that's about it, I guess. As I said, if you need to be catered to, BSV isn't for you. But if you are the self sufficient type, that all you need is the ocean and the beach, with a lovely view, a lovely pool, comfortable accommodations, and wonderful, smiling staff, Beachside Villas could be your home away from home too!