Posted By: Sunset_Sammy
Grilling & Chilling in St. Lucia Part 2 -

02/05/2019

03:09 PM
Sunday January 27, 2019
Today was the first time in all my visits to St. Lucia that it rained all day long. Kim and I walked up to Pigeon Point, via the beach, during a short break in the heavier rain. Things were slow there today with the weather being what it was, not many cruise shippers came out. We sat around under an umbrella and just chilled; there was quite a bit of rum consumed last night, including a small bottle of Jack Iron I brought from Petit Martinique, so it was a nice day to do nothing. We had lunch at the beach and then because of the weather I sprung for a taxi back to the hotel ($10 US).
Trendy came with us and stayed for a short time before going to the marina to try to sell a few of his bracelets since he didn't make any sales at the beach.
Monday January 28, 2019
We headed to Castries to visit with Boomer's mother and go to the market. I had skipped breakfast so I had a nice bowl of pigtail bouillon from one of the food stands. We just intended to buy some fruit but the fishermen had some nice offerings so I bought a 6-pound piece of Mahi ($20 US) for dinner.
Dinner tonight
Once we dropped everything off at the apartment, we spent the rest of the day on the beach. Boomer had made the trip back with us and then Trendy stopped by for dinner. Boomer did a nice job of filleting the fish and I kept the carcass for ceviche. Trendy stopped by in time for dinner which was fried mahi, garden salad and plantains. Kim had though we bought too big a piece of fish but we ate every bit of it.
Dusk along the waterfront in Gros Islet
Tuesday January 29, 2019
We had breakfast and then went over to Rodney Bay, we took our walk down to the end of the strip and sat there watching the boats come and go along with the activity at the fishermen's co-op. They each have their own storage room and we observed and elderly gentleman come out of one wearing waterproof bibs and using a walker to laboriously make his way down the dock. We were amazed as he got in his boat and headed out to sea to fish with his crew. The work ethic you see in these islands is just unbelievable sometimes.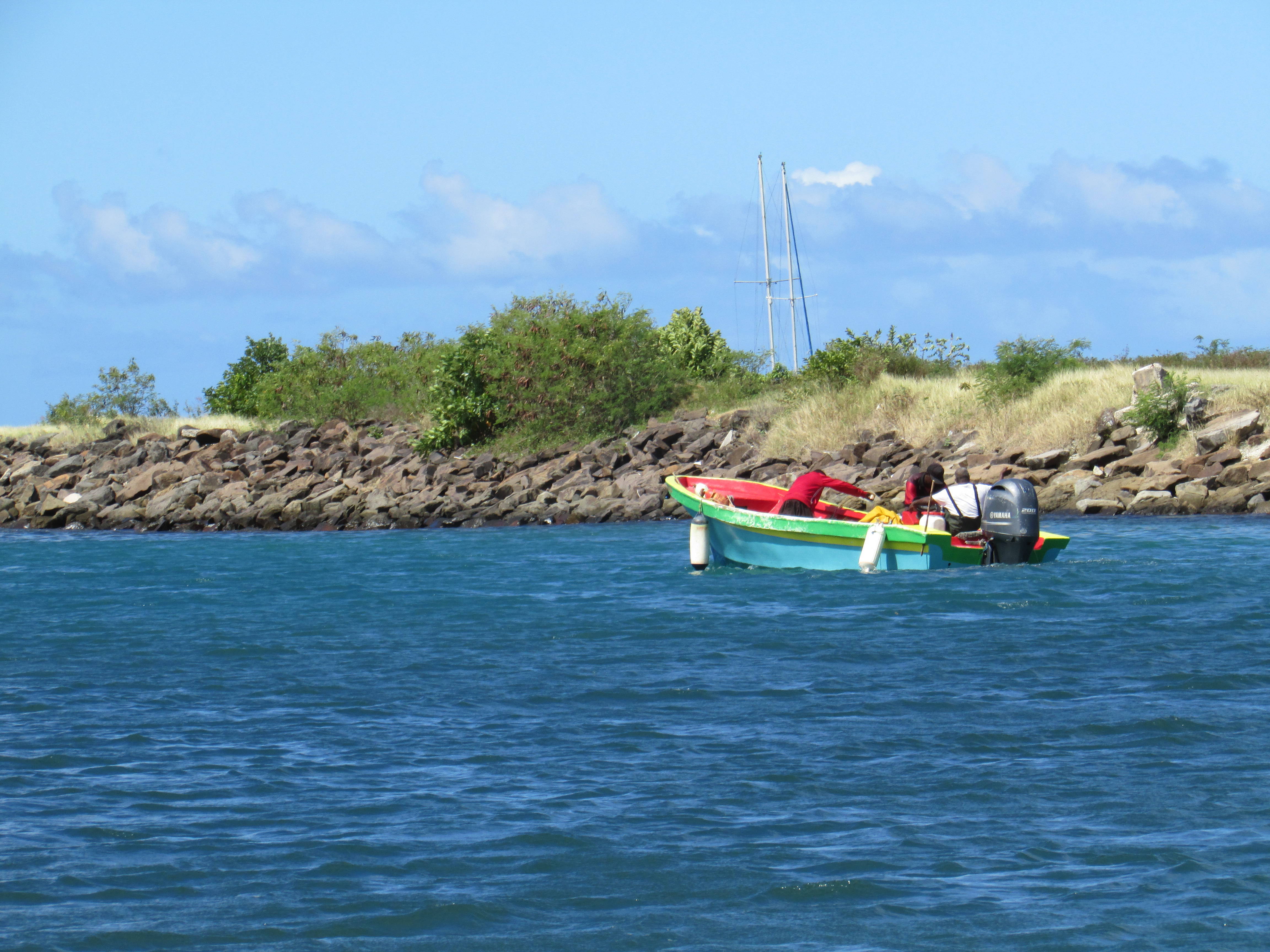 Off to the sea to fish
We stopped at the no name bar for a drink but got waylaid; Kim had bought some tamarind balls from a woman outside the grocery store in Rodney Bay and as soon as she set them on the bar Juliette said "don't eat those!". She explained that she could tell by the color they were nothing but white sugar with very little tamarind. They have a tamarind tree in the yard so soon she came out of the back with a large bag of tamarind and began shucking them, then removing the gooey insides and blended it with a little black and cayenne pepper and some brown sugar and rolled up a nice small bag of tamarind balls for Kim. She wouldn't let me pay her but did accept a drink. In the mean time Barry came out of the kitchen again with more treats, this time it was fried dough balls served with a golden apple chutney and a golden apple sauce (they are in season now). There was also a gentleman at the bar who is a marine engineer from St. Marteen and he started buying rounds; so 5 or 6 beers later we finally managed to pull ourselves away.
Juliette making Kim some tamarind balls
Afterwards, we headed straight for the beach; we were going to have a BBQ today but instead we had to meet Dan & Em for dinner at the marina to take care of some business. I have really found my "happy place" on this beach with my hammock in the trees. The slope from the grass to the water makes laying on the sand with a towel very comfortable as your head is elevated almost like sitting on a beach lounger. There are no facilities here so we couldn't rent a beach chair if we wanted to.
We met up with our favorite sailors at Bosuns as planned and had a nice meal; three of us chose Thai, while Em went for chicken alfredo, and yes, she asked the waitress to bring some ketchup. Tonight, was the big night I had talked about doing some legs of the 2019 WARC as Skyelark makes her third trip across the pacific and now was the time to make the deposit. We went back to the boat to use the secured wifi rather than the free public one at the restaurant. Dan recommends a wire transfer website but since I'm not the best with these things he helped me through it; and just like that I committed to seven legs (3-9) of the WARC, Galapagos to Indonesia. Seven months is a big commitment but I will be retired and I'm not getting any younger; my dad had a massive stroke at 62 and never fully recovered, he died in a nursing home nine years later, it was that event that inspired my travels.
Then, as usual, it was back to the room for a nightcap and bed.
Wednesday January 30, 2019
We had breakfast in the room and then headed for the beach. On the way out the landlord called me over and I though he was going to say something about the nightly parties; instead he just wanted to know Kim's name as she hadn't met him yet. He also said we were like no other tourists he has had at his place, "you are like us, you are down here (gesturing with his hands) not up here, down here". I took it as a compliment same as saying we were down to earth people.
Golden Apple was serving pigtail bouillon so I got a bowl to go and have later for my lunch. It was a nice day as usual and I even convinced Kim to try some of the bouillon, she liked the broth, dumpling and veg so much she had seconds, couldn't convince her to try a piece of tail though.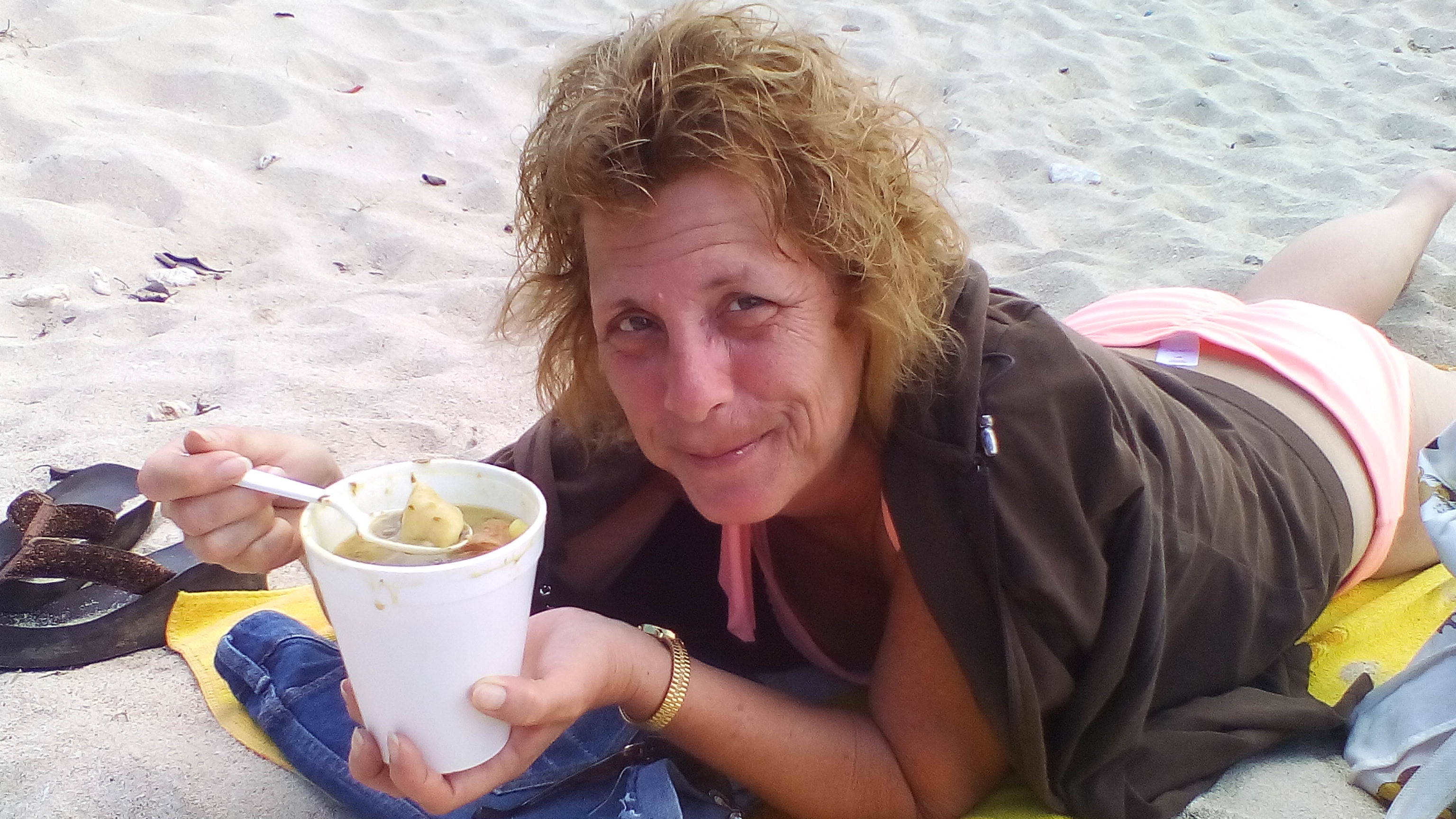 I never thought I'd see the day
The guys stopped by the beach on their way back from Pigeon Point and helped finish my flask of Chairmens. There was a photo shoot on the beach for a French magazine, we packed up and got out of their way, then headed back to the apartment.
John Doe stopped over after his job on the fruit boat and soon the party was in full gear. I prepped the lamb, pig tails and some jerk chicken for tomorrow's cookout while Trendy prepped the rest of the chicken.
http://www.traveltalkonline.com/gallery/41/full/2583.jpg
The chef at work
As we were on the balcony drinking with our music playing and pooling our money to get another bottle of rum, a young woman was below talking to the landlord about renting a room. All of a sudden Amigo yells down to her "Hey honey the party is up here, come up for a drink, we have the happy grass". I'm thinking oh $#!+ now what, and immediately instituted a new rule, "no harassing the other guests". The woman, Sally from Scotland, was a yachtie and knew Trendy from the marina so it wasn't so bad. As it turns out her credit card didn't work so she did come up for a drink while waiting for the landlord to get ready to drive her to an ATM.
Son the landlord was in the kitchen calling for Sally so I went to greet him; he asked if he could talk to me for a minute and I noticed he had a piece of paper in his hand, I figured it was the house rules and we were all about to be thrown out, but instead it was the nice letter posted below and a couple souvenir coffee mugs; I can't put into words how touched we were by this gesture.
Thursday, January 31, 2019
We went to Rodney Bay to get the last supplies for today's BBQ which was sure to be the biggest. We walked down to our spot and the film crew was there taking pictures with the fishing boats and also the fruit boat the John works on. We got our stuff together at the room then Kim and I hauled the gear to the beach and when Boomer arrived, we went to get the beer, ice and coals.
John arrive with his lady and son, she had made a large bowl of green fig salad, one of St. Lucia's national dishes. He also bought more chicken and now we had so much food we had to cook it in two batches. Breadfruit, plantains, pumpkin, green salad and ceviche rounded out the menu.
Once the food was cooked and the sun set we piled wood on the fire and had a nice bonfire to eat by. We stayed until the last drop of beer and rum were finished and then went back to the apartment for a nightcap and goodbyes as we are leaving tomorrow.
Ceviche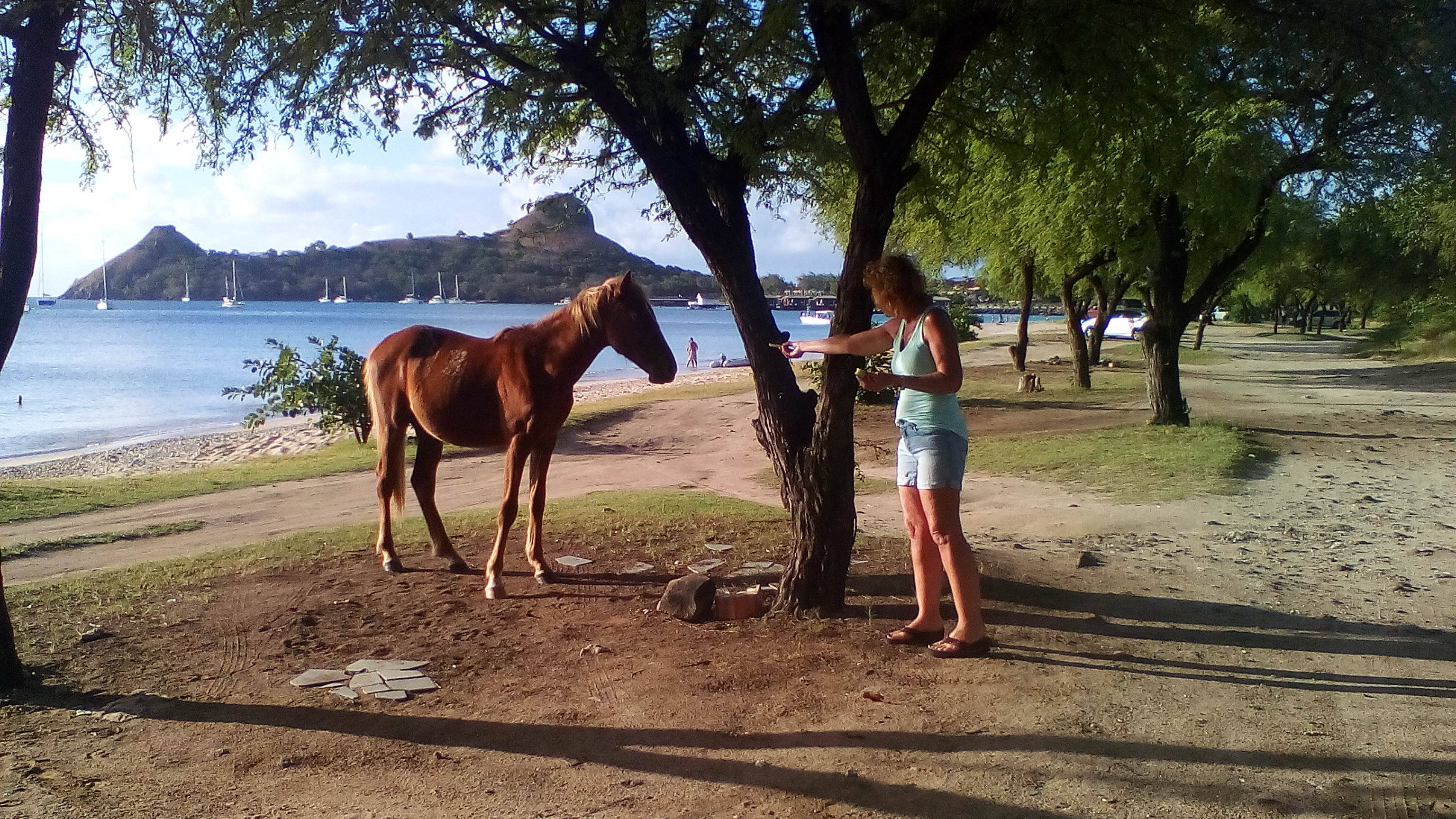 Pics from the BBQ with horses roaming wild on the beach
John with his family
Our last sunset in St. Lucia for this season
Friday February 1, 2019
Trendy stopped by early with the taxi driver and helped carry the bags to the car. We said goodbye and headed to the small airport in Castries for our flight to Grenada. There was an issue with Kim's luggage as she had a lighter in her checked bag; they called her name over the PA system just as we were about to pass through security. It was no problem they just wanted to look at the rest of her bags. Our Liat flight was on time and uneventful, although we did have to wait on the tarmac a few minutes for a passenger arriving from Guyana.
So now as one leg of the adventure ends, another begins.