Posted By: BEERMAN
ST JOHN part 3 -

08/17/2021

02:18 PM
STJ August 3-10, 2021
My daughter's boyfriend has been to STJ by boat a couple times, but our goal was to try to hit some places that he has never been and if we can experience something new along the way ...well, that would be a plus!
Yesterday I forgot to mention that since we picked up the Jeep after hours I was required to go to Cool Breeze in the morning to complete the paperwork, easy 5 minute process at 0800. Cool Breeze staff was great to work with and the Jeep was in great condition!
We headed out by 0900 and by the time we got to Trunk all of the parking was gone! Noticed many vehicles precariously parked way up along the edge of the road, one had an orange sticker on the window, perhaps a ticket? Noticed 1/3 of the parking still available at Hawksnest, so we backtracked. We found some partial shade on the far north side of the beach and established camp! We shared our end of the beach with maybe 2 other couples, but by 1100 we saw the crowds gradually grow, around noon one family/friends group gathered (24 people matching shirts), been there done that, thankfully they were quieter than when we brought a gang down!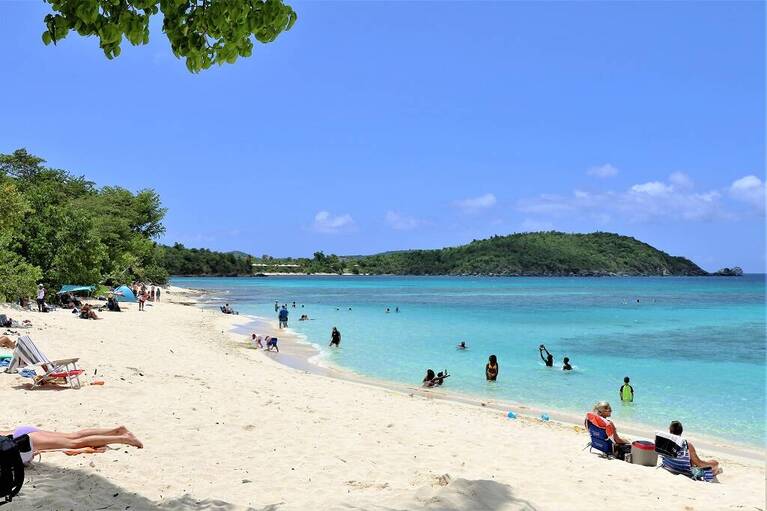 Skinny Legs is a must do for us, was scheduled to close for the season in 3 days, let's go! We all were craving either the mahi sandwich or a burger with same day service! The ride over was nice, barely a car on the road, always enjoy driving up from Maho and down from lush Bordeaux Mountain.
Saw our first jack [censored] as we entered Coral Bay and he saw his. Curious how the storms may have affected the donkey population? Also noticed that the Moravian Church has lost its roof, that was sad, I usually get the camera out to document things, but I didn't want to capture it that way, please rebuild! Pulling into Skinny's we noticed one car? merchandise shop was open! but wait...Skinny's was CLOSED?? A woman told us they ran out of food yesterday and decided not to order more and start their vacation early, BIG BUMMER!! Ok, let's see what's new in Voyages or Aqua Bistro? As we approached the mangroves ohhh myyyyy GOD!.......SARGASSUM!! It was so putrid, ....windows up! didn't help, we trapped the noxious cloud in our Jeep!! There was a bartender at an outside bar at Voyages, not happening THE SMELL.... on towards Miss Lucy's..nope, closed at 2pm to get ready for the dinner crowd, less smelly here, too bad. On to Pizza Bar where Jolly Dog and Shipwreck used to be...nope closed...Coral Bay was a bust! Couldn't bring myself to photograph the concrete pad where Shipwreck once provided us with great times.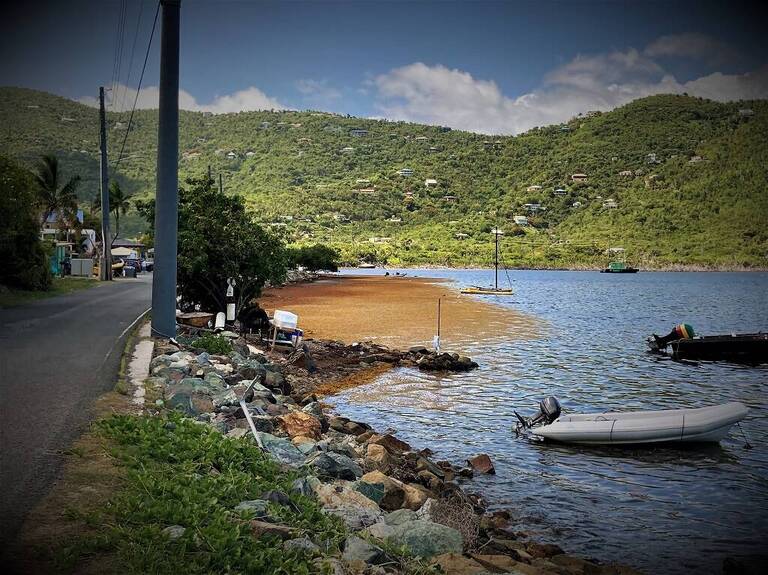 Ok, we were getting hangry, so we decided to go back into Cruz Bay for the Beach Bar, windows up!!...As we climbed over Centerline... wait!, there's the Windmill sign...hit the brakes hard!! This is the kind of new change that I enjoy! The Windmill is on the privately owned Susannaberg Estate. I understand there's a parking fee, but nobody was there when we entered, I hear it might be $5? Great vibe here, reminded me of Hog Heaven on Virgin Gorda, just more open space. As we walked from the Jeep we were looking at a soursop tree and a man with a NPS t-shirt stopped and told us about the abundant plants including mango, banana, plantains etc., thank you NPS t-shirt guy! Beautiful view!
The work continues building the Windmill property and they do offer dinners now, but my guess is that it will be a true destination dining spot in the future, if not already. We were going to grill Ahi Tuna at the villa so we each simply had a nice hot dog and a couple drinks. With the afternoon sun beating down on us we grabbed a shady spot for shady people.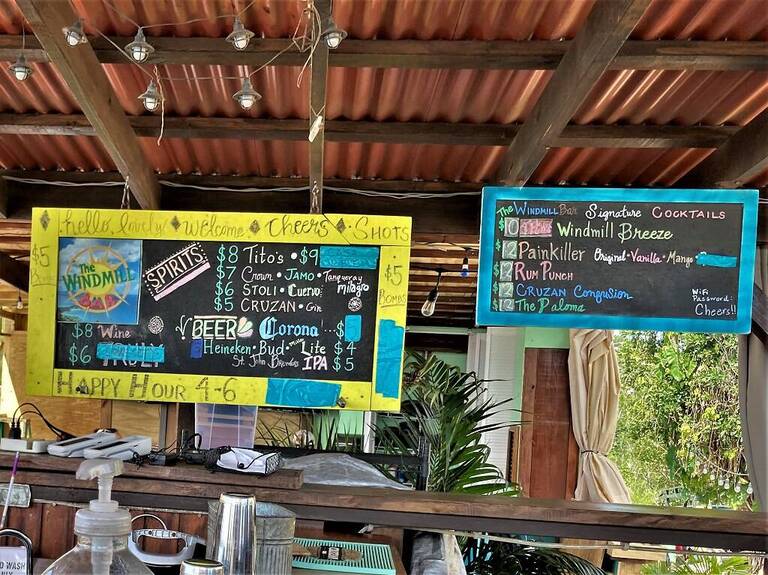 Around 5pm we drove 5-10 minutes to the villa to cool down and relax in the refreshing pool. Awesome pool deck to watch the perfect sunset. Dinner tonight was seared Ahi tuna marinated in soy/sesame oil, garlic with a soy wasabi sauce, rice and veggies. No pics, but it was tasty!
To be continued, Cheers!.............