Posted By: BEERMAN
ST JOHN part 4 -

08/18/2021

09:26 PM
STJ August 3-10,2021
Ok, the plan this morning was to wake everyone much earlier and try for parking at Trunk. I've developed a poor sleeping pattern the last couple of years, doesn't matter when I go to sleep, but I often wake at 0330, but on this trip I was able to sleep through the night until 0530-0600, which was nice! We departed the villa just before 0800 and decided to see if Northshore Deli was open, YES they were!! We ordered delicious breakfast sandwiches and also lunch sandwiches, and an extra 12 pack of beer juuuuust incase!!
We were out of there in less than 20 minutes and in our parking space at 0845!! It was so early that the NPS booth hadn't even opened yet. There were maybe 3 other groups of early birds in the left/middle of the beach, shortest distance to the cay. We went far right and found a premium spot under a Seagrape tree/bush canopy. This would be perfect since we would spend the next 5 hours just chill'in!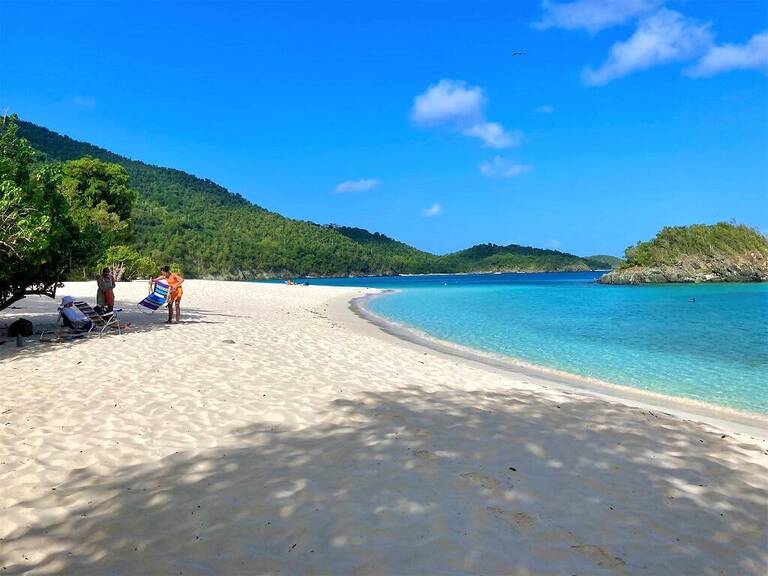 The bay right in front of us had a large fish ball of minnows moving in and out, this was the feeding ground for large tarpon and pelicans. We could sit and watch that aerial show all day! It wasn't unusual to be wading and have a pelican dive bomb within feet of us, rising to the surface to siphon out the water and enjoy its catch, cool!
The bath houses and shops etc. look the same. We enjoyed a couple cold drinks from the bar such as Lime In Da Coconut and my favorite a Rum and Root Beer! however, one noticeable and very important thing missing at Trunk is the beach vegetation and palm trees, this is true at all of the beaches we visited. A few tall palms did miraculously survive though! unfortunately, we didn't see any of the low sweeping variety. All in all, no place more beautiful in the world!
We took advantage of the nice showers and called an end to a great beach day! Headed back to the villa to get cleaned up for shopping and dinner at the Lime Inn. We lucked out and found an open FREE parking space near the Post Office. From what I saw the daily parking is around $25.
First stop was Mongoose Junction, the shops offer relatively the same merchandise as they always have, but the Bajo el Sol Gallery has changed things up a bit, Art Bar Rum Room, pretty cool!
Of course the ladies ended up at their favorite jewelry shops RI Patton, Freebird and Vibe...purchases of course were made. It's always active in the center of town, and I did notice the improvements where the restaurants/bars sit, such as Cruz Bay Landing, cool looking place.
I received a text from Lime Inn while shopping to confirm our reservation we made 2 weeks prior. I simply walked over to confirm and had a beer at the bar. It seemed different not being greeted by now retired Rich, but his daughter Chelsea is filling his shoes nicely and the way she made us feel at home was certainly a trait she inherited from her mom and dad. Soon the gang joined me for one amazing dinner! We are not huge "by volume" eaters so we chose the 4 course option over the 6 course. For the foodies...Choice of appetizer I had Proscuitto wrapped buffalo mozzarella with tomato, Bubu salad that included watermelon and cashews was awesome, large rack of fall off the bones Rum Ribs on roasted garlic mashed potatoes and last but not least Coconut Dream Tembleque which was crazy good! I didn't take food pics, but my daughter took pics of her filet and Bubu salad! Not knowing they were closing for season the next day we felt fortunate for this memorable dining experience! You may have noticed that I do not like a lot of change, we ate here when we got engaged, we ate here on our honeymoon, we eat there every time we visit, some things that are perfect should never change ! FYI, they plan to reopen October 4th, maybe we'll plan around that?
https://thelimeinn.com/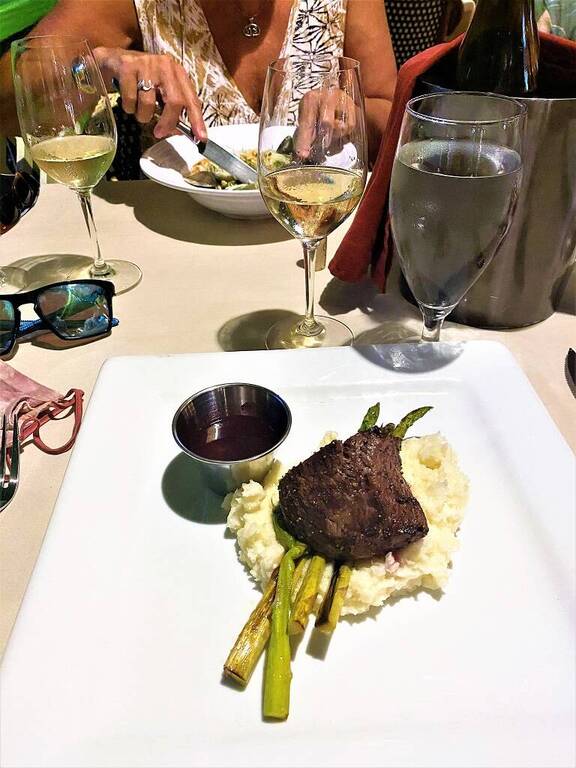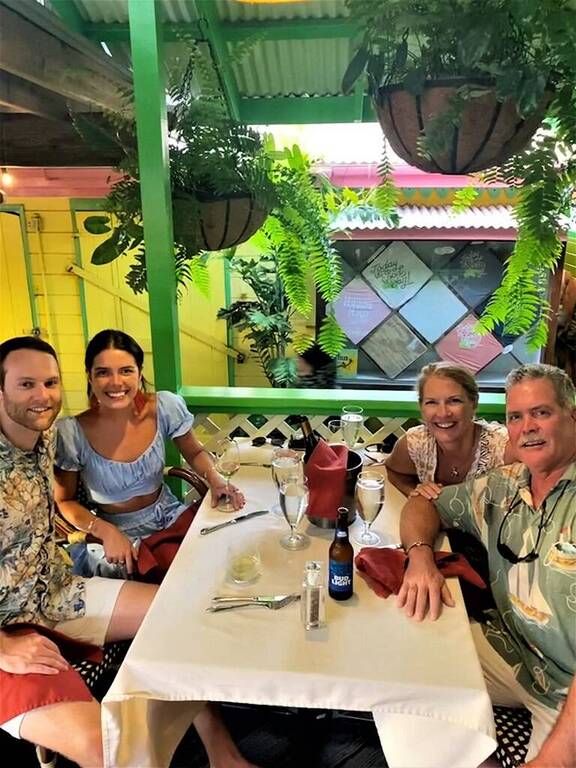 To be continued, Cheers!!...........