So, we've been home for a month. Yikes! Seems as if life gets busier when we return from St. Maarten. Of course the Holidays approach fast and furious....and having a new kitten in the house is exhausting! Lol

This will not be as detailed or nuanced as those who report "on site", and relies heavily on pictures (warning, YES, of food!)
We didn't do any activities or excursions this trip, which is unusual for us. It was eating, drinking, beaching, and repeat. I was able to read a 1,439 page book! Limin' at its best.
No jewelry shopping. :(
I forwent a diamond and morganite ring for the kitten! Not sure who got the better end of that deal.

Travel was down on JetBlue and back on American. Two one way fares gave us the better deal. No seat or luggage issues. Rental car from Kenny's with our friend Lesley Bruce.

We all have our favorite "firsts" to do upon arrival. Ours is down to a complete routine...get in the car, stop at Maho Market, check in to our timeshare, bathing suit on, hit the pool and enjoy the first of many rum punches, dinner in Maho at Pizza Pasta!

Upon check-in, hubby had birthday flowers waiting for me.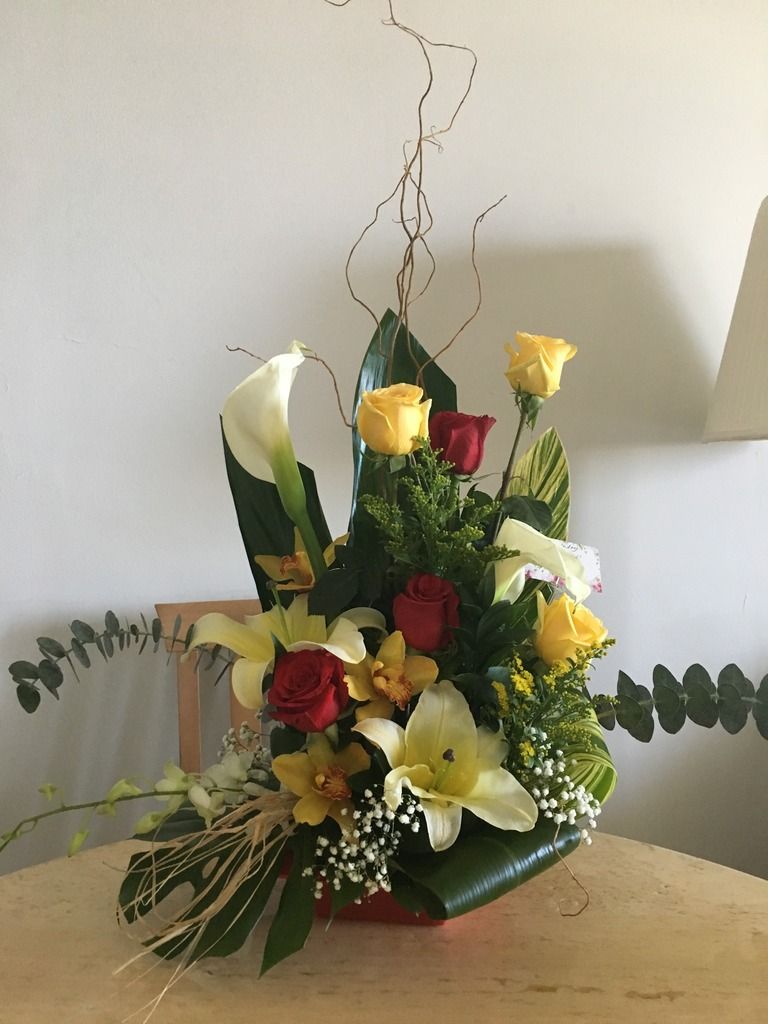 We spent our first full day at Kakao on Orient. Though there were fresh fish in the display, we were craving cheeseburgers in paradise...and renewing our friendship with One Eyed Jack.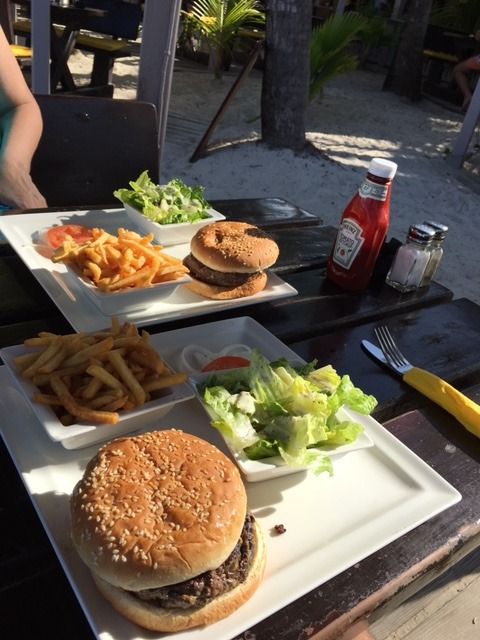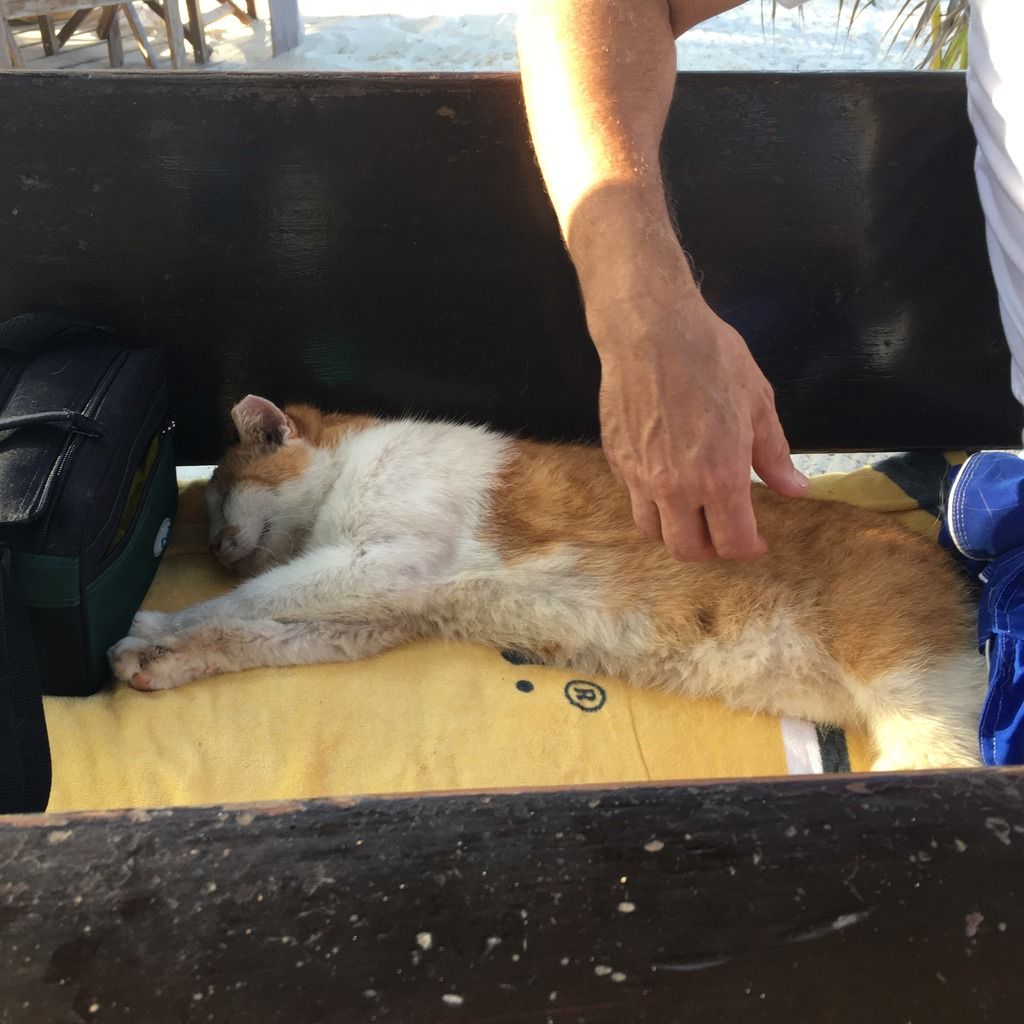 On that beautiful Sunday at Kakao I discovered these cute local French children playing with 3 kittens. Oh fate! I work with the SPCA a lot in Maryland, and am a feral cat caretaker. My current cats are shelter rescues. After speaking with the owner at Kakao, he confirmed that nobody wanted them or was caring for them and he wanted them removed from the property. He ran to the kitchen so fast to get a box to transport them! I met with SXM PAWS, and turned the 3 over to the rescue group....but kept thinking about one particular little guy. In the end, we brought him home with us. His name is Coconut! We actually brought his sister back with us as well, as SXM PAWS had arranged an adoption with a family here in the D.C. area.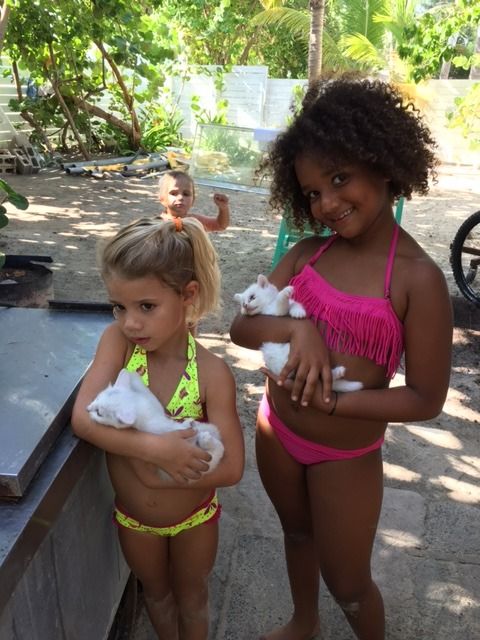 Thank goodness we kept up with workouts, and enjoyed walking/running the causeway and hills...it enabled us to eat, eat, eat!

Huevos rancheros and eggs Benedict at Zee Best one morning.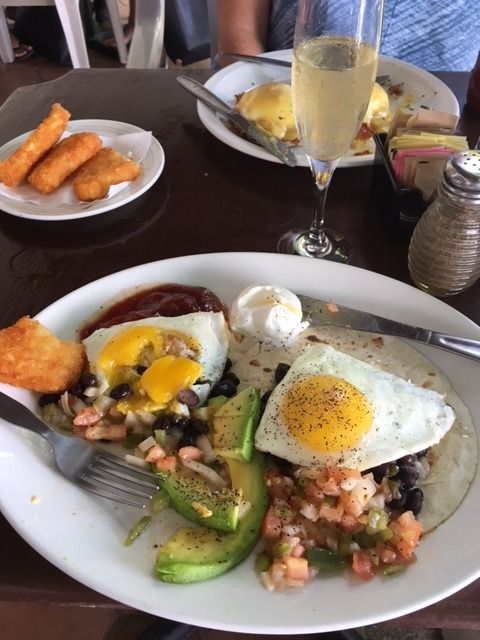 We spent the afternoon at El Zafiro, eating lunch on the beach. Shrimp kabobs and grilled steak tip kabobs were each excellent. They are served with baked potatoes. I requested a rice substitution, and was a bit irritated there was a $2 charge to do that....considering rice is on the menu with other entrees.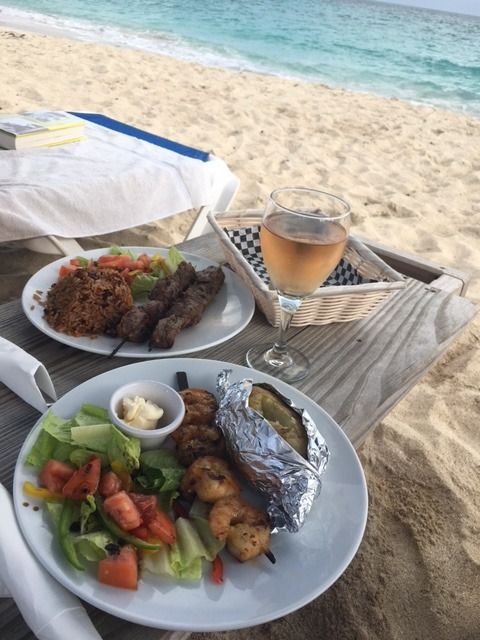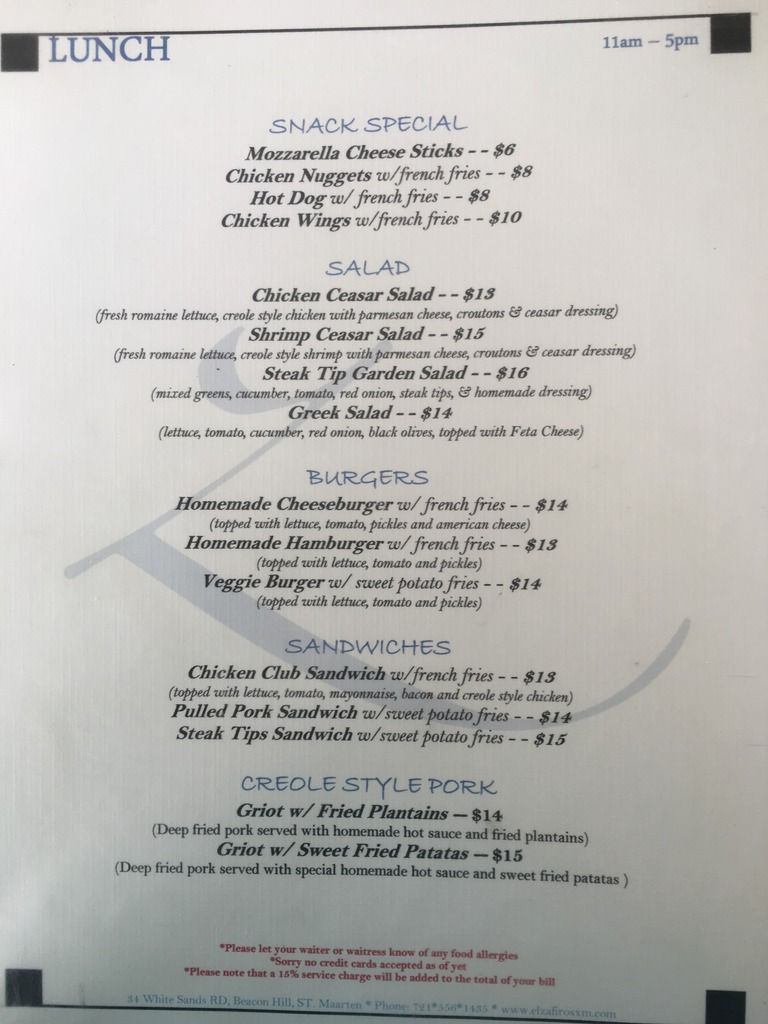 Another day was breakfast at the Green Monkey in Cupecoy, before heading to another Kakao day.

The breakfast was basic, and just so-so, but nice to have something so close to home.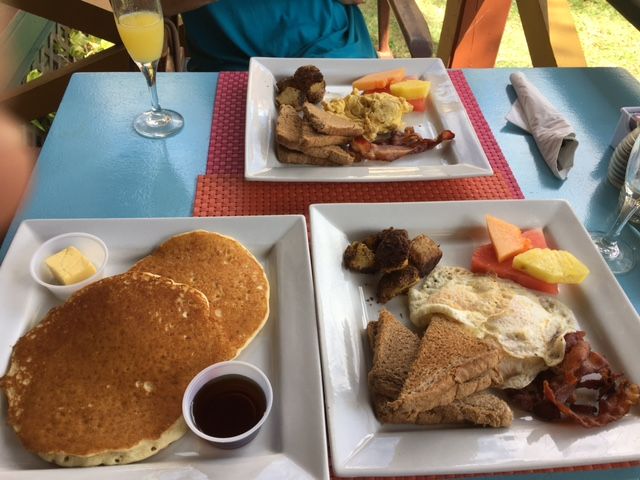 On the way to Orient we were lucky to catch this beautiful flamboyant tree at peak bloom during our two weeks.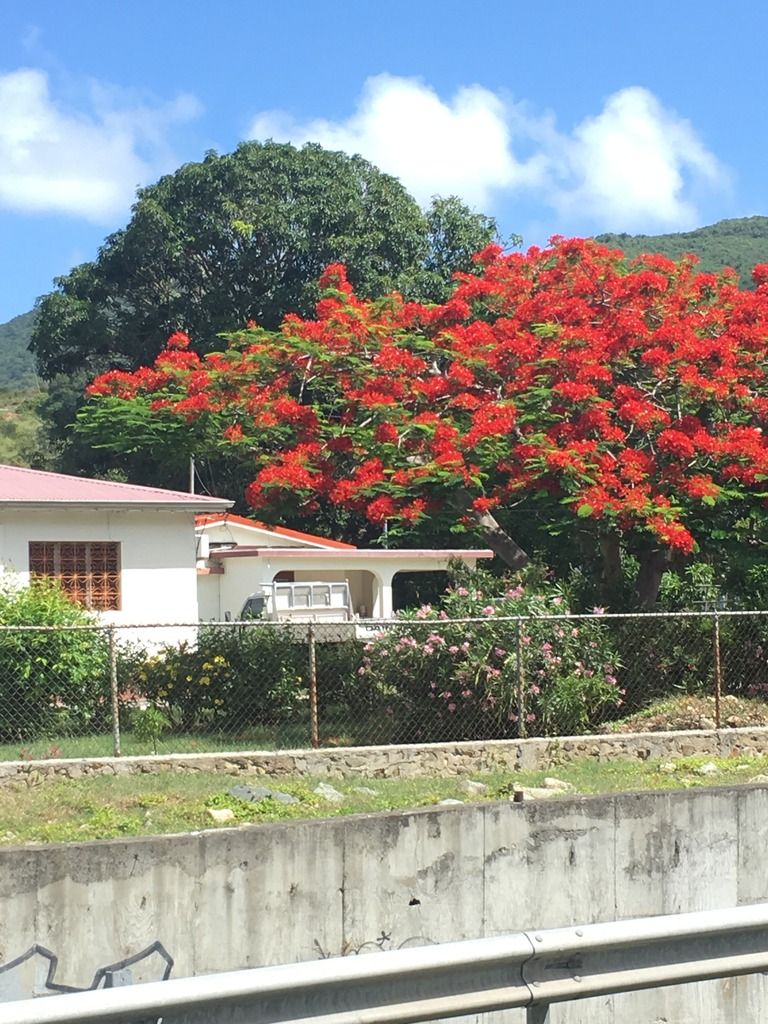 At Kakao we wanted something light, so went with a shrimp ceviche and the beef carpaccio. With a bottle of wine, it was perfect!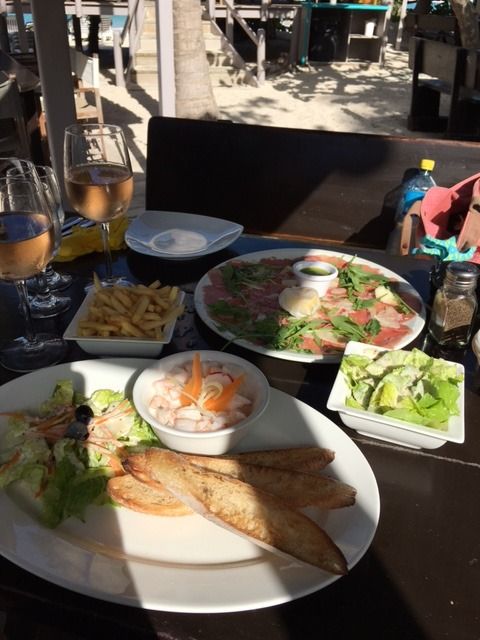 Our lonely buddy on Orient. He misses his Person, who was murdered.
The waitstaff at Kakao watch out for him, and care for him now.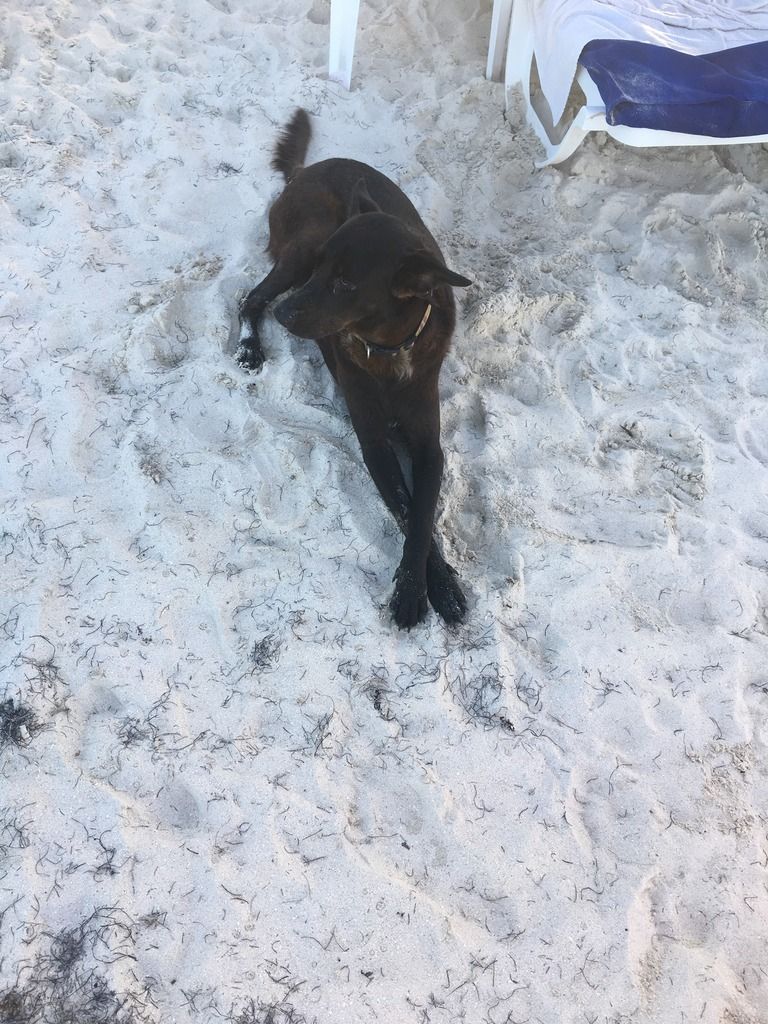 Sign by the airport that cracked us up.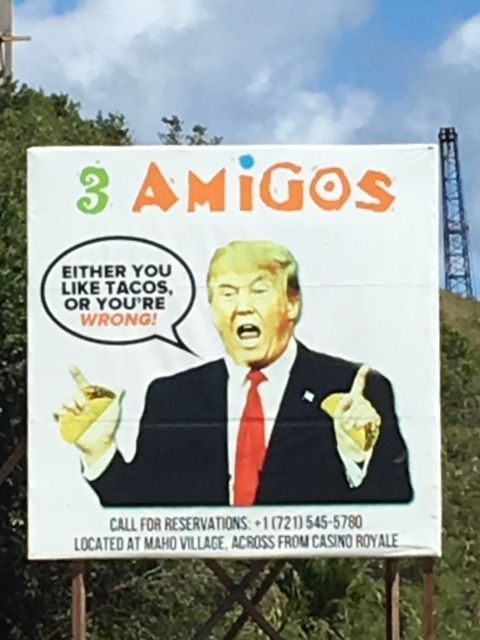 More in another installment!

--------------------
"It is good to do nothing all day, and then to rest" ;)