MAY 13 TO 14, DULLES TO LONDON
We had not anticipated having time to discover any of London when we first booked the trip, but due to booking Virgin Atlantic, we did have some time to think about seeing some of London, which put me into a fairly last minute tizzy to try to find out some info on London, and what we could see in a very limited amount of time. We decided to do a day room in London and a double-decker bus tour.

After having effectively been planning this trip for close on two years, it didnít dawn on us until some time after we had booked the plane tickets, that we had elected to leave Washington DC on Friday the 13th. Brave souls that we are, we pressed on, and there were no big disasters that day, except at my office, where I was trying frantically to get some papers filed with the Bankruptcy Court and not succeeding too well. I got out of my office late and drove frantically home to meet my cab to Dulles, arriving home just before he did. The Washington Flyer trip from home to Dulles was $52 plus tip, well worth it, considering the state of my nerves by that point. Eric took the metro and bus from DC to the airport. Virgin Atlantic had said to be there 3 hours before the scheduled 7 PM flight, which was way too early. We decided as we were checking in to check our bags after all, which we had not planned to do. It was a good decision, as it would have been a nightmare to have lugged those bags, even though they would have fit in overhead. Initially the lady at the counter had said they were going to check the bags all the way through to Johannesburg, and we decided we didnít want to do that. We wanted to be able to change clothes in London, plus we would prefer to know when/if our bags didnít show up.

Since we had plenty of time before the flight, we went to the Sam Adams restaurant for a meal. We ate with fellow who works crewing chartered sailboats in Caribbean, how weird, what a small world. There is smoking lounge right next to restaurant, which was good for Eric.

I thought it a good omen that the name of our plane was African Queen.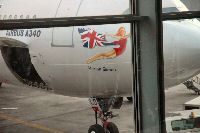 Our flight on Virgin left late, due to a problem with matching up bags to passengers. The auxiliary power on the plane didnít work, so it was HOT!!!!! , as we waited for them to figure out the bag problem. The flight was basically about 100% full, the food was OK, but the drink service was parsimonious. I didnít sleep at all. We had a slightly bumpy ride. The crew gave no apology or even mention about the almost one hour late arrival, as we arrived at 8 AM London time, as opposed to the scheduled 7 AM arrival. We had no trouble with immigration, although it felt funny to be in the ďotherĒ line for immigration. Customs was a joke, as there was not even a form to fill out, we just walked by.


LONDONĖDAY ROOMĖRenaissance hotel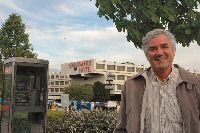 Eric booked a day room at the Renaissance Hotel on the internet, for about $112. Supposedly, you might be able to bargain with them and get them to reduce their rate, if you call them up, but we were happy with that rate. The hotels in London seem NOT to have any free shuttles, but you can get something called a Hoppa bus, which costs 3 pounds each to get to the hotel. There are about 12 different Hoppa busses altogether. We were a little confused coming out of the airport, but eventually we find our correct bus. The busses require exact change if youíre paying ON the bus, but you can go inside and get tickets, and donít have to have exact change. I donít know if you can pay with a credit card inside. We got 50 pounds from the ATM inside the airport, inside Terminal 3, so we had pounds.

We initially got off the bus at the wrong hotel, as we were the only ones on the bus and assumed, wrongly, that the place we stopped at was our hotel. Be advised that Hoppa busses stop at ALL stops, even if youíre the only one on the bus!!! Fortunately, it was only about a long block walk, atlhough those duffle bags did get heavy!

For our dayroom, and I think with most, the dayroom price gets you from 10 AM to 6 PM, which was certainly all the time we needed. We arrived at the hotel at 9:30 AM and had no problem with getting into our room early. We decided we had better not lay down to sleep, or we would be out for the count, so we pressed on. On the advice of the hotel concierge, we took the FREE bus back to Heathrow, saving us the Hoppa bus fare back to Heathrow. ANY bus marked Heathrow is free, something to remember. We booked and paid for tickets for the double-decker bus tour at the hotel, at 16 pounds each, which we were able to charge directly to a credit card. We had anticipated taking the Heathrow Express to London, but the concierge advised us to take the regular Underground. The regular underground is 45 minutes each way, the express 15 minutes each way, but if you just miss a train, they are 15 minutes in between each Express train, so you donít save that much time anyway. Since it was a weekend, we got an all day pass for the Underground for 6 pounds each vs. the cost for the Express which is something like 30 pounds roundtrip. Make use of your hotel concierge! Ours saved us quite a bit of money and was very helpful. With the Hoppa bus and the free busses and the Underground, itís pretty easy to get from the Heathrow hotels to downtown.

We got off the Underground at Picadilly Circus downtown, to catch our double-decker bus tour. The bus tour was well worth it. Itís great for people without a lot of time and those that have never been there to London before. We didnít actually have time to do the whole tour and just basically stayed on bus most of the time. We were both very surprised at how BUSY London is and how many people are everywhere. It was a big indicator of how tired I was, as we sat on the bottom deck of the bus and I took almost all my pictures through the windows of the bus, and I didnít even think about what that would do to the quality of the photos. Uptop of the bus is best of course for photography, if itís not cold and rainy. It wasnít raining, but I did think it was quite cold, and thatís why we didnít do the top of the bus. I did promise my mom that I would say ďhiĒ to Big Ben, so thus we did.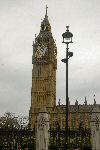 After touring for about three hours, we knew we needed to head back to the hotel, if we wanted any hope of laying down for a couple of hours, and a shower. We headed back on the underground for our trip back to the airport. Nothing of import happened on that trip, except two guys sat across from us on almost the whole 45 minute trip, and were speaking Italian for the whole trip. The two chaps hadnít spoken a word of English until they got ready to get off the bus, dropped and broke their cell phone and one said ďsh*tĒ and ďson of a b*tchĒ. Some things are universal...


We had been wanting to get something to eat all day and didnít really happen upon anyplace likely downtown, as we didnít want to eat at McDonalds or Burger King or Pizza Hut in Picadilly, etc. We had not had anything to eat all day from like 7 AM on the plane till 3 PM, but we finally stopped at little sandwich shop just outside Heathrow and had fish and chips and mashed peas. We succeeded thus in our mission of having somewhat English food, and it was actually pretty good, nice crispy fish with lovely fat french fries, and a coke.

We headed back to the hotel and took a shower in scalding water, as we couldnít get the temperature control to work. We laid down for about 2 hours, but I didnít sleep, as I didnít trust the alarm to wake us up, although Eric dozed off. I listened to him sleep, which was kind of a usual thing for this trip so far... Again, we took the free bus back to Heathrow and checked in again with Virgin Atlantic. After walking out of one English pub type restaurant, as the waiters are too busy watching soccer to wait on us, we went to TGIFridays and got good service and a good meal. Gates are not assigned at Heathrow until the last minute, which is kind of weird. You just have to keep watching the boards until time to board, for them to announce your gate, and then hoof it to your assigned gate. They are redoing the concourse there, so there is not anyplace to sit close to most of the gates. I guess it is a security thing, but I found it kind of disconcerting. There are lots of places to eat and several places to smoke at Heathrow, but just none very close to the boarding gates.

Link to next section of trip report